Change Your Game. How To Elevate Your Expert Entrepreneurial Impact.
Description
CHANGE YOUR GAME LIVE!

Discover how to Elevate Your Entrepreneurial Impact for more Profit, Freedom & Contribution Guaranteed.

This one-day game-changing workshop is for entrepreneurial thinkers just like you, giving you the exact powerful step by step gameplan tested by over 100 business owners in 16 different industries to elevate your Entrepreneurial Impact.

Book your ticket now and join other like-minded entrepreneurs and our Guiness Record holding, TEDx speaking, 7-figure business building, down-to-earth, impact-driven speakers.

_
______________________________________________________

Here are the 7 critical things you will discover to explode your business and entrepreneurial impact.

• A personalized practical pathway to elevate your entrepreneurial impact over the next 12 months for more success, profit & freedom.

• Your monthly targets, including a step-by-step blueprint with daily actions.

• How to execute your daily N.A.T.O day in, day out with a maximum productivity level.

• How to identify the hidden resources you have right NOW that you can deploy to start to move your results straight away.

• Your own 30-day accelerator which will mean you can start to get different results based on your E.I.P (Entrepreneurial Impact Profile).

• What's working today in 2018 and how you can leverage it for instant results.

• The ultimate 3 Game-Changing Pillars that high achievers use to multiply their results in half the time.
______________________________________________________


If you're an entrepreneur struggling to break the 6-figure PROFIT ceiling, we'd LOVE to share the ONLY THREE things you need to do to ELEVATE YOUR GAME and ELEVATE YOUR PROFITS
Here's the thing.. if you're not generating predictable 6-figure profits year-on-year, the risks of being an entrepreneur far outweigh the benefits. Chances are, with your skills, you could walk in to a high 5-figure or low 6-figure job tomorrow; did you know for example a private butler can take home up to £150,000?
We know, this sounds harsh but it's not meant to
We CARE about the risks you are taking and the sacrifices you are making
More than that, we KNOW that you are on the planet to do much more than just create an income.
You want to SERVE and we want to help you do that, at SCALE, with profits that mean you have SUSTAINABILITY
And that's why we are running our 1-day flagship workshop before the Summer Break on June 28th to help you master:
1. Your 6-figure Inner Game: The Context you operate in & The Impact YOU MAKE
2. Your 6-figure Game Plan: The Road Map & The Strategy to GET you there
3. Your 6-figure Outer Game: The Daily Actions & Compounding to KEEP you there
______________________________________________________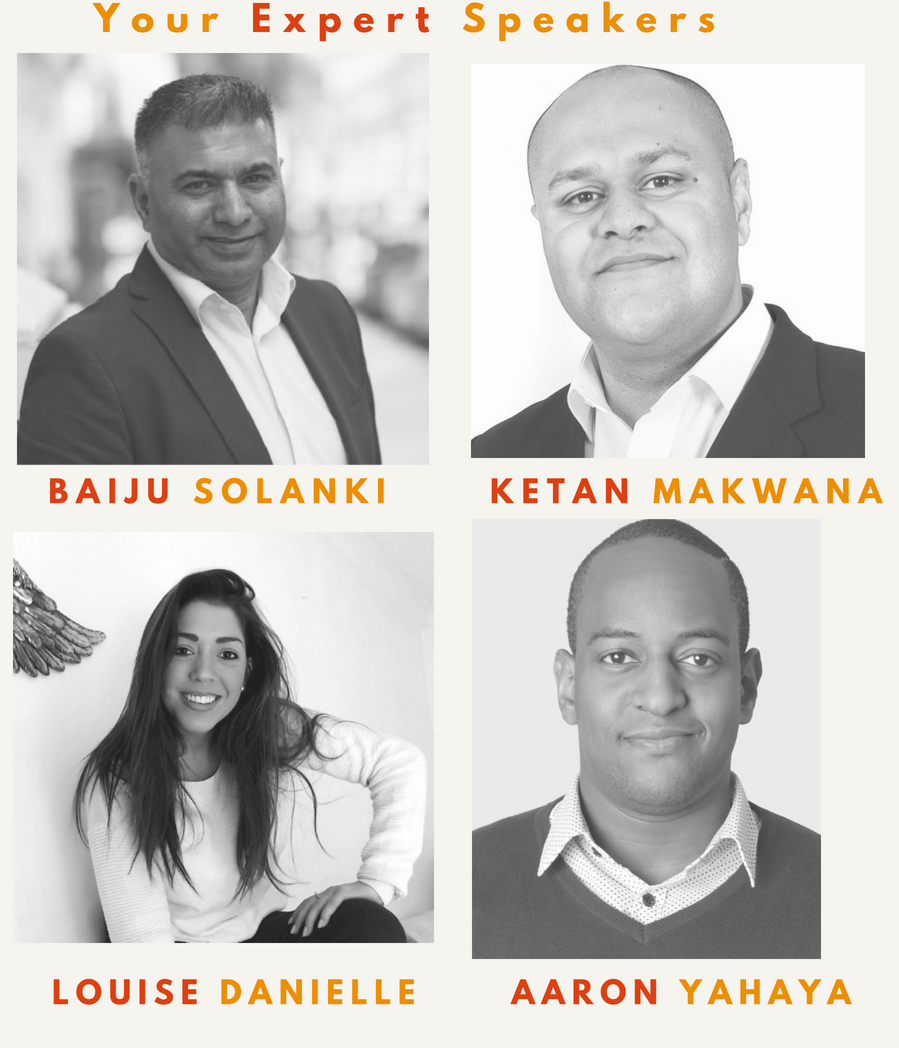 Baiju Solanki (Founder & CEO Enspirit Global)

An award-winning businessman of the year & TEDx speaker, his experience extends beyond the realm of enterprise: a trained psychologist, lecturer, speaker, and author, he nudges people into realizing their power. He is the founder of Enspirit Global.
Ketan Makwana (Founder & CEO Enterprise Lab)

International TEDx Speaker, serial entrepreneur, author, and mentor that has started, scaled a sold multiple businesses in the last 7 years serving over 500,000 people across the world. Former Special Advisor to the Prime Minister and currently an advisor to UK & International Governments/Ministries on Enterprise Eco-System Development; he sits on many advisory boards and panels including the British Council and is an ambassador of UKTI and Foreign & Commonwealth Offices.
Louise Danielle ( Mindset Strategist & Transformational Teacher)
Over the last decade Louise has worked with visionaries, leaders and entrepreneurs to get the success they want without struggling for years. She is passionate about helping people breakthrough their blocks using NLP, psychology and neuroscience, helping them move ahead quickly, attract new opportunities, make more money and feel happier in themselves and their lives. Homeless at 17 Louise made the decision to turn her life around. At 21 she set up a social enterprise to help disadvantaged young people which led to her being named one of the UK's most inspiring women.
Louise speaks on stages across the world and works with clients privately to get the business, lifestyle and income they are capable of.

MC - Aaron Yahaya (Founder SW1 Private Equity Partners & COO Enspirit Global)

Multiple business founder, Guinness World Record holder, public speaker and award-winning entrepreneur. He has co-founded businesses across, print & digital media, hospitality, telecoms, digital technology, property and agriculture on 3 continents. A dynamic speaker with a focus on resilience in business.

Aaron will be sharing his insights tips and actionable nuggets that have propelled multiple 6+ 7 figure business owners to new heights.

______________________________________________________
WE WILL ALSO BE REVEALING OUR UNIQUE METHODOLOGY AND TOOLS FOR YOU TO IMPLEMENT STRAIGHT AWAY
______________________________________________________

The Entrepreneurial Impact Profile -
How to use the Entrepreneur Impact profile to learn what kind of entrepreneur you are so you can pick exactly the right people around you to create your winning team.

The Game Changer Impact Program -
How to create a sustainable and scalable business using our unique 5 Core D.I.S.S.T Formula to turbo-charge your results, meaning that every area of business is covered so you have a scalable and sustainable business.

We will also be revealing the NUMBER 1 thing that you need to make sure that the next 12 months are guaranteed to take you to the next level.

______________________________________________________
WARNING: this day is not for freebie seekers, tryouts and the just curious!
______________________________________________________

This day is for people who are committed to taking control of their future and changing their results.

If that's not enough - at the end of the workshop we are going to be handing you the following gifts to make sure you can implement and execute the trainings immediately, including:

• An e-copy of "I'm An Entrepreneur - Get Me Out of Here - The Lessons"
• A free copy of "Change Your Game" and an exclusive invite to a special Q & A session.
• So, all you need to is to register for your seat below and I'll send you all the details.

Please don't delay - this is an intimate workshop and there are only 50 seats maximum - they will go quickly!
______________________________________________________
AGENDA
______________________________________________________

Note: This is an immersive day, with ideas flowing and tons of practical work so come prepared to dive in.

Expert Keynote Speakers:
Baiju Solanki, Ketan Makwana, Louise Danielle & Aaron Yahaya

• 09:00 - 09:30 - Meet & Greet
• 09:30 - 10:30 - The 3 Game-Changing Pillars
• 10:30 - 11:15 - The Power of Reverse Engineering
• 11:15 - 11:30 - Break
• 11:30 - 12:30 - Context and Impact
• 12:30 - 13:30 - Lunch
• 13:30 - 14:30 - The Money Mindset
• 14:30 - 15:30 - The Game Plan
• 15:30 - 15:45 - Break
• 15:45 - 17:00 - Your Next 12 months & next 30 Days

______________________________________________________
FAQs
______________________________________________________

Who is this event for?

This event is for Existing Entrepreneurs, Micro SME business owners, Department Heads or Founders who meet 1 or more of the following criteria.
• Business Owners with a T/O below £500k
• New founders
• This criteria is to ensure like-minded peers are in the room as we will be covering high-level content.

How long is it for?

09:30am – 5 pm in total across two sessions. * Registration from 9 am*


What are my transportation/parking options for getting to and from the event?

The venue is a short walk from London Bridge & Waterloo Train and Tube Stations. There is also payable private parking at the venue.

How can I contact the organizer?
Please email any questions to impact@enspirit.global
______________________________________________________