Description
We are no longer accepting reservations. Tickets available the the door for $111 per person
Live in Irvine!
Change Your Energy, Change Your Life!
How to Identify and Clear the Negative Energy that is Blocking Your Success!
Learn from the combined skills of Joe, Janet & Aero in one place!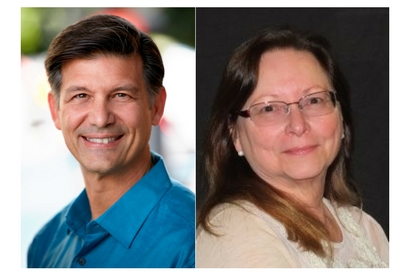 Master teacher Joe Nunziata will be teaching and guiding you to identify energy blockages that are holding you back from being who you want to be. And these blockages may have been with you for many years. Then he will lead you through a meditative process to clear this negative energy and these blockages. Then thirdly, Joe will lead a process to restore positive, uplifting energy that will help you create better outcomes for you immediately and going forward in your life.
And Master Channel, Janet Whitener, will be channeling Aero, a multi-consciousness being of unconditional love, who will pinpoint specific blockages for individual participants in the class as time permits. Imagine, specific healing guidance to identify and assistance to release that which is holding you back – there – in the moment! Learn from the interactive process of a being of unconditional love helping you or another participant instantly identify what is keeping you from the life you desire.
Don't miss this powerful duo together for the first time! Your life may never be the same!
Janet Whitener will be channeling Aero, a multi-consciousness being, sourced in unconditional love, who will be able to pinpoint areas of emotional energy blockages for individual participants as time permits. These blockages can be reflected in the body as pain, disease, and discomfort. They can be reflected in the mental body as anxiety, depression, insomnia and worry. The clearing and releasing of these blockages allows for a fresh beginning for personal growth.
Bios
Joe is a best-selling author, spiritual life and business coach, and professional speaker who teaches that to make permanent changes you must clear your negative energy and break destructive patterns of behavior at the core level. The transformational process that Joe developed enables people to create new energy and beliefs designed to achieve sustained, positive growth in all areas of life.
Since 1992, Joe has been delivering his life-changing message at events and seminars and his programs that blend spirituality, psychology, philosophy and the power of internal energy. He has appeared on many television and radio programs including Good Day New York and Street Talk on Fox TV, Cablevision News 12, Gaiam TV, Better TV, The Braveheart Network and various radio stations across the country.
Joe's work led him to author several books, including Karma Buster, Spiritual Selling, Finding Your Purpose and No More 9 to 5. He has created many audio, video and written programs including Change Your Energy/Change Your Life, No More Mental Barriers, Connecting to Your Spirit and The 7 Keys to Transformation.
"Joe shows you how to seamlessly combine spiritual energy principles in all areas of your life. This is not about techniques, he shows you how to make internal changes that will impact your outside world. For my money, this is the best program out there for people who want to make changes now."
Dr. Joe Vitale, Author of the "Attractor Factor" and many other titles
_________________________________________________________________
Janet is a gifted metaphysician with thirty five years of experience in sharing messages and information for those willing to ask the questions. Detailed, precise information is offered with a depth of humor only Spirit can bring. For Janet a near death experience at the age of twenty changed the direction of her life forever. Hear her story and meet those she calls her unseen, unconditionally loving friends and family. You will be welcome, you will be touched, you will be loved! Enjoy an opportunity to lovingly Interact with Spirit!
"I was very impressed by Janet and Aero, during our session yesterday. I have rarely, if ever, heard so much truth delivered so effectively and concisely about my wife's very complex condition. Thank you, Janet."
J.N. Huntington Beach
Register Early and Save: $111 at the Door