Change, Tomorrow

Saturday, February 11, 2012 from 9:30 AM to 5:00 PM (PST)
Event Details
Change Has Come To America
Dow at 4-year high, Nasdaq hits 11-year high

  
When Will Change Come To Americans? 
And Nevadans?
Nevada's triple economic whammy
@CNNMoney February 3, 2012: 5:31 AM ET 
"The Silver State...has the dubious distinction of leading the nation in unemployment, foreclosure filings and share of homes worth less than the mortgages on them."
Time to BE the Change We Need.
"When we can no longer change our situation, we are challenged to
change ourselves." - Viktor E. Frankl (1905-1997)
Hero School® Academy 
Saturday, February 11, 2012
One Day. 10am-5pm. Change.
Our goal is simple: To help Nevadans BECOME who they need to be to live successfully in these ecomomic conditions and beyond.
This NEW Hero School® ACADEMY will ignite, empower and accelerate engagement and employment among those unemployed, disengaged - and even homeless - while generatating creative thinking among current and future leaders and business owners, REDUCE the costly dependency on government services, and PRODUCE the kind of employees, leaders and community heroes that will cause our community to quickly thrive again. - Tiger Todd, Author, Hero School®
THIS ONE'S FOR YOU. AND ME. 
"I learned more about life from Tiger Todd in just a week-and-a-half than I learned all the rest of my life." - KB, Career Academy Student
Do you have a neighbor who's been 
out-of-work too long? 
Does your coworker need a better position 
than the one she currently has? 
Do you have a friend or family member 
who lacks direction?
Do you know someone still Repeating History?
Do you need to update the "2002 you"
to the "2012 YOU"? 
We have the app for that.
Nothing Accelerates CHANGE like

Hero School Academies include Hero School 101, the class that produces more lasting change in an hour than most programs do in a decade.
Hero School Super Sessions accelerate engagement, employment and promotion by first diagnosing what is preventing people from getting hired, remaining employed, and moving up, by empowering attendees to access and align their inner strengths so they easily achieve goals, meaningful work, and accelerated character change.
We'll help you become who you need to be
to succeed in 2012 and beyond.
"I learned more about life from Tiger Todd in just a week-and-a-half than I learned all the rest of my life." - KB, Hero School Academy Student 2011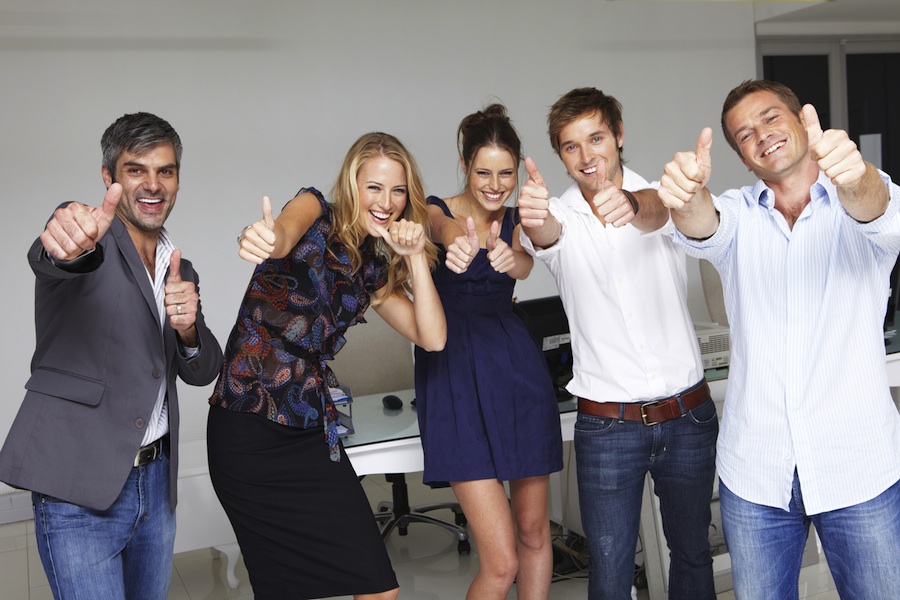 HERO SCHOOL 101 IS FREE TO NEVADANS!
FOR COMPLETE ACADEMY:
You can BUY a ticket, SPONSOR a student, EARN a scholarship or PAY-IT-FORWARD for the next Change Seeker.*
*Referring agencies may purchase individual or seat rows 

TICKETS AT TOP OF PAGE
LIFE CHANGING  Hero School Employability Academy for Southern Nevada
Saturday, February 11, 2012,  9:30am - 5:00pm.
9:30am Coffee and Sign-In
10:00am-12:00pm: Hero School 101 + 7 Steps to the Job You Want
with Tiger Todd  This class alone has helped tens of thousands of men, women and youth find meaningful work, life management and self-reliance.
12:00pm-12:45pm: Lunch provided for Full Academy Ticket Holders, sponsored by Mass Mutual Financial Group
1:00pm-2:15pm: Paula Lawrence – Manners and Business Etiquette
2:15pm-3:30pm: Tony Winsor - Building Savings and Independence
3:45pm-5:00pm: Academy Workbook Q&A Session includes Strategies for Family and Relationships, Business Communication and Teams, Self-Control, Self-Esteem, Life Management and More. 
Academy Super Sessions Include:
Tony Winsor – Financial Investing Small Group
Phil Dunning – Goal Setting and Achievement Small Group
Dr. Arlie Stops - Emotional Intelligence and Anger Management
Paula Lawrence/Tiger Todd - Freedom from Public Speaking Fear 
Owning your own home, Credit Repair, Entrepreneurship, Leadership and more

For more information, Contact Kymm@HeroSchool.us or Call 702.795.7000
Supporters or volunteers, friends, family members - even strangers 16 and older are welcome to attend, whether unemployed, displaced, dependent, homeless, or just tired of repeating history. THERE IS SIMPLY NOTHING LIKE HERO SCHOOL.
Academy is a not-for-profit LVFC-Hero School Initiative - Speakers have donated their fees.
STUDENT STORY 
Unable to find meaning work upon graduation with a BS in Engineering, and laid off from his teaching position in the school district, new dad CW was wondering how to put the many parts of his life together - and pay the bills after a year of unemployment. A one-hour Hero School session helped CW align his inner and outer lives, supercharging his confidence that he was the right candidate with much to offer any company right now. The real CW returned to an engineering company that once turned him down, only to be employed and traveling to remote projects within a week:
"Tiger's Hero School teachings and wisdom have made such a positive impact to where it has helped me become more aware of my changing character and to take each conflict I face as an opportunity. He has helped me realize that the new job I take has its purpose and that the skills I gain, on an outer level, are the tools needed to prepare me for my inner emerging character I am intended to be. I am very grateful because his message couldn't have came at a better time." - CW, Phoenix. Teacher became Engineer.
EACH  Complete Academy and Scholarship Students will receive:
Barcharts Laminated Study Guides
Uptime Sports Nutrition MultiVitamins
Hero School Acceleration Resource Workbook (Priceless!)
Super Sessions: Communication, Emotional Intelliegence and Financial Independence
Employment Clothing Library Wardrobe
Learning Library Access
Hero School Employer and Experts Network Access
And Much More
*Hero School Sponsors listed HERE
Enter raffle to win a copy of Tiger Todd's Career Strategy Manual:
Academy professional women's clothing and Image Consulting provided by:
RESERVE YOUR SEAT now - FORWARD your invite to those in need.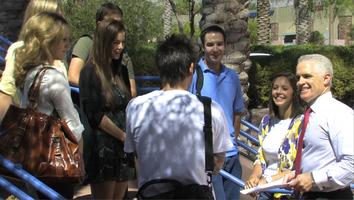 GRADUATE STORY
"Unemployed, BG was wondering how she could express her passion for photography and still pay the bills. Upon graduation from a Hero School Employment Academy, BG was connected with photography expert, Adrienne Griffin, and within a week, BG had both a job with the largest photography company in Las Vegas and a network of entrepreneurs to support her rise to the top:
"Hero School has helped me to come up with a plan for my life.  I have learned how to obtain the career I want, and how to be a better person all the way around. Now, after taking the course, I have outlined exactly what needs to happen to make my dreams come true. My attitude on life has also changed tremendously. I have learned that I am the controller of my life. My character has definitely changed, and I have returned as a volunteer to help keep the next heroes motivated for change!" - BG, Las Vegas
HERO SCHOOL®
EMPLOYMENT ACADEMY

SINGLE-DAY INTENSIVE STRATEGIES AND SOLUTIONS
East Las Vegas Community Center * 250 N. Eastern Ave.
Rear Ballroom * Saturday, Feb. 11, 9:30a - 5:00p
Coffee Meet and Greet at 9:30 am * Bring Notebook and Pen
SEATING IS LIMITED * RESERVE NOW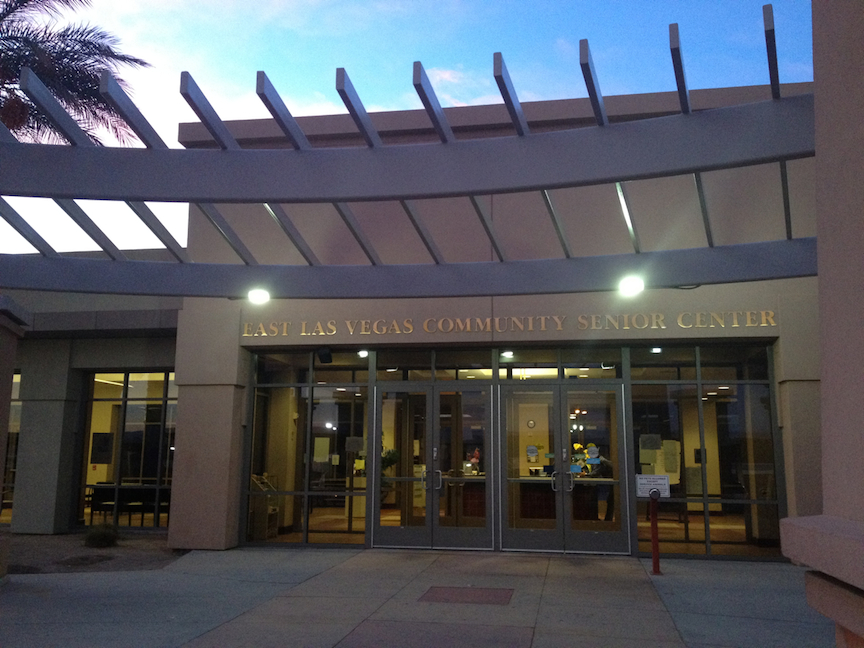 SOME attendees will miss their college basketball games

OTHER attendees will miss playing with their children

MORE attendees will miss hanging out with their friends
 
BUT...
MANY of you will have jobs in a matter of weeks 

MOST will know you've changed into magnets for opportunity and success

ALL of you will know exactly how to become the employment candidates that companies are looking to hire, promote and support throughout your meaningful, profitable and rewarding careers.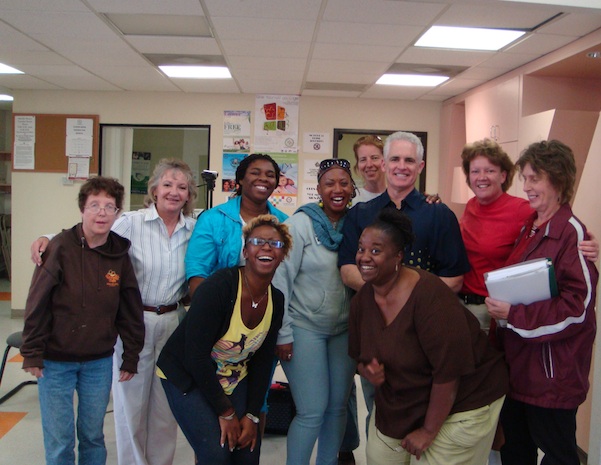 Actual Academy Graduates!
"I think your Hero Class should be mandatory in every school class for young men so they can stop the repeat life I lived for 36 years..." - J.V.D., Las Vegas, NV

DON'T MISS the First Hour of 
HERO SCHOOL 101 
Led by the One-of-a-Kind Motivator, Tiger Todd
FREE!
For more than 10 years, THIS PRICELESS SEMINAR...
a) Has helped over 20,000 unemployed - including homeless - individuals become aware of their "INNER HERO", overcome Kryponite, and become self-sufficient
b) Has helped over 200,000 at-risk youth become academically engaged and graduate
c) Has helped myriad community members around the world learn how to integrate their inner and outer lives, achieve their dreams and build prosperous relationships


UNEMPLOYED FRIENDS AND FAMILY will want to stay through Hero School's trademarked 7 Steps to the Job You Want, the single fastest class for becoming hired and finding meaningful work, regardless of the situation.


FULL ACADEMY LIMITED TO JUST 30 STUDENTS including morning and afternoon sessions and follow-up groups with Leaders of Hero School's Experts Network™. 30 students will also be able to take advantage of Hero School and Partner resources including interview clothing, eye exams, Hero School's Business and Relationship Audiobook Library, High School and College Diploma and Scholarship services, Insurance plans, Internships, Hero School Liaisons and much more. CONTACT Kymm@HeroSchool.us for more information.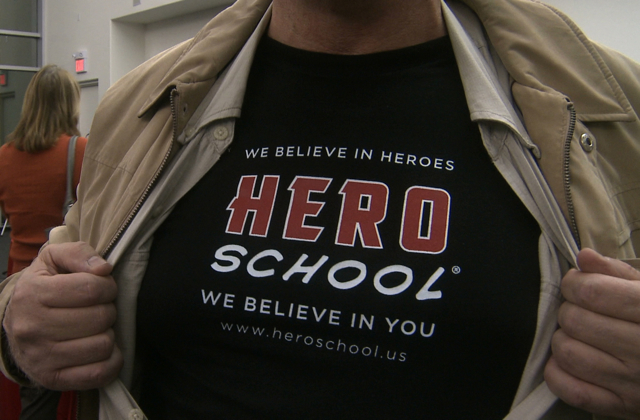 HERE'S WHAT TO DO NEXT
1. SIGN UP yourself.

2. HELP a friend or family member sign up.

3. SPONSOR an unemployed or disheartened stranger sign up.

4. PAY-IT-FORWARD Click the SPONSOR FORM and help Hero School FUND the next Academy by donating $20, $200, or $5000 to fund the entire Academy.
5. PROMOTE Hero School's MISSION of "Helping people become free to live the lives they were meant for through inspiration, intelligence and independence" to your business and social networks.

FOR MORE INFORMATION, contact the Hero School office at 702.795.7000

BUSINESS AND NON-PROFIT SPONSORSHIPS: Cher@HeroSchool.us

CURRENT and FUTURE STUDENTS: Kymm@HeroSchool.us
*Monthly Fee for referrals from non-profit organizations or social service agencies receiving Federal or State funding.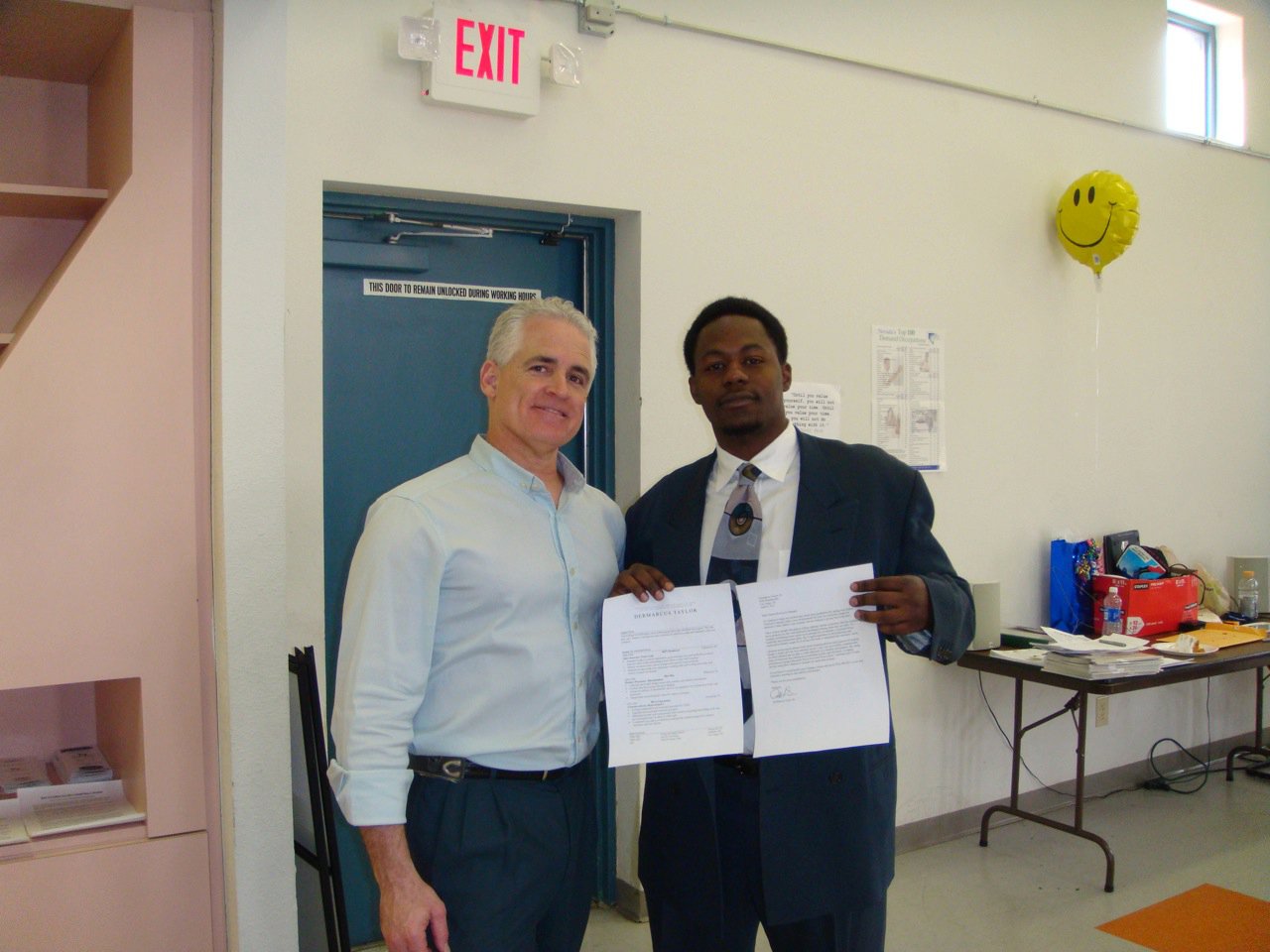 BACKGROUND
Three years since the economic downturn, Nevada's unemployment rate remains the highest in the nation, in spite of the best efforts of myriad organizations and heroic individuals. After empowering tens of thousands of homeless adults to become engaged and contributing employees and community members,Hero School's cadre of local business and community leader-volunteers along with founder Tiger Todd, have developed a new employment process proven to quickly empower more than 50% of unemployed attendees - from myriad social strata - to find meaningful employment in a matter of weeks. For more than a decade, Hero School Character Change® Initiatives have benefited organizations including CSN, UNLV, Catholic Charities, NPHY, DFYS, The Shade Tree, SNRHA, and CCSD.
When & Where
SE Corner of Stewart and Eastern
6917217, 89101


Saturday, February 11, 2012 from 9:30 AM to 5:00 PM (PST)
Add to my calendar
Organizer
Heroes for Hero School
Hero School is a cutting-edge educational model, engagement curriculum and motivational delivery system that uses entreprenurial strategies, movies and mathematical formulas to produce rapid and lasting Character Change® for students, educators and leaders. 
As a 501C3 organization, Hero School Initiatives combines the model and curriculum with leading entrepreneurs and strategic resource partners to ignite passion, purpose and prosperity for hundreds of thousands of students in Southern Nevada.

Helping people become free to live the lives they were meant for since 1995, more than 40,000 youth and adults have broken free from cycles of homelessness and dependency in Southern Nevada alone.
Hero School®: Real. Life. Change. At the Speed of Movies.™ www.HeroSchool.us
Change, Tomorrow