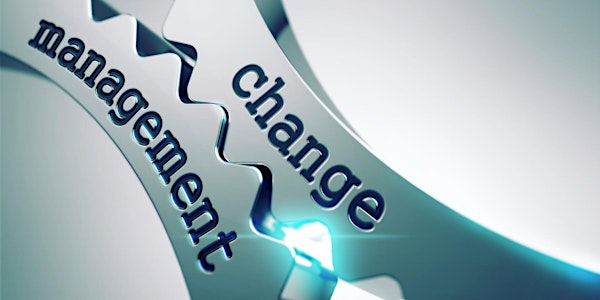 Multiple dates
Change Management Certification Training in Toronto, ON
Change Management Certification Training by Industry Experts
Date and time
February 24 · 9am - February 28, 2025 · 5pm EST
Location
Toronto, ON Regus Bussiness Centre/Hotel Toronto, ON M5X 1C9 Canada
Refund Policy
Contact the organizer to request a refund.
About this event
Change management is a collective term for all approaches to prepare, support, and help individuals, teams, and organizations in making organizational change.
Change management is a systematic approach to dealing with the transition or transformation of an organization's goals, processes, or technologies. The purpose of change management is to implement strategies for effecting change, controlling change, and helping people to adapt to change.
Change is often frustrating and may often fall out of the paradigm of strategies that you may have developed in your management career. But change is necessary and you as a change manager will be expected to lead from the front. We, therefore, bring you a practical one-day course that focuses on all levels of change impact and prepares you to face them according to new-age best practices and techniques.
Our change management certification course teaches students how to develop practical solutions for effectively implementing change in the workplace. Students will become skilled at addressing the concerns of staff and enabling cooperation through strategic best practices. By effectively using change management techniques, students will learn how to facilitate smooth transitions in the workplace while maintaining morale.
Changes in an organization are about more than just policies. They are about people. Most organizations routinely introduce sweeping changes, to improve processes, accommodate shifts or follow new regulations. They often do so without adequately considering the effect these changes have on people within the organization. Change management professionals guide organizations through these changes on the individual, organizational and enterprise levels by taking a people-first approach.
By the end of this training, you will get the confidence needed to manage change as an individual manager, and help yourself and your organization through these uncertain economic times.
The ability to effectively lead organizational change is a competitive differentiator. Those that implement change better, faster and smarter will ensure better outcomes.
What you will learn:
• Become better managers and business leaders by achieving optimal personal and business performance
• Combine information learn about implementing change management, its tools, and industry best practice, facilitated by an experienced change leader. Develop, apply and embed the knowledge and skills acquired by this program in your organization.
Course Agenda
• Introduction to Change Management
• Change Management – Why this is important
• Portfolio, Program, and Project Management Overview
• Organizational Maturity Model: Is my organization ready for embracing change
• Organizational Maturity Model: Is my Team ready for embracing change
• Change in organizations - using interactive facilitation and individual reflection and activity
• Change how it impacts me - Tailored change manual to use in your organization
• Initiating change - using real-life organizational change experiences
• Launch and mobilize the change - use a case study and role plays to practice the concepts learned
Some of the most common examples of when change management is necessary to successfully implement changes within organizations include the Implementation of new technology. Mergers & acquisitions. Change in leadership.
Why take the training with Learning Zone Inc?
Our course will teach you the techniques that will help you embrace change and lead in a way that results in organizational and career transformation. This course is a must for every manager who aspires to be a leader and a success in his or her career.
In this age of uncertain economic situations, managers need to be extremely tuned to change and steer the organization in the right direction by managing a crisis effectively. Change management needs to be learned and implemented through a structured approach so that employees are kept motivated and engaged.
We stand out because:
Best value for time & money invested.
Get trained at the best fee compared to other vendors
Discounted fee offered for 5 and more attendees
Training delivered by the industry expert
*We do conduct corporate training on your preferred location and dates for no additional cost.
Contact us for more information:
Name: Debbie Riel
Email: debbie.riel@learninzone.com
Phone: +1 302.251.9769
About the organizer
Our trusted and certified courses set us apart from our competition - we, at Learning Zone Inc, pride ourselves on our extensive global coverage, with the capability to deliver over 3,000 courses, in 700+ locations, across 190 countries.
Learning Zone Inc, is a leading high-quality certification training organisation for working professionals in the areas of Certified ScrumMaster (CSM), Certified Scrum Product Owner (CSPO), Project Management (PMP), Quality Management, IT Service Management, Digital Marketing, Agile and Scrum, DevOps, Big Data & Hadoop, Data Science, Tableau, Conflict Management among others.
We have worked with thousands of professionals and companies across the United States, Canada, Mexico, Australia, Singapore, Dubai, and the United Kingdom to acquire certifications and up-skill their employees. Learning Zone Inc, now helps professionals across various domains with the help of our strong instructor panel; a panel of certified instructors that play a crucial role in identifying and covering development needs for working professionals and delivering a 98.7% success rate.
We choose subject matter experts with plentiful industry knowledge, who know how to make their topics engaging to create a memorable and valuable learning experience.
We believe in enhancing your career, skills, employment opportunities and achieving professional goals.