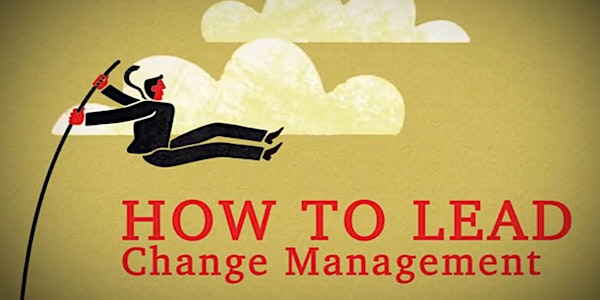 Change Management Certification Training in Philadelphia, PA
Change Management Certification Training ( 1- day course )
When and where
Location
Philadelphia, PA Regus Bussiness Centre/Hotel Philadelphia, PA 19093
Refund Policy
Contact the organizer to request a refund.
About this event
Change is often frustrating and may often fall out of the paradigm of strategies that you may have developed in your management career. But change is necessary and you as a change manager will be expected to lead from the front. We therefore bring you a practical 1-day course that focuses on all levels of change impact and prepares you to face them according to new age best practices and techniques.
Our change management certification course teaches you how to develop practical solutions for effectively implementing change in the workplace. Students will become skilled at addressing the concerns of staff and enabling cooperation through strategic best practices. By effectively using change management techniques, students will learn how to facilitate smooth transitions in the workplace while maintaining morale.
Changes in an organization are about more than just policies. They are about people. Most organizations routinely introduce sweeping changes, to improve processes, accommodate shifts or follow new regulations. They often do so without adequately considering the effect these changes have on people within the organization. Change management professionals guide organizations through these changes on the individual, organizational and enterprise levels by taking a people-first approach.
The knowledge and skills taught in this course are in line with the educational standards of the Association of Change Management Professionals and industry standards. The vital skills students learn will be immediately applicable to their careers.
What you will learn:
Become better managers and business leaders by achieving optimal personal and business performance
Combine information learn about implementing change management, its tools and industry best practice, facilitated by an experienced change leader. Develop, apply and embed the knowledge and skills acquired by this program to your organization.
Course Agenda
Introduction to Change Management
Change Management – Why this is important
Portfolio, Program and Project Management Overview
Organisational Maturity Model: Is my Organisation ready for embracing change
Organisational Maturity Model: Is my Team ready for embracing change
Change in organisations - using interactive facilitation and individual reflection and activity
Change how it impacts me - Tailored change manual to use in your organisation
Initiating change - using real life organisational change experiences
Launch and mobilise the change - use a case study and role plays to practise the concepts learnt
Why take the Change Management training from Reform Skills Inc?
In this age of uncertain economic situation, managers need to be extremely tuned to change and steer the organization in the right direction by managing a crisis effectively. Change management needs to be learnt and implemented through a structured approach so that employees are kept motivated and engaged. Our course will teach you the techniques that will help you embrace change and lead in a way that results in organizational and career transformation. This course is a must for every manager who aspires to be a leader and a success in his or her career.
*We conduct corporate trainings on your preferred dates and location for no additional cost.
Please note: Change Management is 1-day training program (Friday). Eventbrite page will show up only the start dates of all training sessions.
Contact us for more information:
Email: steve.brown@reformskills.com