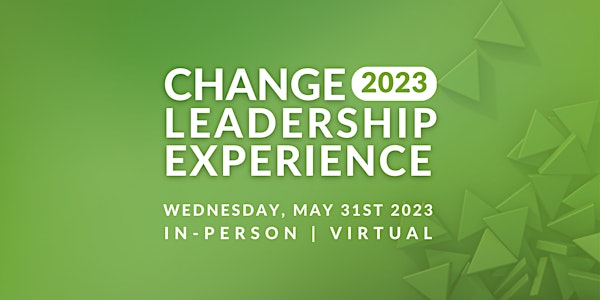 Change Leadership Conference 2023
Change Leadership Conference: Canada's Premier Learning and Networking Event for Executives & Professionals Responsible for Leading Change.
Date and time
Wed, May 31, 2023 8:30 AM - 5:00 PM EDT
Location
MaRS Discovery District 101 College Street Toronto, ON Canada
About this event
8 hours 30 minutes

Mobile eTicket
The Change Leadership Conference 2023
Our 2023 conference is aimed at preparing Leaders, Change Agents & Professionals, and Organizations on 'What's New, What's Changing' in the current business environment.
Key themes for our conference will focus on the forces driving change in today's current climate; Future of Change, DEI, Sustainability, Disruption, Mental Health & Wellbeing, New World of Work, and more.
This one-day event on May 31st is targeted at 300+ Leaders, Senior Managers & Change Professionals across various industries in Canada and Globally, who are responsible for leading and managing change in their organizations.
You will learn to:
• Create a culture of change and increase your influence
• Learn how to respond to change better and faster
• Hear real-life case studies on leading change and innovation
• Better harness your teams in leading and managing resistance to change
• Increase ROIs from change initiatives in your organization
• Strategies and insights to stay ahead in a competitive market
• Network with change leaders and professionals in your industry
This conference is focused on helping Professionals, Leaders, Change Agents and Organizations to prepare and respond to Change BETTER and FASTER in today's fast-paced business environment. 
Now is the time for organizations, leaders and change practitioners to be prepared to lead and respond to change better and faster.
The Change Leadership's mission is to accelerate the preparation of leaders, change agents, and organizations to respond dynamically to the rapid pace of Change and Innovation taking place around us.
Here's a taste of The Change Leadership Experience:
"Great Change Leadership conference this year. Engaging speakers and panelists. Thoroughly enjoyed the speed networking portion, which was my first experience. Will attend next year!"
- Tamara Tang RBC
"For me, a good conference needs to surprise, teach, and inspire me. #Changelead22 did just that! Lilian Nicolaas"
- Lilian Nicolaas
"One of the best conferences I ever attended! Fantastic topics, excellent speakers, awesome opportunity for global networking! Not a single moment to get bored or to be able to move away from screen as much as the conference was full of dynamics! Last but not the least, a big thank you to the organizing team that did a marvelous job throughout the day! Looking forward to 31 May 2023!"
"Great conference. First time. Will be back next year."
"The Change Leadership 2022 Conference was informative, collaborative, thought-provoking, and an all-around great experience. It was wonderful to spend the day with, and learn from, fellow CM practitioners!"
"This was a fantastic event. Lots of great speakers, topics and engaging conversation. Highly recommend for inspiration on improving your Change Leadership game."
Frequently asked questions
Will I earn credit for the educational sessions?
Who am I able to network with?
What happens if I am not able to attend all the sessions, will they be recorded?
Is this an in-person or virtual event?
Will there be exhibition booths?
About the organizer
The Change Leadership envisions a future where a new type of leadership ideology thrives. One in which leaders of organizations and governments bridge emergent technology and innovation with the sustainability of employees, customers, the communities in which they do business, in the face of change, and are benevolently rewarded for doing so.
Change is dynamic and unending; it is foundational for success, growth and market leadership. Without change, we remain stagnant, experience financial losses, and lose our relevance in the marketplace!
Our purpose is to foster a culture of change leaders who respond better and faster to the uncertainties stemming from disruption, innovation and technology permeating all industry sectors in a rapidly changing world. With a mission to accelerate the preparation of leaders, change agents, and organizations to respond dynamically to the rapid pace of Change and Innovation taking place around us.
'The Change Leadership' Series is presented by OliveBlue Incorporated, a global Change Management Consultancy and a team of business experts who are skilled in crafting memorable learning and brand experiences .