This event will focus on the key aspects to be considered by organisations to best support their workforce through the menopause.
About this event
Organisations have a responsibility to support individuals through the menopause not only from a well being perspective but because it also supports the organisation's most valuable resource - people. This event will explore several legislative responsibilities organisations have, what you as a manager can do and give some key figures and metrics on the topic.
Join us on Wednesday 27th October, for an informed discussion providing insight on the topic of the menopause in the workplace to hear how managers and leaders can best support their colleagues throughout this experience. The ultimate aim and objective of the session is to inform the audience and elicit good discussions on the topic. This session will take the format of a welcome and scene setting, an interactive poll followed by a presentation.
Our Speakers
Sally Penni MBE CMgr CCMI
Barrister & Founder, Women in Law UK
Sally Penni MBE is a high profile award-winning barrister, public speaker, diversity leader, a patron, in her own words, and most importantly a Proud Mother of three.
She was named Diversity and Inclusion Leader of the Year at the inaugural Northern Leadership Awards. Sally is also the founder of the Women in the Law UK organisation.
Women in the Law UK is focused on supporting the next generation of leaders in law and encouraging career progression through personal development.
Sally also sits as Non-Executive Director on a variety of boards bringing her experience and expertise in a variety of areas including governance, employment law & cybersecurity These boards include:
Royal Exchange Theatre, Manchester
Arawak Walton Housing Association
Codethink Ltd
Camberwell Park School – Governor (Vice Chair) & Chair of Standards Committee
Sally is a keen fundraiser supporting numerous local and national charities including Royal Manchester Children's Hospital.
She is also the founder of social enterprise 'FMD' which is a community network that aims to connect the community and campaigns to end loneliness and isolation in the community.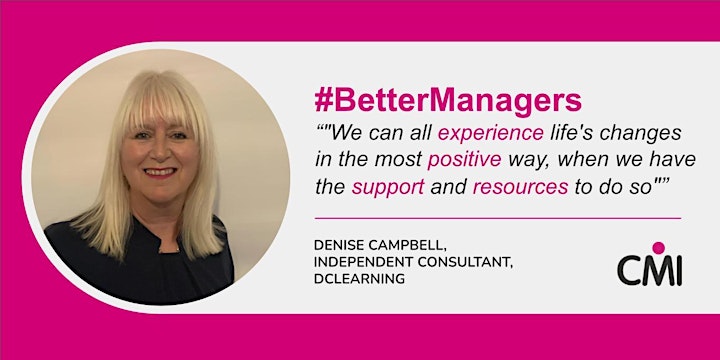 Denise Campbell
Independent Consultant, DCLearning
Passionate about helping people to be the best that they can be at any stage in their life and career. Support with personal change and careers is not just for those starting out. I focus on combining development in mental toughness, resilience, and confidence with techniques and tools for managing personal change and career planning. For women experiencing the menopause it is a powerful combination to enable them to make choices about how to make the most of this life stage and for the long term post the menopause.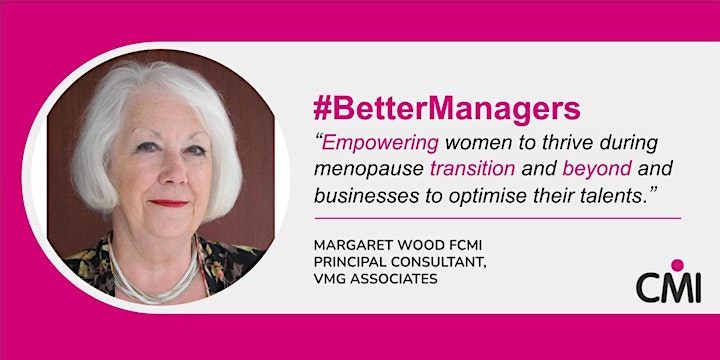 Margaret Wood FCMI
Principal Consultant, VMG Associates
I was appointed Course Director for women's development in the Inland Revenue in 1994 and also Programme Director and National Internal Verifier for the Department's Approved Centre for CMI Leadership and Management qualifications between 1999 and 2005. I gained CMI Member status in 1999 and was awarded Fellowship in 2011.
Since becoming self-employed in 2005 my interest in women's development has continued and with the Gender Pay Gap statistics showing that older women are disproportionately affected, I have been focusing on the issues they face, especially during menopause transition and the impact this has on their careers and subsequent productivity.
LinkedIn profile: https://www.linkedin.com/in/margaret-wood-28b01315/
Our Host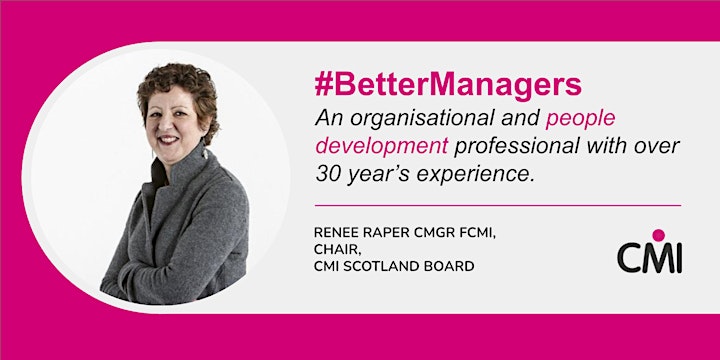 Renee Raper MSc, CMgr FCMI, Chartered FCIPD
Chair, CMI Scotland Board
Renee is an organisational development professional with extensive knowledge of learning and development with over 30 years' experience. She works at strategic and operational levels with business and in academia, nationally and internationally, providing learning consultancy, solutions and programmes in leadership and management. She has worked in Europe, Kazakhstan and the Middle East and is a global e-tutor for the CMI, ILM and Scottish HE & FE, and currently has her own consultancy, Quo Solvis Ltd. She is a qualified executive and career coach. She enjoys fitness, international travel, reading and baking and is enthusiastic for CPD and a glass of rioja!
For more information about the CMI Scotland Board you can visit the Board's web page: https://www.managers.org.uk/community/regional-networks/scotland
Or you can connect via social media:Twitter: @Scotland_CMI https://twitter.com/scotland_cmi
LinkedIn: https://www.linkedin.com/groups/3346114/
In the meantime...
If you're a member of CMI, or subscribe to our content, you can find thousands of exclusive, practical development resources in ManagementDirect. Log in here and search for a topic to get started!
Not yet subscribed?
From free newsletters packed with the latest trends, insights and tips for managers and leaders, to the full suite of invaluable tools and benefits that come with being a CMI member, we've got something for everyone. Visit our website to find out more.
Organizer of Change for the Better: Menopause - A Change 4 Business