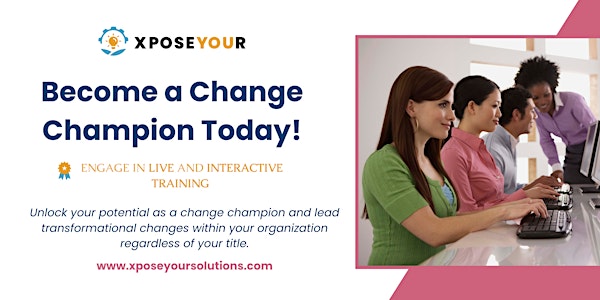 Change Champion Training
Join our training to become a change champion in your organization. Learn how to drive change and influence results regardless of title.
Date and time
Starts on Thursday, June 8 · 6am PDT
Refund Policy
Contact the organizer to request a refund.
About this event
Are you looking to take your career to the next level and become a change champion within your organization? Our upcoming training program is just what you need! This training is designed to be interactive, hands-on, and practical, providing you with the necessary skills and strategies to lead positive changes in your workplace. With engaging exercises, group discussions, and real-life scenerios, you'll have fun while learning how to become an effective change leader. Don't miss this opportunity to unlock your potential and become a change champion! Sign up yourself or your team today!
Importance of Change Champion Training:
Organizations today are constantly evolving, and in order to stay ahead of the curve, it is important to have individuals who can effectively drive change and innovation within the workplace. This is where the concept of a change champion comes into play. By attending change champion training, individuals can learn the necessary skills and strategies to identify opportunities for improvement, engage stakeholders, and drive positive change in their organization.
Definition of Change Champion:
A change champion is an individual who takes the lead in driving positive transformational changes within their organization. They are often the ones who recognize areas for improvement and take proactive steps to make changes happen. Change champions are not always high-level executives or managers; anyone at any level of an organization can be a change champion.
What is Change Management?
Whether it is rolling out a new software that impacts all or some departments, restructuring your team, changing a process, implementing diversity initiatives, going through an acquisition, or simply working in a fast paced environment, to keep your employees and customers happy throughout the transition can be a challenge, but it can be done...on purpose. That is why having a change management strategy is vital to achieving your key initiatives.
Change management is at the heart of a company's ability to accept and implement change successfully. It enables employees to comprehend and commit to the shift while also allowing them to perform efficiently. Effective change management is vital to fundamental transformation.
During rapid growth and massive tranformation many organizations....
spend substantial time and valuable resources to improve their functions, but not many succeed in integrating new practices into organizational routines.
embark on a change without understanding the impacts on employee's day to day functions, the customer experience, or even the change itself.
experience resistance from staff, low adoption of the changes, or even a loss in revenue then they begin managing the change.
Key Takeaways From This Training:
Understanding the principles and strategies of change management and how to apply them in an organizational context.
Developing skills in identifying opportunities for improvement and leading change initiatives.
Learning effective communication techniques to engage stakeholders and gain buy-in for change initiatives.
Acquiring knowledge on how to manage resistance to change and overcome obstacles that may arise during the change process.
Building confidence in leading change efforts and becoming a change champion within your organization.