Sales Have Ended
Registrations are closed
Thank you ! Look forward to seeing you
Sales Have Ended
Registrations are closed
Thank you ! Look forward to seeing you
Description
We are rapidly becoming more conscious of our impact on our society and the role we play in shaping our world. As an increasing number of people gather in the name of causes and movements driving change, we want to contribute to an environment of empowerment in Sri Lanka. We identify the term Change Agents with individuals who are not only passionate and fearless but those who are using their potential to create positive impact.
We believe that each individual has this potential to create a legacy. Therefore Change Agents wishes to be the platform through which all those who wish to be active citizens of the world can drive their collective energy to make a bigger and better impact. Drawing from different ideologies, philosophies and backgrounds, we are aiming to inspire and connect individuals striving to drive change in our community Change Agents will not only feature presentations by thought leaders and visionaries but will also feature opportunities for passionate voices to speak up and engage in a meaningful dialogue.
We hope to…
Provide a platform for Change Agents to share their expertise and experiences
Create a platform for networking among like-minded individuals
Create a meeting hub to engage and drive ideas for change
Inspire individuals to be an active part of the dialogue on change



Speaker: Maria Lucia Uribe - Education in the times of uncertainty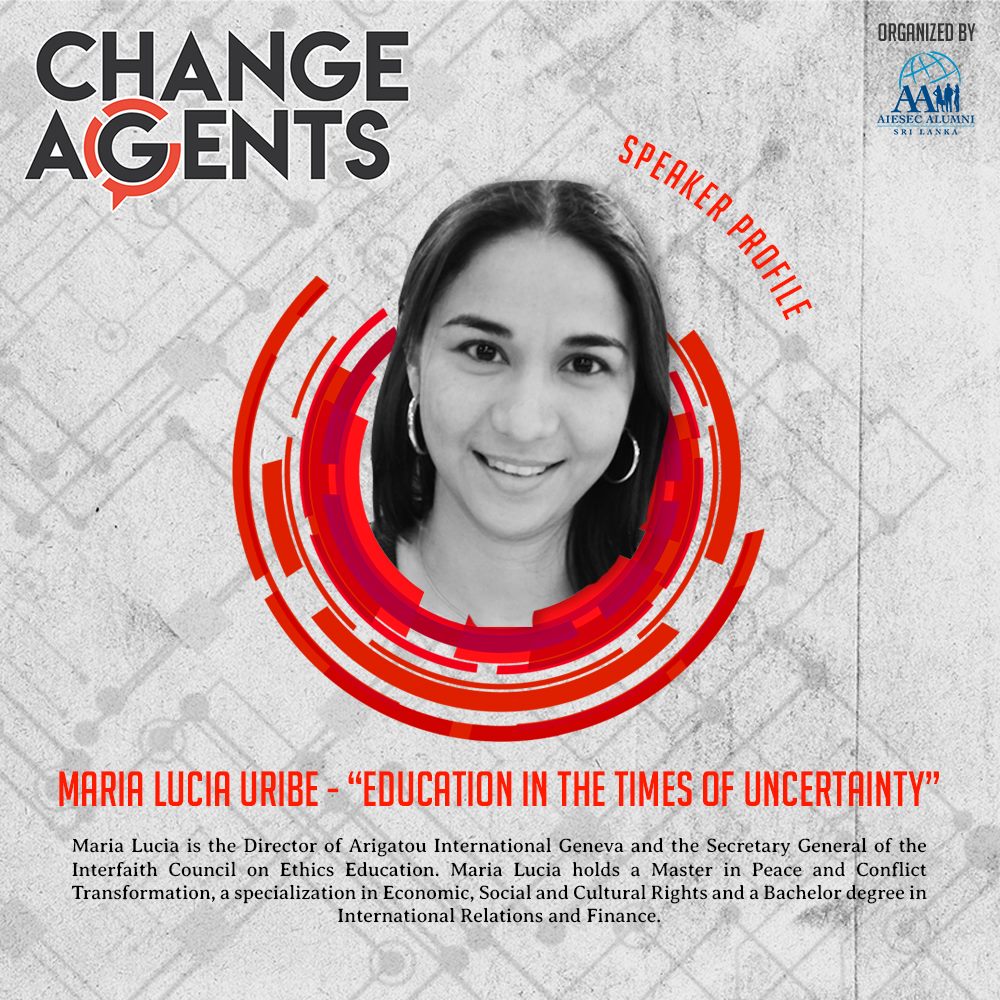 " Today education systems need to be reimagined and reinvented to respond to the multiple ethical challenges of societies, but also to the globalized nature of our daily interactions and lives. Education systems need to retrieve the very essence of the meaning of education, that aims to lead out, to help children to develop to their full potential, not just intellectually, but also emotionally, relationally and spiritually.
It is not enough for schools to include subjects that help children develop skills for life; what is needed is a systems-wide approach that is grounded in an ethical perspective of society, where schools understand themselves as part of a community and as a key actor in fostering social cohesion and building peace; where the principles that guide education, not only content but also management, are sensitive to cultural and religious differences; where educational spaces are safe for children to strengthen their sense of belonging, inclusive identities, and allow them to become who they want to become, connect with others and transform themselves and the world around them. It is unacceptable and even unethical if, because of political interests, religious or cultural righteousness, or economic advantage, education systems shut themselves to welcome the other, recognize, and foster respect for diversity, or even to equip learners to live in solidarity with others. "


Speaker: Sifaan Zavahir - Parenting with Metta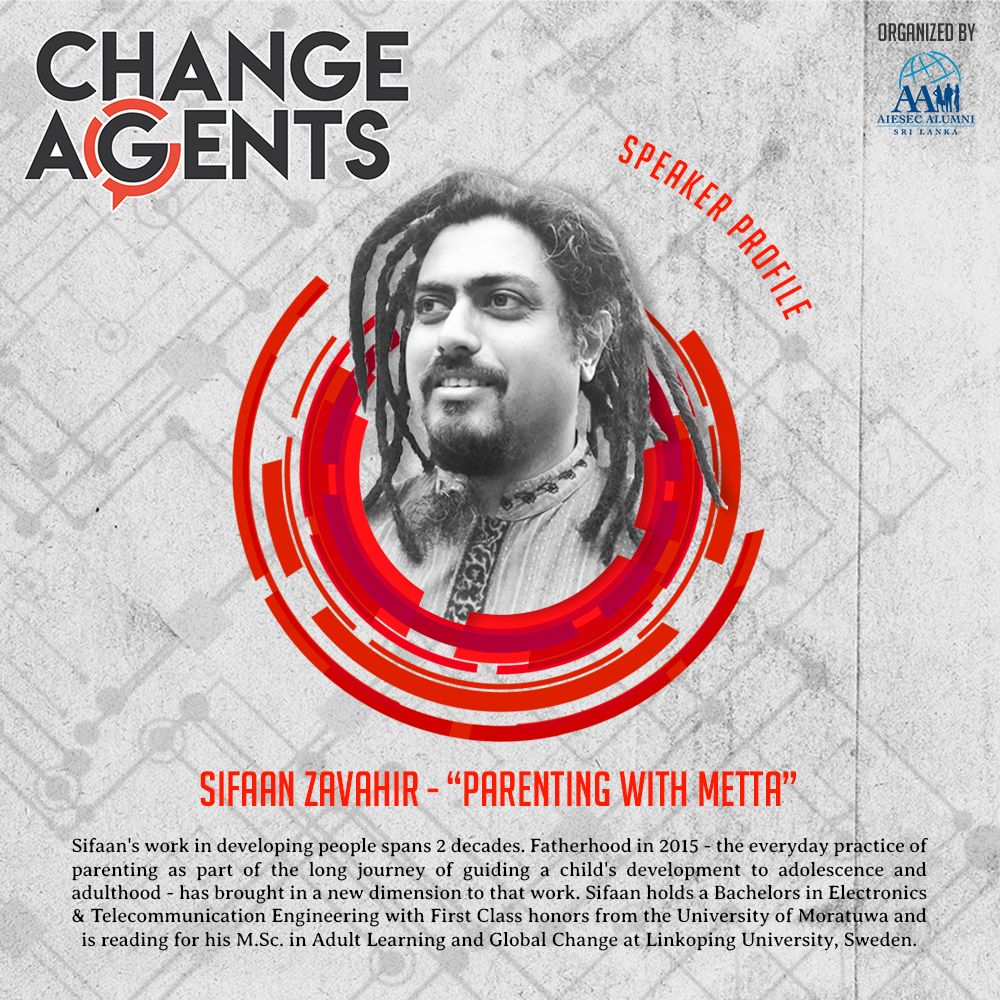 For the last 3 years, Sifaan and Dileepa have been consciously trying to practice Metta ("loving kindness") in their role as parents - how can they be kind (to their child, to each other, to others) and how to encourage him to be kind?
For example, how to guide him to be "good" because he understands the consequences of his actions on his and others' happiness and well-being, rather than because he craves a reward or fears punishment?
The talk will build on reflections on the insights and questions that emerged in their attempts, some of which are shared at https://www.facebook.com/groups/ParentingWithMetta