Words Shape Our World: A Literary and Social Justice Series
About this event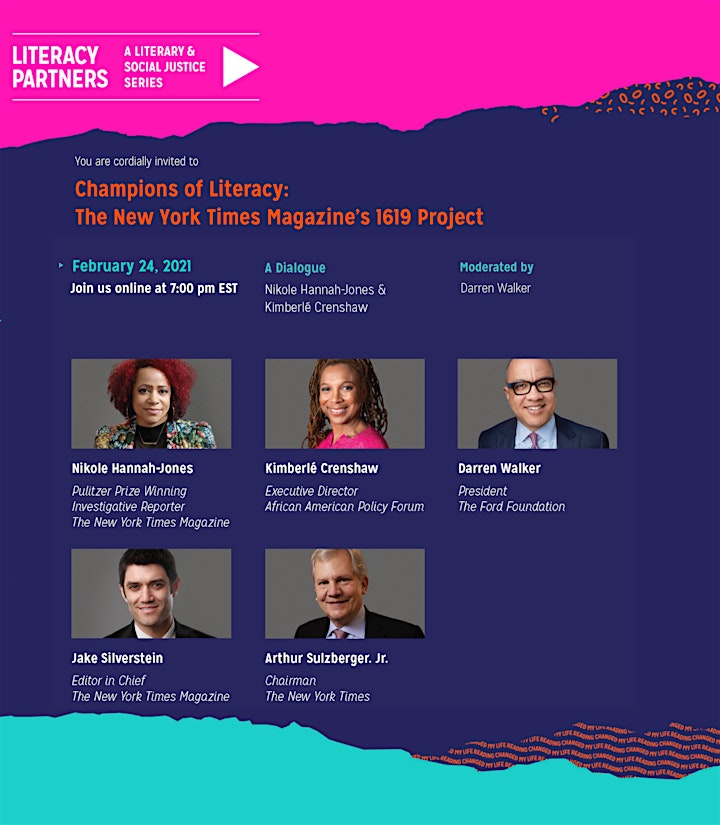 Champions of Literacy: The New York Times Magazine's 1619 Project - A Dialogue: Nikole Hannah Jones and Kimberlé Crenshaw, Moderated by Darren Walker
We present the Champion of Literacy Award to Nikole Hannah-Jones, one of the most influential journalists of our time. Her groundbreaking work with the New York Times -- The 1619 Project -- has had a major impact on public understanding of the far reaching impacts of slavery on American society. Nikole is joined in conversation with powerhouse legal scholar and civil rights activist Kimberlé Crenshaw and Ford Foundation president, Darren Walker.
_______________________________________________________________________________________________
Celebrating Black History Month
In honor of Black History Month, Literacy Partners is proud to present an encore presentation of our online series on racial and social justice, "Words Shape Our World". This series first premiered in the Fall of 2020. The gatherings are sure to inspire and deepen our collective understanding of the work ahead. We hope you will join us and help fuel our educational mission!
The three events in the series are:
My Time To Speak: A Reading by Ilia Calderon with Neyda Martinez - February 25, 2021, 7 - 8p EST https://iliacalderon.eventbrite.com
Champions of Literacy: The New York Times Magazine's 1619 Project - A Dialogue: Nikole Hannah Jones and Kimberle Crenshaw, Moderated by Darren Walker - February 24, 2021, 7 - 8p EST https://championsofliteracy.eventbrite.com
A Tribute to Toni Morrison: Marathon Reading of Song of Solomon - February 26, 7 - 11p EST; February 27, 7 - 11p EST; and February 28, 7 - 11p EST https://songofsolomon.eventbrite.com
This event is free, but we greatly appreciate your donations, which directly support our free adult literacy classes and workshops for low-income parents. To learn more about our work, please visit our website: literacypartners.org.
Organizer of Champions of Literacy: The New York Times Magazine's 1619 Project (encore)
Literacy Partners strengthens families through a two-generation approach to education. With our free classes, low-income parents in New York City develop the literacy and language skills they need to succeed in today's world. Our research-based curriculum also incorporates child development and parenting support to help parents boost their children's early reading, school readiness, and social-emotional growth.