Kids In Need Foundation's Champions For Education
About this Event
Education is the most powerful weapon which you can use to change the world." -Nelson Mandela, April 23, 2013 
Education empowers, transforms and inspires. As we navigate our ever-evolving world, filled with an unparalleled mix of new and  deep-rooted challenges, investment in education is the key to productively advancing our present, shared reality and for generations to follow.
We come together as Champions for Education to celebrate our collective passion for a fundamental vision that every child in America should have equal opportunity and access to a quality education.
Programming for the event will include a panel of subject matter experts and a roster of sports and entertainment champions sharing insightful dialogue and passion for education in the U.S. The event will be approximately 70 minutes in length.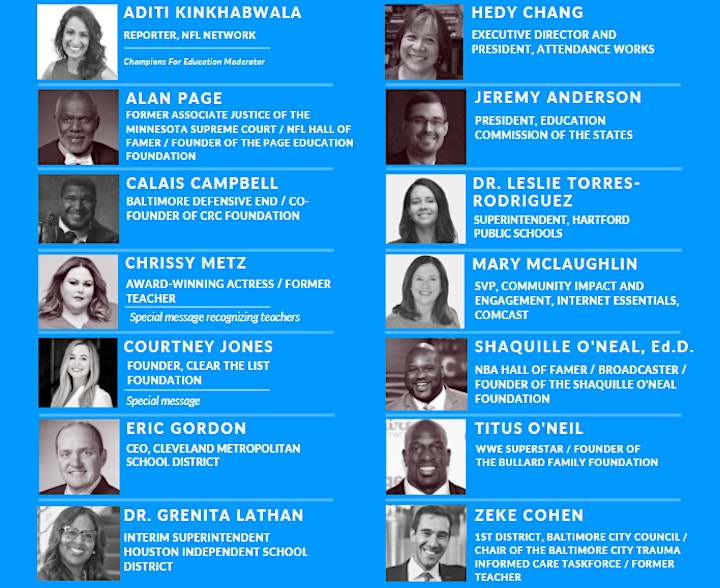 Run of Show highlights will include:
COVID - Magnifying systemic issues within education
Jeremy Anderson • President, Education Commission of the States
The Achievement Gap
Justice Alan Page • NFL Hall of Famer/ Presidential Medal of Freedom Recipient
Eric Gordon • CEO, Cleveland Metro Schools
Shaquille O'Neal • NBA Hall of Famer
Distance learning and the Digital Divide
Zeke Cohen • Councilmember, Baltimore City Council, 1st District & Former Teacher
Dr. Grenita Lathan • Interim Superintendent, Houston Independent School District
Mary McLaughlin • SVP , Community Impact and Engagement, Internet Essentials, Comcast
Calais Campbell • Baltimore Defensive End & 2019 Walter Payton Man of the Year
Student Absenteeism
Hedy Chang • Executive Director, Attendance Works
Dr. Leslie Torres-Rodriguez, Superintendent, Hartford Public Schools
Titus O'Neil • WWE Superstar
Teacher Salutes
Chrissy Metz • "This is Us" Actor
Courtney Jones • Founder, Clear The List Foundation
For more information about KINF, its mission, and programs, visit https://www.kinf.org/. For those interested in supporting the organization's mission, please visit https://www.kinf.org/championsforeducation/.
Please email info@kinf.org with any questions. Interested in supporting the event through a sponsorship? Please contact Suzanne Werdann at swerdann@kinf.org.