Description
Sales consultants! Listen up!


[ NOTE: Due to our trainer Ian Isaiah Ding's personal health issues, the ChampIAN Closer Strategy Workshop on 18 January 2018 will be postponed to 27 February 2018 (Tuesday), 2.00pm - 5.00pm. Our apologies for the inconvenience caused. ]
Are you having difficulty closing cases? More agents joining the industry making the market increasingly competitive? No sustainable income? Feeling at loss about your future? Heck, are you even finding it challenging to start a pitch with your client?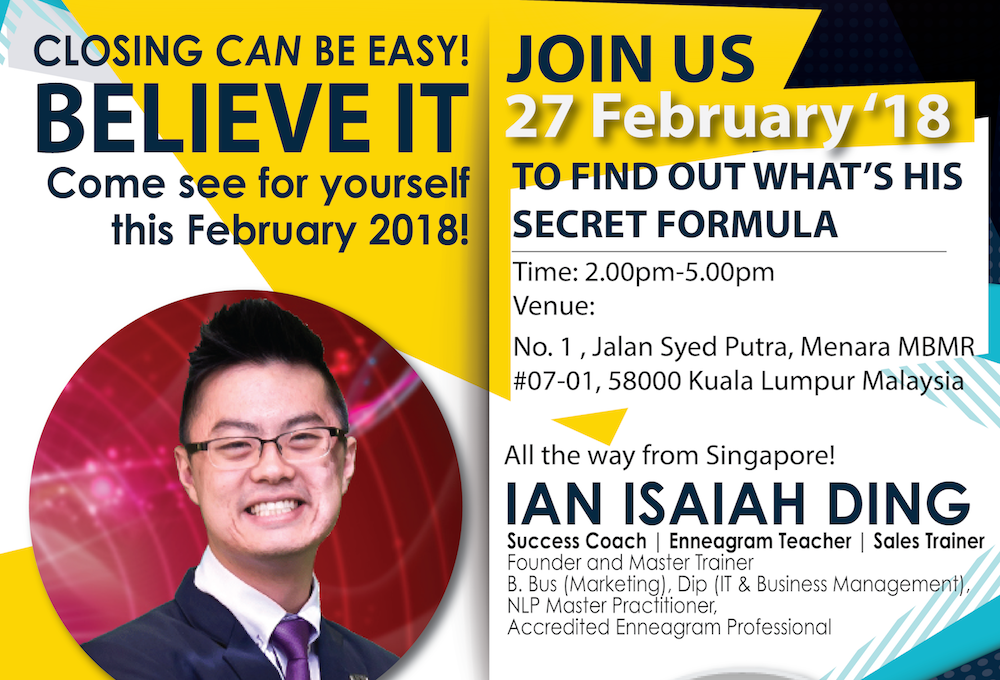 Join this ChampIAN Closer Strategies Workshop with Ian Isaiah Ding and you'll get:
1. The exact strategies needed to propel your business to the next level, regardless of how technology is disrupting the industry.
2. His closely-guarded C.L.O.S.E.R formula, where Ian will share with you how you can retain your prospects, convert them into willing clients for life, and still happily give you referrals.

This event is great for every persons in this industry, even if you're a seasoned sales pro or just starting out.
See you soon!