UGA Legend and Pro Football Hall of Famer, Champ Bailey invites you to join him and Danny Wuerffel for a VIP pre-game networking experience.
About this event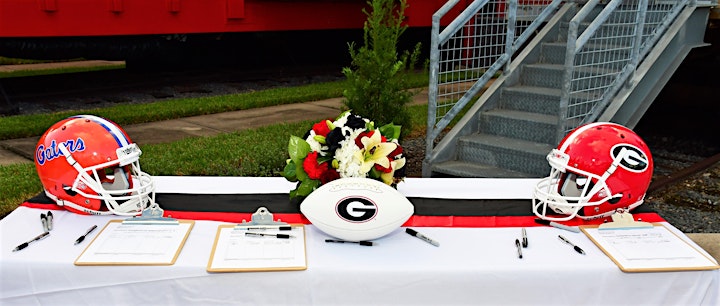 The Players Reception is the ultimate VIP hospitality experience that connect fans to legends of the game prior to the Georgia-Florida game. Hosted by Pro Football Hall of Famer and UGA Legend Champ Bailey, alongside College Football Hall of Famer and UF Legend, Danny Wuerffel, this event is the only player-organized event that features high-level networking for alumni, fans, and prominent players from both sides of the rich rivalry between the Georgia Bulldogs and Florida Gators. The Players Reception will deliver unrivaled access and unique engagement opportunities for some of the most connected and influential fans of each university.
WHAT TO EXPECT
The Players Reception facilitates and encourages business connections and opportunities with top executives, entrepreneurs, alumni, and athletes from both schools. The catered event includes unlimited food and drinks for the duration of the four-hour event. In addition, there's a cigar bar, live entertainment and a silent auction to benefit Bailey Brothers Foundation and Desire Street Ministries.
Party Shack USA is providing the ultimate tailgate experience with on-site suites that include air conditioning and televisions.
WHO WILL BE IN ATTENDANCE
Numerous legends from each school are scheduled to join Champ and Danny at the event. In addition, Rennie Curran and Jarvis Jones – two of the 2019 Florida-Georgia Hall of Fame Inductees – will be on hand signing autographs and taking photos.
Champ hosted The Players Reception prior to the UGA / Notre Dame game earlier this season, and more than 60 alumni players attended the event, including fellow Pro Football Hall of Famers Jerome Bettis, Tim Brown and Emmitt Smith.
WHEN
This event will take place on Friday, November 1, 2019 in Jacksonville, Florida at WJCT-TV parking lot at 100 Festival Park Ave, Jacksonville, FL 32202 from 6 PM - 10 PM.
***Special Note: This event will be held outdoors. Wear your best game day attire and let's have a "Dawg Gone Gator Good Time".***