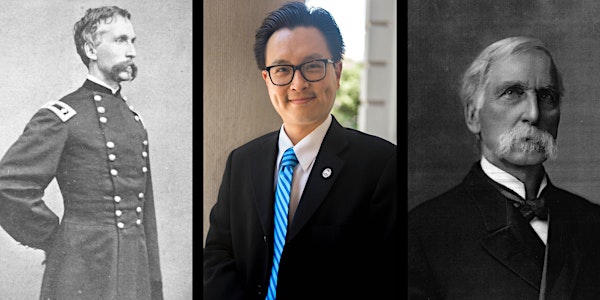 Multiple dates
Chamberlain Legacy Lecture Online (recording)
Chamberlain Legacy Lecture Online (recording)
By Pejepscot History Center
Date and time
Starts on Thursday, September 23, 2021 · 9pm PDT
Refund Policy
Contact the organizer to request a refund.
Eventbrite's fee is nonrefundable.
About this event
We are thrilled to announce that we are now able to offer a recorded online version of Pejepscot History Center's inaugural Chamberlain Legacy to our patrons and supporters! Upon sign-up, you will be sent a link to to a professionally-filmed version of the event, which you can watch at your leisure - just choose today's date at the right , and fill in your registration information to receive your link. It includes the full event, with introductions by PHC Executive Director, Larissa Vigue Picard, PHC Board President Shannon Gilmore, and a special welcome from celebrated documentarian Ken Burns.
The main address, given by dynamic speaker and eminent historian, Dr. Kanisorn "Kid" Wongsrichanalai is entitled "Who shall tell what is past and what survives?": Why Joshua Lawrence Chamberlain Still Matters. Dr. Wongsrichanalai's address touches on themes directly related to the mission of the Chamberlain Legacy Lecture: how the experiences, events, disciplines, and ideas of Joshua Chamberlain continue to resonate in the world.In the late 1980s and early 1990s, Ken Burns's PBS Series, The Civil War, and the film Gettysburg (based on Michael Shaara's Pulitzer Prize-winning 1974 novel The Killer Angels) set off a wave of excitement and interest in the War of the Rebellion that captivated the nation. Both of these modern representations of the war also drew attention to a local Maine hero whose name was little known outside the Pine Tree State: Joshua Lawrence Chamberlain.This story of the college professor-turned soldier whose tenacity saved the United States Army at the Battle of Gettysburg made Chamberlain a national hero almost overnight. In him, audiences saw the North's answer to the better-known legends of the Confederacy. When historians started paying attention to Chamberlain, however, they quickly discovered that he was a much more complicated figure than his legend would have it.In an age when 19th century heroes, with their deeply flawed beliefs and worldviews, are being recast, can a character like Joshua Lawrence Chamberlain still remain relevant? This talk will explore the modern rise of Chamberlain's legend and ponder what this college professor might still teach us today.
Dr. Wongsrichanalai is the author of Northern Character: College-educated New Englanders, Honor, Nationalism, and Leadership in the Civil War Era and co-editor of So Conceived and So Dedicated: Intellectual Life in the Civil War-era North. He earned his B.A. from Bowdoin College and his M.A. and Ph.D. from the University of Virginia.
About the organizer
Pejepscot History Center is a non-profit, educational organization charged with preserving the collective heritage of Brunswick, Harpswell, and Topsham. The Society owns and operates the Joshua L. Chamberlain House Museum and the Skolfield-Whittier House, both of which are open to the public Memorial Day-Columbus Day. For further information please call the Center at 207.729.6606 or find us at www.pejepscothistorical.org.