About this Event
About this Event
The Chamber Leadership Development Program will provide comprehensive business development and leadership training to state and local chamber leaders and leaders of organizations that advocate on behalf of small and diverse-owned businesses.
The CLA program will leverage knowledge from subject matter experts in the higher education and business community to provide leaders with the necessary tools to grow sustainable chambers/chapters and advocacy organizations to effectively build and strengthen minority, women, LGBT, disability, and veteran business communities.
CLA's Four Core Competencies that participants will learn in-depth knowledge about:
Leadership Development & Chamber Governance
Administration
Fundraising, Grant Writing & Access to Capital
Strategic Planning & Business Plan Development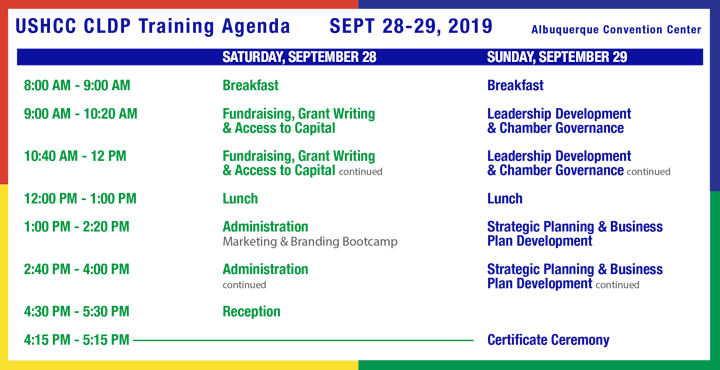 Agenda Description
Sessions 1A & 1B: Fundraising, Grant Writing & Access to Capital
Access to Capital: A Strategic Approach to Grant Writing and Fundraising to Increase Financial Capacity
Grants can be an effective part of a chamber's overall financial strategy and program delivery. However, knowing what kind of grants to pursue and how to effectively apply them can make all the difference between success and utter frustration. This session explores best practices in grant writing, program development and positioning for achieving positive results.
Sessions 2A & 2B: Administration and Sustainability
Marketing & Branding Bootcamp
How do you share your message in a world saturated with marketing? Chambers will learn about the basic principles of marketing and communication.
Sessions 3A & 3B: Leadership Development & Chamber Governance
How to Build the Right Board for the Job at Hand
This training session will explore the importance of building the right of Board of Directors (BOD). Topics to be discussed are: structure and diversity of your BOD, how to leverage retreats for board success, and what level of engagement should you expect from your BOD?
Sessions 4A & 4B: Strategic Planning & Business Plan Development
How to Build A Successful Strategic Plan
Learn how the importance of setting a Vision and Mission to drive program development and successful operations, and how to measure success and outcomes.
# # #
About Chamber Leadership Alliance (CLA)
The Chamber Leadership Alliance (CLA) is a coalition formed by the National LGBT Chamber of Commerce (NGLCC), US Black Chambers, Inc. (USBC), US Hispanic Chamber of Commerce (USHCC), and the US Pan Asian American Chamber of Commerce Education Foundation (USPAACC) to produce and deliver a best-in-class intersectional Chamber Leadership Development Program, funded by top small business lender Wells Fargo.