About this Event
The Chamber Leadership Development Program will provide comprehensive business development and leadership training to state and local chamber leaders and leaders of organizations that advocate on behalf of small and diverse-owned businesses.
The CLA program will leverage knowledge from subject matter experts in the higher education and business community to provide leaders with the necessary tools to grow sustainable chambers/chapters and advocacy organizations to effectively build and strengthen minority, women, LGBT, disability, and veteran business communities.
CLA's Four Core Competencies that participants will learn in-depth knowledge about:
Leadership Development & Chamber Governance
Administration
Fundraising, Grant Writing & Access to Capital
Strategic Planning & Business Plan Development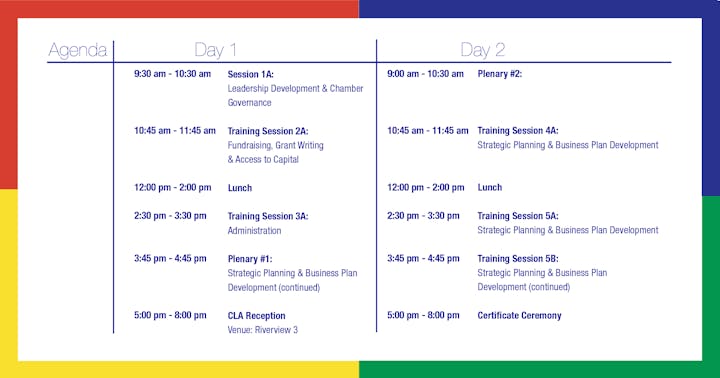 Agenda Description:
Training Session 1A: Scaling for Success: Building Internal Infrastructure & Capacity - While no two companies are the same and what works for most may not work for all, hear from successful businesses owners on how they overcame challenges unique to our community with hard work, a smart strategy and laser-sharp focus. Come learn and hear if their recipe for success is one that can work for you..
Training Session 2A: Thinking Access to Capital: Alternative Funding Solutions - Investing in the people and systems to make the services we provide our businesses owners impactful and of value is essential to scaling our chambers to success. The better your team is positioned, the higher quality of services your chamber can offer. The better value you provide your members, the stronger the businesses we represent will be positioned to grow, thus making an economic impact on the communities we live in, work and look to succeed.
Training Session 3A: The Value of Advisory Boards - Whether for programs or fundraising efforts, an effective advisory board can expand the organizational capacity of your chamber and the impact of your brand as an ambassador. This workshop will explore that best practices for establishing, defining.
Plenary #1: Dr. Darnell Hunt (Description to be updated)
Plenary #2: TBD (Description to be updated)
Training Session 4A: Succession Planning - Executive succession planning is the process of identifying and developing new leaders to succeed the current executive director or CEO. Just as a good ship needs a good captain to steer the ship during both calm and rocky seas, intentional and thoughtful succession planning helps meet the needs of the organization during leadership changes.
Training Sessions 5A & 5B: Becoming a CDFI: Preparing for the Future - In effort to create more value in the services of our chambers, it is essential that we play a major role in providing access to capital to our members. Becoming a Community Development Financial Institution (CDFI) is a unique way to expand the capacity of our partner financial institutions, to provide credit, capital and financial services to promote economic development in the communities we serve.
About Chamber Leadership Alliance (CLA):
The Chamber Leadership Alliance (CLA) is a coalition formed by the National LGBT Chamber of Commerce (NGLCC), US Black Chambers, Inc. (USBC), US Hispanic Chamber of Commerce (USHCC), and the US Pan Asian American Chamber of Commerce Education Foundation (USPAACC) to produce and deliver a best-in-class intersectional Chamber Leadership Development Program, funded by top small business lender Wells Fargo.