About this Event
The Chamber Leadership Development Program will provide comprehensive business development and leadership training to state and local chamber leaders and leaders of organizations that advocate on behalf of small and diverse-owned businesses.
The CLA program will leverage knowledge from subject matter experts in the higher education and business community to provide leaders with the necessary tools to grow sustainable chambers/chapters and advocacy organizations to effectively build and strengthen minority, women, LGBT, disability, and veteran business communities.
CLA's Four Core Competencies that participants will learn in-depth knowledge about:
Leadership Development & Chamber Governance
Administration
Fundraising, Grant Writing & Access to Capital
Strategic Planning & Business Plan Development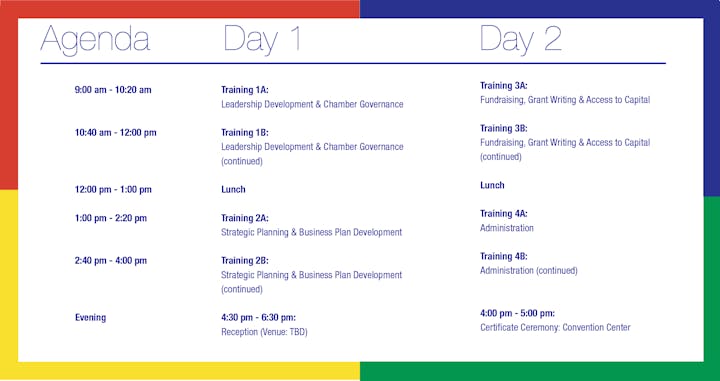 Agenda Description:
Sessions 1A & 1B: Building Tomorrow's Chambers Through Catalytic Leadership - Chamber leaders can trigger big changes with broad-reaching effects - ranging from innovations and exponential growth to organizational crises and membership atrophy. Leaders who seek to ensure their organization's success in the evolving environment must be prepared and proactive. In this session, CLA attendees will learn how change works, why disruption is happening more. Quickly, how to adapt and what leadership it necessitates.
Sessions 2A & 2B: Getting the Revenue Model Right - For chambers, one of the most integral factors in the organization is ensuring there is a strong and sustainable revenue model. A key step in developing or updating revenue models is determining the types and sources of financial support the organization is currently generating as well as those it could be generating. This session will explore revenue types, including membership, events, product sales, service fees, advertising sales, data access fees, license fees, and grants.
Sessions 3A & 3B: Access to Capital: A Strategic Approach to Grant Writing and Fundraising to Increase Financial Capacity - Grants can be an effective part of a chamber's overall financial strategy and program delivery. However, knowing what kind of grants to pursue and how to effectively apply them can make all the difference between success and utter frustration. This session explores best practices in grant writing, program development and positioning for achieving positive results.
Sessions 4A & 4B: Succession Planning: The Key to Lasting Sustainability & the Road to Retirement - Organizations that are serious about their own sustainability will also be serious about planning for smooth and thoughtful transitions of leadership and senior staff positions as well as making sure they are prepared for unexpected departures. This includes having a written succession place in place. This session will help prepare leaders for transitions that occur due to an unexpected vacancy on the staff or board, or the anticipated transition of a long-tenured leader or senior staff.
About Chamber Leadership Alliance (CLA):
The Chamber Leadership Alliance (CLA) is a coalition formed by the National LGBT Chamber of Commerce (NGLCC), US Black Chambers, Inc. (USBC), US Hispanic Chamber of Commerce (USHCC), and the US Pan Asian American Chamber of Commerce Education Foundation (USPAACC) to produce and deliver a best-in-class intersectional Chamber Leadership Development Program, funded by top small business lender Wells Fargo.