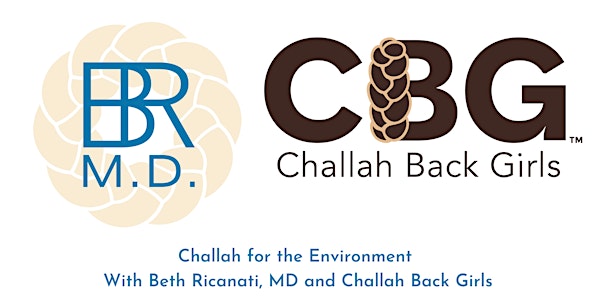 Challah for the Environment with Beth Ricanati, MD x Challah Back Girls
Come join Beth Ricanati, MD and Challah Back Girls for a special challah workshop on April 28th!!
Date and time
Thursday, April 28, 2022 · 5 - 6pm PDT
About this event
Come join Beth Ricanati, MD and Challah Back Girls™ for a special challah workshop on Thursday, April 28th! Not only is this the first week after Passover (so yes, we will be demonstrating the 'key-shaped' challah which is customary for this Shabbat), but the month of April is also Earth Month and an important time to highlight the environment, so we'll discuss that too. We will be donating all of the proceeds of this workshop to Challah Back Girls' partnered organization of the month, Intersectional Environmentalist—a nonprofit organization focused on climate justice.
Ingredients
yeast mixture (1 packet or 2 1/4 tsp active dry yeast + 1 tsp sugar + 1 cup very warm water)
2 tsp salt
2 eggs
1/4 cup sugar
1/3 cup oil
4 cups flour
1 egg yolk + splash of water to baste dough before baking
Equipment
one small bowl + one large bowl
mixing spoon, measuring spoons and cups
baking sheet
pastry brush
The cost of this class is $18. All proceeds will be donated to IE (Intersectional Environmentalist, a non-profit dedicated to climate justice).
NOTE: This session may have photos or video taken to be used for educational and/or marketing materials. Names or any other personal identifying information will not be shared.
About the organizer
Beth Ricanati, MD is an award-winning author who has built her career around bringing wellness into women's everyday lives, especially busy moms juggling life and children. She has practiced internal medicine at the NY-Presbyterian/Columbia University Medical Center and the Cleveland Clinic. In addition, her writings have appeared in peer-reviewed medical journals and many lifestyle blogs. Ricanati lives in the Los Angeles area with her family and one challah-loving dog.