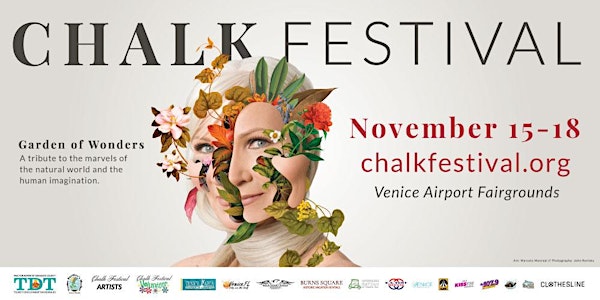 Chalk Festival 'Garden of Wonders' NOV. 15-18
Description
CHALK FESTIVAL
Celelbrating the theme 'Garden of Wonder,' a tribute to the marvels of natural world and the human imagination.
November 15-18, 2019 from 8 AM - 6 PM

Join us as internationally acclaimed artists turn pavement into a "Museum in Motion" creating oversized installations, large group projects, and 3D illusions all inspired by the theme Garden of Wonders, "a tribute to the marvels of the natural world and the human imagination."
The Pavement Music Festival will again features local and national musicians and bands.
Artists arrive weeks in advance of festival for group projects creating an interactive maze, restore the Megalodon World Record and make hundreds of flowers and then during the festival artists create individual masterpieces.
Craft Vendors, Food and beverages are bountiful. While Other performer, magicians, poets, buskers and vendors give a feeling of being in a remote village.
Great way to support the cultural arts and become an integral part of the creative process.
We are a 100% volunteer organization that donates 100% of the funds to support the artists expenses and the artwork they produce. As a global community event that happens locally in Sarasota County, We thank the artists for donating their talent to us. We thank the volunteers who are local and travel from afar. We thank our sponsors and to every person who attends and contributes to us bringing this festival to fruition.
Chalk on!
Organizer of Chalk Festival 'Garden of Wonders' NOV. 15-18
Our nonprofit is made up of a dedicated group of volunteers and artists who have taken the Chalk Festival with humble beginnings, to what it is today - the largest gathering of renowned pavement artists and the largest display of 3D pavement illusions in the world. 
We are 100% volunteer, even our event director is a volunteer as well as the artists, who donate their time and talents. We raise funds to pay for the hard costs to put the Chalk Festival on, such as rental of the airport fairgrounds, rental of warehouse and office, amenities such as tents, restrooms and trash/recycling, insurance, security/traffic control, office supplies and marketing, lots and lots of art supplies, travel, lodging, and food for the artists. 
We thank you for supporting this international event that has become a global community of pavement art enthusiasts. By purchasing a ticket, you are also a part of our success!