Description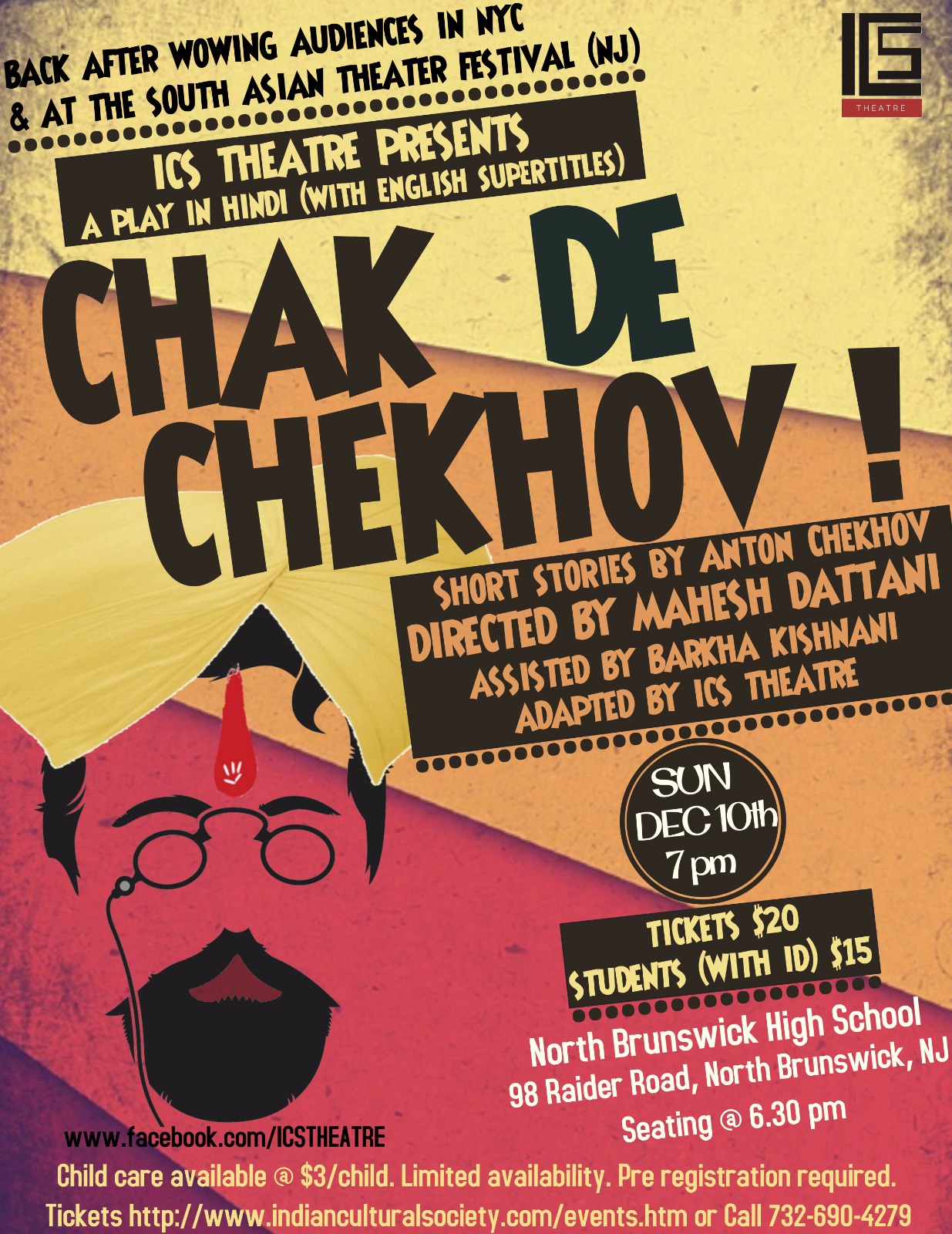 *ICS Theatre proudly brings
Chak de Chekhov! to New Jersey*
Do you remember that colorful mela from Agra? Does the name of Goa instantly remind you of Kaaju Pheni? Many of you will have memories from Mumbai, Gujarat and Bareilly as well! Come journey with us to all these places, in one evening with ICS Theatre's Chak de Chekhov!
We promise you a thrilling ride!
Under the direction of Mr. Mahesh Dattani, one of India's best playwrights, Anton Chekhov's comic situations, surrounding tragic characters, get a new life. The characters, some endearingly awkward, and others comically flawed will surely win a place in your hearts!
"Dare I be blasphemous and say I found some of his adaptations even more enjoyable than the originals?"
--Monica Patel from Pune365 (Read more)
Chak De Chekhov! Sunday, December 10th at 7 pm. Seating begins at 6:30 pm.
Tickets: Adults - $20 (plus fees) & Students with ID -15
Venue:
North Brunswick High School
98 Raider Road, North Brunswick, NJ
For student tickets visit
www.indianculturalsociety.com/events.htm
Note:
a) These are play only tickets. Dinner is not included.
b) No separate email or tickets from ICS or ICSTheatre will be sent out.
c) Please produce proof of payment from Paypal at the venue.
Childcare available @ $3/child. Limited availability. Pre-Registration required.
For photos and reviews visit www.facebook.com/ICSTheatre