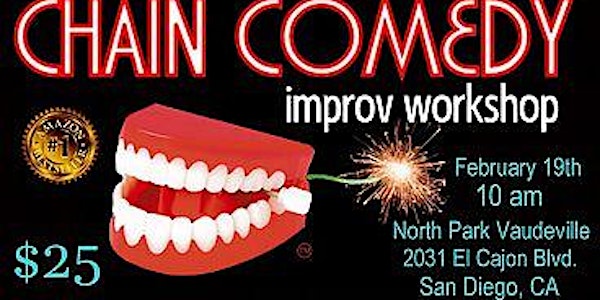 CHAIN COMEDY IMPROV Workshop
When and where
Location
CHAIN COMEDY IMPROV Workshop 2031 El Cajon Boulevard San Diego, CA 92104
Description
SPONTANEOUS COMEDY is a skill that can be learned, developed, and mastered just like public speaking or pickpocketing. I'll teach you how to write, act, and be funny on the fly.
WHAT IS SPONTANEOUS COMEDY?
I created Spontaneous Comedy so improv scenes would stand up on their own. No theater games here. Games are amusing at parties and for little theater but we aim higher. Spontaneous Comedy improvs have a beginning, middle, and an end, are prime-time funny, and can go right from the small stage to the big screen. That's why the WGA (Writer's Guild of America) had me lecture them on my technique – twice.
LEARN FROM IMPROV COMEDY MASTER MICHAEL CHAIN.
Michael Chain is a Best Selling author, Peabody Award winning, Emmy-nominated screenwriter, actor, voice-over maven, director, and producer and has worked with everyone from Bob Hope and Rodney Dangerfield to Robin Williams and John Ritter.
YOU CAN DO IT!
I've trained actors, writers, stand-up comics, directors, producers, announcers, singers, dancers, voice-over people, newscasters, reporters, ventriloquists, clowns, models, magicians, plumbers, porn stars, ADs, PMs, MCs, DJs, MDs, PHDs and even some SOBs. I'm sure you'll fit right in.
COME TO OUR COMEDY WORKSHOP FEBRUARY 19th!
www.michaelchain.com chaincomedy@gmail.com
Facebook: CHAIN COMEDY