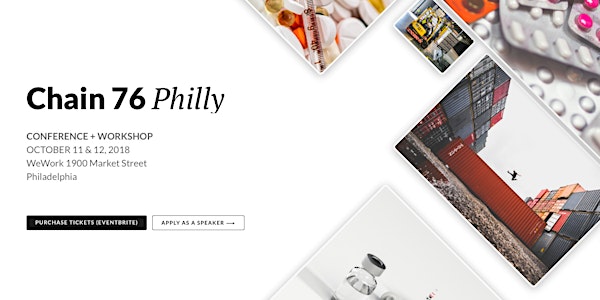 Chain 76 Philadelphia - Pharmaceuticals, Supply Chain and Blockchain
Date and time
October 11, 2018 · 9am - October 12, 2018 · 5pm EDT
Location
WeWork 1900 Market 1900 Market Philadelphia, PA 19013
Description
CHAIN 76 is coming Oct 11-12 to Philadelphia, PA!
A blockchain conference and workshop will be held in Center City Philadelphia on October 11th and 12th focusing on pharmaceuticals, supply chain and blockchain. ➡ https://chain76.org/ ⬅
This is the FIRST Blockchain conference in Philadelphia relating to supply chain in the pharmaceutical industry. The event host, William Entriken, is the lead author of the blockchain standard for non-fungible tokens (Ethereum ERC-721). Ernst & Young, Celgene, Johnson & Johnson, etc. will be attending the conference.
Also, the participants will walk away with actual blockchain development experience. Everybody in the room will deploy a smart contract!

Sponsors: Perkins Coie, Penn Blockchain Club, Temple University Supply Chain Association
Do you want to be a part of this exciting conference in October in Philadelphia?
CONFERENCE + WORKSHOP
OCTOBER 11 & 12, 2018
WeWork 1900 Market Street
Philadelphia
About the organizer
William Entriken is the lead author of ERC-721 a technical standard for tracking physical objects on the blockchain which has received unanimous support from the Ethereum community and has been deployed by dozens of companies.
William has presented before the International Society for Pharmaceutical Engineers, Blockchain Special Interest Group and also consults for companies in the supply chain to combat supply chain and product fraud.