CHAHAR-SHANBEH SOORI | چهارشنبه‌ سوری | PENINSULA
Description
چهارشنبه‌ سوری
TUESDAY MARCH 15, 2011
CHAHAR-SHANBEH SOORI
PALO ALTO
SOUTHBAY & PENINSULA
FREE FROM 6~9PM FAMILY EVENT ALL AGES WELCOME
AFTERPARTY IS FOR 21 & UP WITH COVERCHARGE FOR ARRIVALS AFTER 9PM
IF YOU ARRIVE BEFORE 9PM, YOU ARE WELCOME TO STAY FOR THE AFTERPARTY FREE OF CHARGE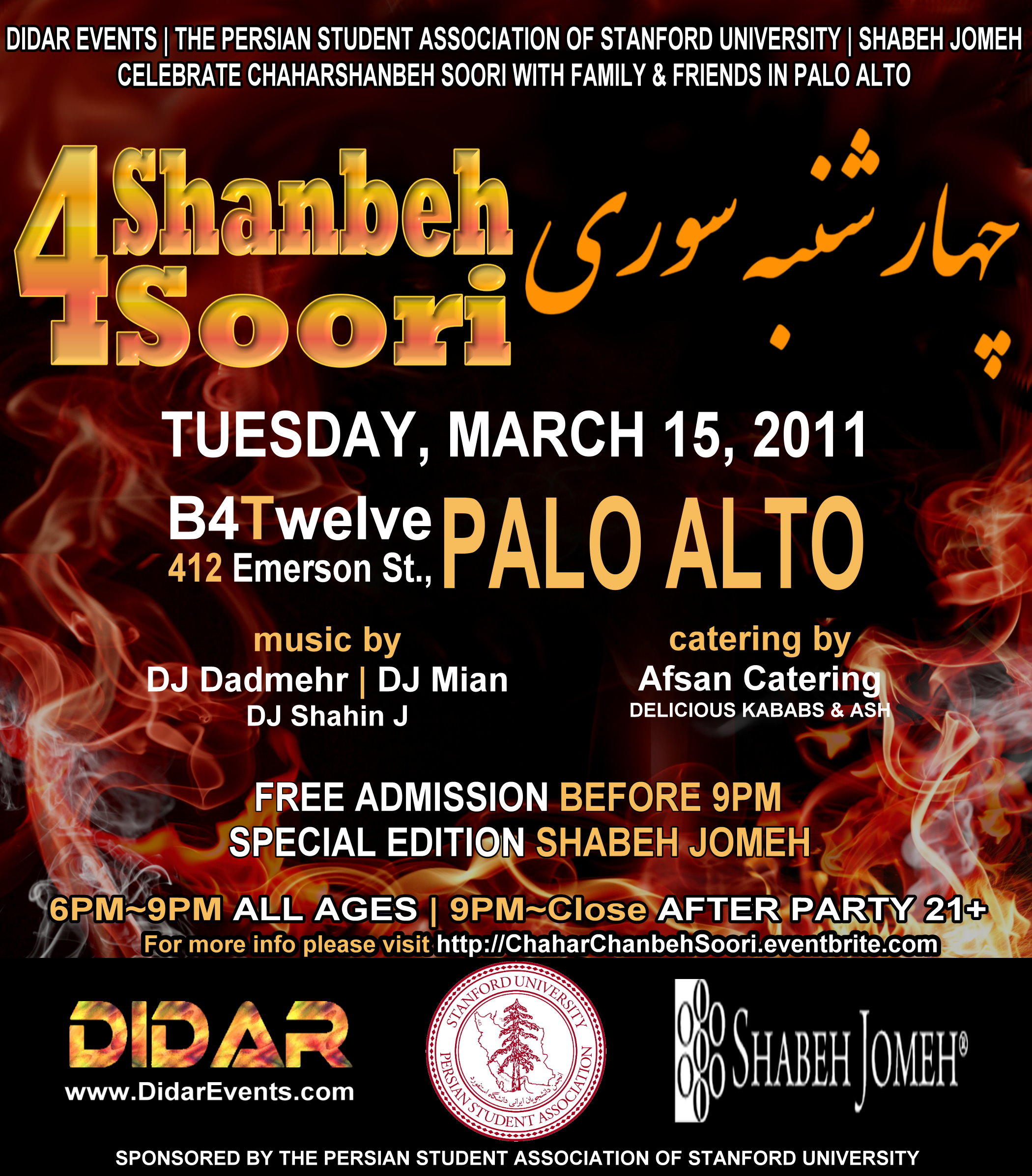 ENJOY CHAHAR-SHANBEH SOORI WITH:
DANCING & MUSIC PROVIDED BY BAY AREA'S PERSIAN DJ TALENTS
DADMEHR | MIAN | SHAHIN J
DELICIOUS KABABS, ASH RESHTEH & TEA BY
AFSAN CATERING
ALL OTHER BEVERAGES BY BISTRO 412 (B412)
7SEEN BY SHABEH JOMEH
PARKING MAP
COURTESY OF CITY OF PALO ALTO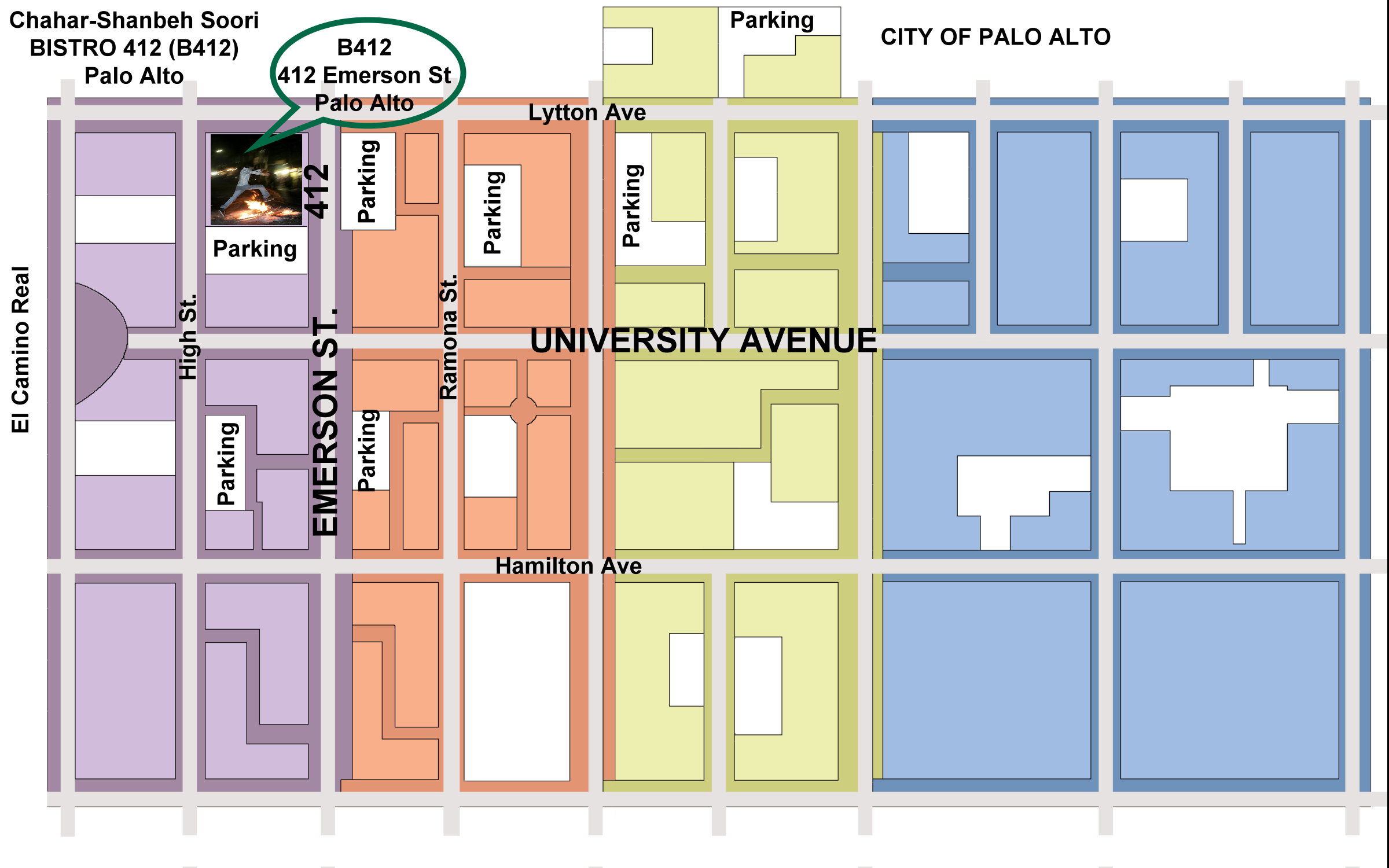 سرخی تو از من و زردی من از تو
I APPOLOGIZE FOR THE LONG EMAIL, BUT THERE ARE IMPORTANT DETAILS ABOUT TOMORROW NIGHT'S CHAHAR SHABEH SOORI IN PALO ALTO. PLEASE TAKE A MOMENT IF YOU ARE INTERESTED IN COMING TO OUR CELEBRATION. PLEASE NOTE THAT SPECIAL CELEBRATIONS HAPPEN BETWEEN 6~9:30PM.
TOMORROW NIGHT, TUESDAY MARCH 15, 2011 | 6PM~Close | FESTIVAL & AFTER PARTY IN PALO ALTO.
WE HAVE GONE TO GREAT LENGHTS TO BRING YOU THIS SPECIAL CHAHARSHANBEH SOORI EDITION IN PENINSULA, SO PLEASE SUPPORT THIS GREAT EVENT!

LOCATION:
BISTRO412 (B4Twelve) 412 Emerson St. Palo Alto
6PM~9:30PM
EARLY ARRIVAL RECOMMENDED!!
FAMILY EVENT:
FREE TO ALL AGES (MINORS MUST ACCOMPANY ADULTS PLEASE).
INSIDE THE VIP LOUNGE & TENTED BACK AREA
ENJOY DELICIOUS KABABS, AASH RESHTEH & PERSIAN TEA (CASH ONLY PLEASE, MENU $1~$10) | OTHER BEVERAGES AVAILABLE.
ENJOY DANCING & OTHER RELATED FESTIVITIES ;-)
NO BABY STROLLERS PLEASE!
**ARRIVE BEFORE 9PM TO STAY FREE FOR THE AFTERPARTY!**
9:30~CLOSE
AFTERPARTY IS RESTRICTED TO 21 YEARS & OLDER
(VALID GOVT ID & PASSPORT FOR AGE VERIFICATION) STUDENT ID IS NOT ACCEPTED FOR AGE VERIFICATION. COVERCHARGE FOR ARRIVALS PAST 9PM.
***FOOD PURCHASES WITH CASH ONLY***
THROUGHOUT THE NIGHT
7-SEEN BY SHABEH JOMEH'S SPECIAL NOROOZ EDITION MIXER
GROOVES MENU:
Local Persian talents, DJs Dadmehr, Mian & Shahin J will provide special Norooz dance hits for your dancing pleasure indoor and outdoor.
SPONSORED & HOSTED BY:
- THE PERSIAN STUDENT ASSOCIATION OF STANFORD UNIVERSITY
- SHABEH JOMEH
- DiDAR EVENTS & DJ DADMEHR | MIAN | SHAHIN J
- AFSAN CATERING
MORE INFO:
http://chaharshanbehsoori.eventbrite.com/
FLYER, VENUE, DIRECTIONS & PARKING INFO
http://www.facebook.com/album.php?aid=260286&id=521188891&l=3164f49292
PLEASE RSVP AND SHARE WITH YOUR FAMILY & FRIENDS. LOOKING FORWARD TO CELEBRATING CHAHARSHANBEH SOORI WITH FAMILY & FRIENDS.
Thank you
RESTRICTIONS:
PARENTS MUST ACCOMPANY THEIR MINOR CHILDREN
DUE TO LIMITED SPACE AT THE VENUE BABY STROLLERS MAY NOT BE ALLOWED
FOR YOUR SAFETY, PROPER FOOTWARE WILL BE REQUIRED
NO OUTSIDE FOOD & BEVERAGES ARE ALLOWED
AFTERPARTY IS RESTRICTED TO AGES 21 AND UP AFTER 9:30PM
FOR AGE VERIFICATION AT THE AFTERPARTY, YOU WOULD NEED A U.S. GOVERNMENT ISSUED IDENTIFICATION OR PASSPORT. STUDENT ID IS NOT ACCEPTED FOR AGE VERIFICATION.
LOOKING FORWARD TO A GREAT CHAHAR SHANBEH SOORI