JOIN US for this exclusive Cannabis Grand Rounds Conference. 1 CME unit available*.
About this event
With cannabis consumption expanding, the Cannabis Grand Rounds Conference is an essential dialog for medical professionals and their patients.
For too long, the medical field has responded to questions about cannabis with, "there's not enough research." Around the world, clinical research trials are showing encouraging results of therapies utilizing cannabis and other plant medicines in the treatment of many health conditions including pain management, mental health, oncology, viral illnesses and many more.
Introducing: Cannabis Grand Rounds Conference.
We are currently accepting only a limited number of students for this first enrollment period. Enrollment will close on October 9, 2021 at 11:59pm PST - click below to reserve your spot!
CGR Conference offers a unique opportunity to learn with some of the most prominent leaders about the most important topics in the field of cannabinoid medicine, including The Knox Docs, Dr. Dustin Sulak, Dr. Ethan Russo, Dr. Miyabe Shields, and Dr. David Bearman.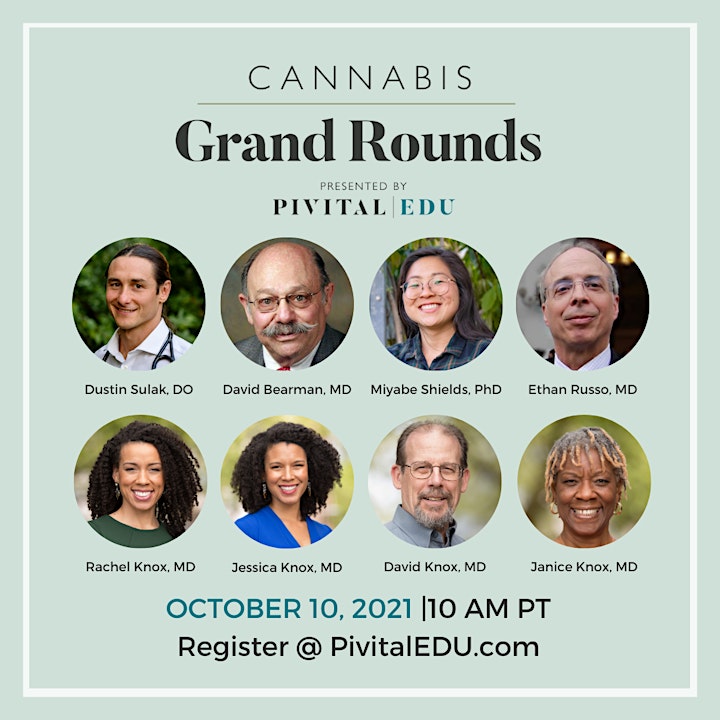 Topics covered will include:
History of Cannabis Medicine by Dr. David Bearman
The Endocannabinoid System (ECS) and Mental Health by Dr. Miyabe Shields
The Endocannabinoid System (ECS) and Pain Management by Dr. Dustin Sulak
Hyperemesis Syndrome by Dr. Ethan Russo
Cannabis in Self-Directed Care & the Influence of Pharmacokinetics* by The Knox Docs
1 CME unit available*
FREE BONUSES:
Exclusive access to accompanying TEXTBOOK for the CME-accredited Cannabis in Self-Directed Care & the Influence of Pharmacokinetics by The Knox Docs
Opportunities to engage with colleagues from around the world. Live Chat on every session + interactive Q&A for all LIVE sessions
Extended access to conference recordings
Surprise gift for all Early Bird Registrants
Digital grab bag for attendees
We'll be closing out with a Fireside Chat, and a live Q&A session with all panelists.
Some words from our esteemed speakers:
Dr. Ethan Russo | Case Presentation: Hyperemesis Syndrome
"The Cannabis Grand Rounds on cannabinoid hyperemesis syndrome is significant because CHS is an emerging public health issue affecting people who use large amounts of THC, producing a serious illness accompanied by abdominal pain, nausea, vomiting and unusual hot bathing behavior. It adversely affects people's health, ability to function and is a great drain on their finances. Recently, a genetic susceptibility to CHS has been discovered, allowing a screening test to ascertain whether a person is at risk. Cannabis education is a very necessary endeavor given the prevalence of cannabis usage in this country and its shifting legal status."
Dr. Miyabe Shields | Case Presentation: Alternative Molecular Mechanisms for the Therapeutic Potential of Cannabis
"Safe and responsible use practices can only be recommended when someone has knowledge of the plant. If medical practitioners are completely unaware of general practice, it's impossible for them to properly give guidance to their patients. While there will always be variability in dose responses from patient to patient, general guidelines for how to introduce someone safely to cannabis products should be known."
Dr. Jessica Knox, of The Knox Docs | Presenting Live CME: Cannabis in Self-Directed Care & the Influence of Pharmacokinetics
"Prioritizing the ECS introduces patients to an entirely new paradigm of caring for themselves. Whereas conventional medicine so often takes ownership, authority, and autonomy away from patients, ECS-centered care reintroduces patients to the power they have within themselves to heal. Our most effective tools for being well and healing - nutrition, physical activity, mind-body practices, time in nature, relationships...the ECS thrives on these and these are tools that patients can and must wield for themselves. What an empowering lesson!"
Some FAQ's:
Q: When does Early Bird Registration close?
A: Early Bird Registration closes on 20 September 2021 at 11:59pm PST. Register asap to claim your 15% Early Bird discount!
Q: How do I receive my CME?
A: In order to receive CME, you must successfully complete the accredited portion of the conference. (Cannabis in Self-Directed Care & the Influence of Pharmacokinetics by The Knox Docs)
Q: What is your Cancellation Policy?
A: No cancellations or refunds will be offered for this event. If you miss the live session, please send an email to hello@pivitaledu.com.
Q: Do you offer Group Discounts?
A: Yes, on an invite-only basis. Please reach out to hello@pivitaledu.com
Q: I'm interested in Sponsoring this event, who can I contact?
A: We are excited to welcome any purpose-aligned organizations to sponsor. What this means is that we are offering sponsorship opportunities to brands and businesses that are patient-centric, prioritize health equity, and practice diversity and inclusion. If this sounds like your brand or business, please reach out to hello@pivitaledu.com
General Conference Guidelines:
Be prepared: For the best experience, Update and install the Zoom app in advance of the meeting and test your audio. Ensure your computer is plugged into a charger so it doesn't lose power. You will be able to select whether to turn your camera and sound on or off, but we strongly suggest you keep both on.
Be present: We know a lot is happening right now. If you can, do your best to be in a quiet, well-lit and an undistracted space. Take this time for yourself and close out other computer tabs and messaging apps to minimize distraction.
Ensure you can see and hear the speakers: Consider using headphones for an optimal audio experience.
By participating in this program and speaking with your video on or off, you agree for your voice and image to be recorded and included in the video to be viewed by the participants after the event. Please do not share any session content with anyone.

ABOUT US
Offering the first and only interactive education programs in cannabis, cannabinoid medicine, and endocannabinology developed by cannabis clinicians. PIVITAL EDU students can expect a world-class education from global leaders in cannabis science and clinical care that will expand their knowledge about cannabis and the endocannabinoid system.

CGR Conference is pleased to receive ACHEM's Keystone Sponsorship for Enrichment!
ACHEM's mission and keystone definition can be found at www.achemed.org/about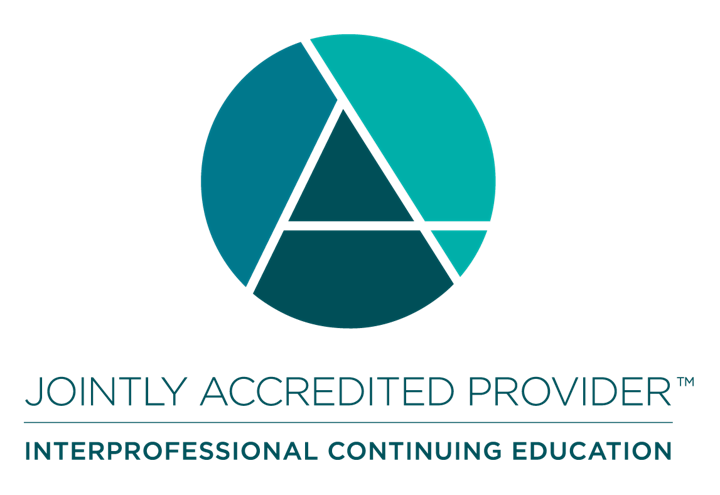 Accreditation Statement
In support of improving patient care, this activity has been planned and implemented by Amedco LLC and Pivital EDU. Amedco LLC is jointly accredited by the Accreditation Council for Continuing Medical Education (ACCME), the Accreditation Council for Pharmacy Education (ACPE), and the American Nurses Credentialing Center (ANCC), to provide continuing education for the healthcare team.
Physicians (ACCME)
Amedco LLC designates this live activity for a maximum of 1.00 AMA PRA Category 1 CreditsTM. Physicians should claim only the credit commensurate with the extent of their participation in the activity.
Date and time
Location
Refund policy