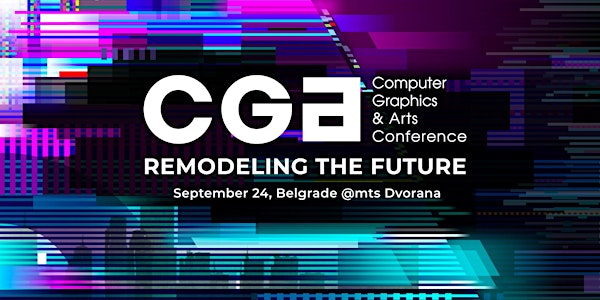 CGA Belgrade 2022.
CGA takes you on a unique tour d'art through the startling digital environments. Reserve a seat at the live event or join the online stream!
When and where
Location
mts Dvorana Trg Nikole Pašića 5 11000 Beograd Serbia
About this event
CGA Belgrade, the international Computer Graphics and Arts Conference, returns to the live audience with a mission to bring the audiovisual industry closer to Remodeling the Future. Lessons and takeaways from the rich program of the conference are to help the community shape their ideas for the projects to come. CGA was originally designed as a place where industry professionals of all levels meet, grow and create together, and now we are remodeling the tools of the trade to empower new voices and storytellers.
The CGA community will meet in person in Belgrade, in mts Dvorana on September 24, 2022,. The conference program will be presented in three auditoriums - following three existing CGA content tracks focusing on learning, creative and business talks. Live in Belgrade, the audience will hear the outstanding talks from the industry experts including Nicky Gogan, renowned filmmaker and head of R&D at the Dublin-based studio Piranha Bar, Victor Perez, masterful director and VFX supervisor, Frederic Servant, head of engineering at Autodesk, Fianna Wong, technical marketing angel at Side FX, Marc Angele, a look dev wizard from Germany, Bogdan Amidžić, technical director at Belgrade's own Crater Studio, Lidia Scarlat, outsourceress from Moldova and many others.
Serbian CG community will be represented by Crater Studio and Digital Asset Tailors, with their projects in animation for film and advertising, Mad Head Games and their latest game release Scars Above, and Miroslav Kostić, a founder of the prompt marketplace NeutronField, among other exciting creatives.
A day before, on September 23, CGA's exclusive event will be available to stream world-wide on September 23, at the conference website. It will feature digital environments created at the CGA's very first summer program and includes talks from the global industry veterans coming from Epic Games, PlaystudiosInc, disguise, Ignite Animation Studios, Crater Studio and others.
In addition to the main program, several exclusive workshops and masterclasses will be held in Crater Training Center. Among friends and sponsors of the conference are 3Lateral/Epic Games, Mad Head Games, Autodesk, PMO, Playstudios Europe, Crater Studio, Side FX, Foundry, Chaos Group and DAT. CGA Belgrade 2022 is supported by the Ministry of Culture and Information of the Republic of Serbia, the Irish Embassy and is taking part in the supercluster initiative Creative Tech Serbia.
Join us in Remodeling the Future!