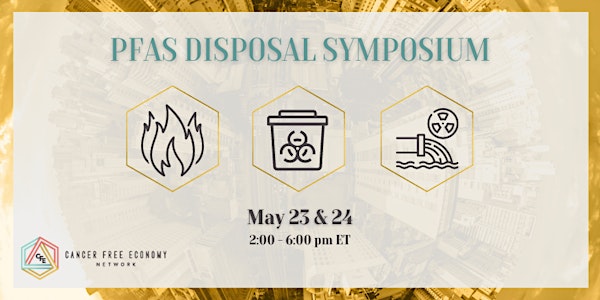 CFE PFAS Disposal Symposium
Join us to learn how PFAS disposal is harming communities, successful strategies for equitable disposal, and where we can go from here!
About this event
Already registered? Click here to access the attendee page with agenda, zoom links and more!
PFAS have been described as "forever chemicals" because they take decades, or longer, to break down. Although they have been linked to cancer, reproductive health issues, and immune system damage, these toxic chemicals are commonly dumped down wastewater drains, sent to incinerators or landfills, with little thought to the long-term impacts of these disposal options.
As we advance policy solutions regarding PFAS reduction and cleanup, questions regarding equitable disposal of PFAS become more urgent. With this convening, the Cancer Free Economy Network and our event partners CHEJ and Sierra Club aim to highlight work on PFAS disposal policy and solutions, connect work being done in silos to an overall national strategy and bring together community members, organizers, scientists, government officials and policy experts to discuss current and proposed solutions and begin to form principles for equitable PFAS disposal.
_________________________________________________________________
Agenda (Subject to Change)
Translations will be provided by CFE member Wind of the Spirit Immigrant Resources Center
May 23rd (DAY ONE)
● Welcome & Keynote- Linda Birnbaum, Scientist Emeritus, NIEHS and NTP
● Panel 1 - Why Do We Fight? PFAS Disposal Is Harming Our Communities
Pam Miller, Alaska Community Action on Toxics
Tasha Stoiber, Environmental Working Group
Jose Aguayo, Center for Health Environment and Justice
● BREAK
● Panel 2 - How Do We Win? Successful Strategies for Organizing for Equitable PFAS Disposal
Jane Williams - California Communities Against Toxics
Jonathan Kalmuss-Katz - Earthjustice
Cheryl Sommer - United Congregations Metro East
Sherry Costa Hanlon - Clean Air Taunton
● Networking Session
_________________________________________________________________
May 24th (DAY TWO)
● Panel 3 - Where Are We Moving? Safer Models for PFAS Disposal - https://us06web.zoom.us/j/83558664919
Daniel Rosenberg - Natural Resources Defense Council
Sonya Lunder - Sierra Club
Doug Hatler- 374Water
● BREAK
● Facilitated breakouts groups on discrete aspects of PFAS disposal issues - https://us06web.zoom.us/j/86837764612
● Final Activity- Facilitated group conversation - https://us06web.zoom.us/j/83086678275
● Closing - https://us06web.zoom.us/j/83086678275