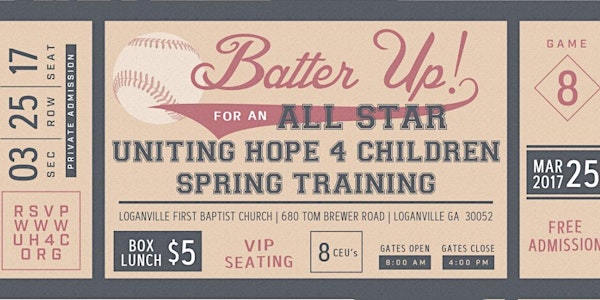 CEU - SPRING TRAINING
When and where
Location
First Baptist Church-Loganville 680 Tom Brewer Road Loganville, GA 30052
Description
Conference Information:
Join us at our annual Spring CEU Training Confernece! We are excited about this fun and educational day that will equip us in becoming better players in the ministry God has called us to.
In our morning session (8:00am - 12:00pm) UH4C Executive Director, Tom Covington, will provide foster parents with tools to play a meaningful and positive role as part of a professional team. He will be teaching and coaching on ways to gain communication skills to foster team relationships, assist in understanding common problems/pitfalls that can occur when working in a team, and how to avoid them. We will also be coached on Child Passenger Safety. We will learn from ALL STAR foster parents about their journey in Foster Care. Our own MVP Case Managers will be leading us in fun activities to promote team unity.
In our afternoon session (12:00pm - 4:00pm) we will be learning about TBRI. Trust-Based Relational Intervention® (TBRI®) is an approach to caring for the whole child that considers the trauma and background that children have experienced in order to apply appropriate parenting strategies. TBRI® was developed by the Karyn Purvis Institute of Child Development. This parenting strategy has proved revolutionary for foster parents, allowing them to understand and empathize with children's trauma and respond to the behaviors of hurting children while still maintaining healthy attachments and trust. UH4C Foster Mom, Denise Cox, has been extensively trained in the principles and methods of Trust-Based Relational Intervention®. She has personally used TBRI with numerous children that she and her husband have fostered and adopted. She will be training and coaching us on the basic tools and concepts behind the model and why it is so successful with children in foster care.
Registration Information:
Registration closes Thursday, March 23rd at 1 p.m. DEADLINE FOR CHILD CARE REGISTRATION IS MONDAY, MARCH 13TH AT 5 PM!
Please indicate number of Chick-fil-a boxes for you and your children, as well.
Email Sharon Studdard at sstuddard@uh4c.org with any questions!