C'est la Vie in B&W - Photography Exhibition Reception

Thursday, May 7, 2015 from 6:00 PM to 8:00 PM (PDT)
Event Details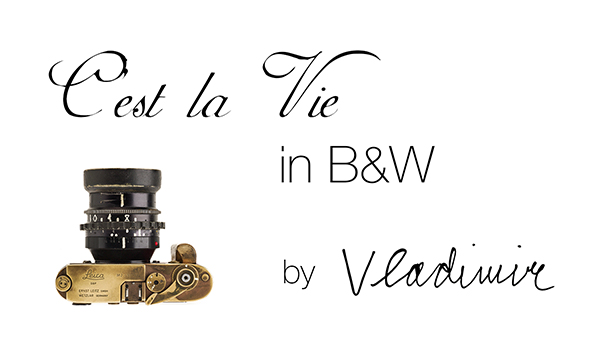 C'est la Vie in B&W

Photographs by Vladimir Panasenko
April 27 - July 2, 2015
(San Francisco, California) – The gallery at Leica Store San Francisco is thrilled to present a world premier exhibition – C'est la Vie in B&W, a collection of photographs by Vladimir Panasenko.
 Born in Kharkov, Ukraine in 1939, at the age of ten Vladimir Panasenko emigrated to the United State with his family who, swept away by the war, chose San Francisco, CA for the new home. Known on the streets simply as Vladimir, he has called the Bay Area his home ever since. Vladimir is an incredibly prolific artist who has photographed the streets of San Francisco for over three decades now. Unlike a lot of Leica specialists, Vladimir's influences include outlaw Billy the Kid, race car driver Juan Manuel Fangio and WWII ace Erich Hartmann. From these he learned to increase his reaction time and to follow three rules: always take your subject by surprise, always shoot from the closest possible distance, and break away immediately after shooting.
Vladimir's extensive body of work is as astonishing as any discovered in recent years. Working Women. Pursuit of Pleasure. Rich & Poor. Homeless. Birds. Pairs. These are the themes that comprise C'est la Vie in B&W. Vladimir's favorite area to photograph has been and continues to be Mid Market Street, with its bustle and wide mix of people. His photographs study the lives of the very rich, the very poor and everyone in between. Each image is powerful on its own, and when viewed in pairs the effect is breathtaking.
Vladimir's cameras are an important part of his work and his craft extends to his custom Leica film cameras with their wood and brass. When asked about them, Vladimir states, "I would like to quote ancient Ukranian folk wisdom: If you want a wife who will always stay by your side, marry someone so ugly that nobody will want to touch her. I am married to my Leica M2's. I chose them because I could see that Leica would never make anything better, and because they will be with me "Till death do us part," I can modify them in any way that optimizes their fulfillment of their mission. Resale value is for whores. C'est la Vie."
In addition to silver gelatin prints, a postcard set consisting of five photographs will be offered at the start of the exhibition and be limited to a small edition. Once the set is sold out, the postcards will no longer be available but other sets will be made available in the future.
There will be an opening reception on Thursday, May 7, 2015 from 6pm-8pm
The exhibition continues through July 2, 2015

San Francisco is a special place for photography. Luminaries including Ansel Adams, Edward Weston and Imogen Cunningham have called it home.  Students from around the world attend our prestigious art schools. Leica Gallery San Francisco sits at the heart of this city, and, with the Leica Store San Francisco, it offers an exciting destination for the diverse Bay Area photography community. Its roughly five yearly exhibitions feature emerging and established photographers from the Bay Area and beyond. Its artist lecture series and workshops make it a center of learning as well as of unfolding cultural trends.
Leica Camera is a global icon that over a century has mastered the balance of art and engineering - achieving an immutable balance of form and functionality. Continue to join Leica Camera on its journey to celebrate 100 years of innovation at www.leica-camera.com
Hours: Monday-Friday, 10am-6pm, Saturday, 10am-4pm.
463 Bush St.
San Francisco, CA 94108
(415)-801-5066
www.leicastoresf.com
www.leicagallerysf.com
Media Contact:
Alex Ramos, Gallery Director
Tel. (415) 801-5066 / alex@leicastoresf.com
When & Where

Leica Store and Gallery, San Francisco
463 Bush St
San Francisco, CA 94108


Thursday, May 7, 2015 from 6:00 PM to 8:00 PM (PDT)
Add to my calendar