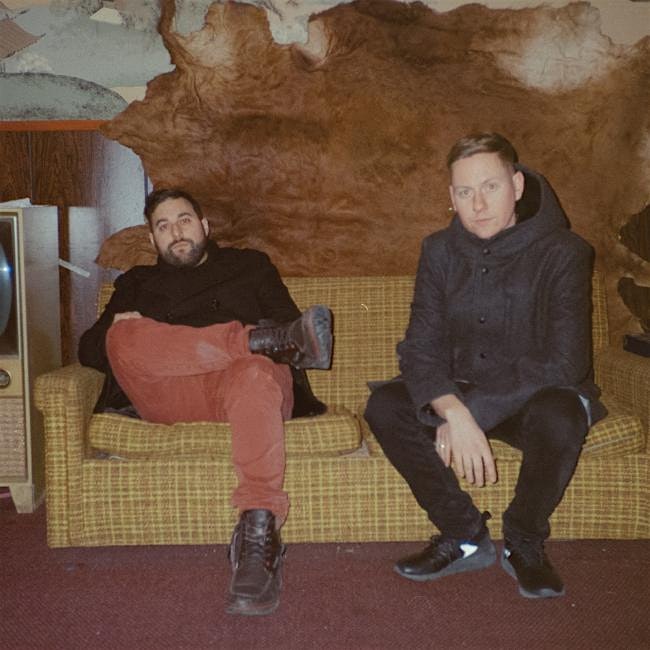 About this event
Ceschi Ramos
On Sad, Fat Luck, their second collaborative full-length, rapper/singer Ceschi Ramos and producer Factor Chandelier have condensed three years of heavy touring, profound loss, and late stage capitalism polemics into a 13-track album. While driving on the autobahn manically throttled on espresso during a tour with cult rapper Serengeti, Ceschi put on a beat that Factor had sent him out of the blue. Factor has a history of gently nudging a vocalist towards a specific sound he's after, and this was one of those cases as Ceschi found inspiration for the title track flying solo 200 km/h across the German highway.
Sad, Fat Luck was the song, and album, he had to make in the wake of the type of high-grade personal hell that makes you wonder if you're living in a simulation. "They're watching me hang myself for rounds of applause," he laments over a pristine, propulsive Factor beat.
 Early in his career, Ceschi's band Toca was signed to Snoop Dogg's management team. He learned a bit about how to navigate cutthroat Hollywood and its bullshit lunches and empty promises. During a meeting with an L.A. agency rep, Ceschi was asked to describe his music concisely. Knowing that the breadth of his influences is too wide to properly digest, Ceschi blurted out something like, "If Kendrick Lamar met Elliott Smith in a psychedelic limbo. If Kurt Cobain's brain blown ghost met Frank Ocean." And the man got it - right away. No talk of Freestyle Fellowship, Neutral Milk Hotel, My Bloody Valentine, Silvio Rodríguez, or the vast, less marketable influential giants to Ceschi.
 A student and peer of the '90s California underground scene, Ceschi flips multiple styles and cadences, often moving from chopping verses to spoken word-adjacent raps in the same track. He is also a gifted guitarist, inserting his warm minimalist balladry ("Daybreak") into the tracklist as a sort of palate cleanser amongst heavier, wide-eyed productions ("Lost Touch").
 When seven friends die in a seven-month span and you exist in an epoch of normalized tragedy and injustice - calling to mind Drew Michael's notion of depression as a condition where you see the world as it is - where do you turn? For Ceschi, a seasoned indie rap and folk-punk veteran, artistic expression has always kept the gears turning. And Factor has been along for the ride for quite some time now, intuiting Ceschi's heart through dense, bright productions, and coaxing it out of him when it's buried just beneath the surface.
 Familiar Ceschi themes of death, depression, and despair are at war with the type of blistering hope and joy that Herman Hesse spoke of inSteppenwolf, the improbable moments of tranquility puncturing the sea of suffering. Ceschi encapsulates this sentiment in concise turns of phrase on "Middle Earth", rapping, "For the minutes we have on this planet we're seeking love, and that's more than enough. Call it what you want. Call it God. Call it your freedom. That connection between living beings is a powerful thing, and that's real to us."
 Sad, Fat Luck came together between 2015-2018, conceptualized partly on the road and realized fully in New Haven and Saskatoon studios. Its title comes from a joke photo Ceschi sent to Factor of himself shirtless in a penthouse Jacuzzi above Times Square that was kindly secured for Ceschi under questionable circumstances by a hacktivist friend during a particularly unstable stretch for the musician. Astronautalis and Sammus provided guest verses on the album, while multi-instrumentalists such as Danny T. Levin, Jane Boxall, and Child Actor helped flesh out the overall sound.
 "Sans Soleil", a late addition to the record, stands as its emotional core. "This has been an awfully costly trip," Ceschi relays on the chorus, hinting at what he's endured in a lengthy battle with depression and processing loss. The outro features a voice memo from the late producer Sixo, a close friend of Ceschi's and integral part of the Fake Four family, who died in a freak motocross race incident in 2018. Sans Soleil is also the title of a Sad, Fat Luckcompanion album born out of the Saskatoon sessions set to drop in July 2019.
 Ceschi founded a label roughly 10 years ago, at a time when beloved indie labels like Def Jux were folding in response to music becoming "free." He wanted an outlet for him and his friends, and the long road ahead was never viewed as untenable. He grit his teeth, signed artists, made music, booked tours, and continued moving forward amongst shifting terrains. All roads of his past decade have led to this album, and a vocalist couldn't ask for a better co-pilot than Factor. Sad, Fat Luck is suffering as grist for the mill, and the skeletal framework of what that mill can produce when manned by an unflinching sense of hope.
www.sadfatluck.com
Factor Chandelier
Starting out as a DJ, Factor Chandelier has evolved into one of Western Canada's busiest producers. He is continuously working and touring with high caliber artists including: Ceschi, Moka Only, AWOL One, Myka 9, Def3, Sole, Astronautalis and more. He is known for continuously dropping top-notch product out of Saskatoon since the early 2000s. He is the founder, owner and operator of Side Road Records (2001), releasing over 40 professional albums between Side Road & Fake Four inc. Factor's music has garnered international distribution and he has received positive critical acclaim by way of magazine and website reviews as well as receiving as high as #1 charting radio play on college/community radio all over Canada, the US and Japan. Factor has been able to get placement in movies and advertisements with companies such as Cadillac, Addidas, Gopro, MTV and more.
Factor's production combines smooth melodic moods and live instruments over immaculate drums put together seemingly effortlessly to create a distinct sound of his own and it's for this reason he's consistently banging out one-of-a-kind beats as one of underground music's favorite new school producers. Factor is always trying to create original, thought-provoking music that pushes the envelope of traditional hip-hop and has drawn significant attention to this Canadian artist. Hailing from the prairies, this Saskatoon, SK born and raised musician continues to make waves with his innovative sound.
A full bio, photos and all links can be accessed at www.factorchandelier.com
Armand Hammer
ARMAND HAMMER (pronounced Arm & Hammer) is a New York based hip-hop duo consisting of MC/producer ELUCID and enigmatic rapper billy woods. The duo's debut, Race Music, was released in 2013, garnering immediate praise.That album was quickly followed with an EP; Furtive Movements in 2014. Despite burgeoning solo careers both artists continued to collaborate over the following years; making appearances on each other's work and performing together, but fans would have to wait four years for a new full length. Armand Hammer released ROME in November of 2017 to effusive praise, and then doubled down with Paraffin in 2018. Like opposite sides of a coin, the two albums are connected, yet radically different in their design. Rome and Paraffin have been greeted with a wave of critical acclaim, cementing ELUCID and woods' place as two of the most vital voices in the genre today.
www.armandhammer.bandcamp.com
Organizer of Ceschi + Factor Chandelier @ Ruins
The team at Margin Walker is comprised of a tight group of friends hyper-focused on creative live music bookings, marketing, and event production in Austin, Dallas, San Antonio, and Houston. With offices in Austin and Dallas, Margin Walker works closely with the following venues:  Mohawk, Sidewinder, ACL Moody Theatre, Barracuda and more. In the DFW area, the team fills the calendars at nearly 18 venues including The Bomb Factory, Trees, Club Dada and Three Links. MW is also partners with Paper Tiger in San Antonio. Last but not least, the team also curates and oversees Sound On Sound Fest.