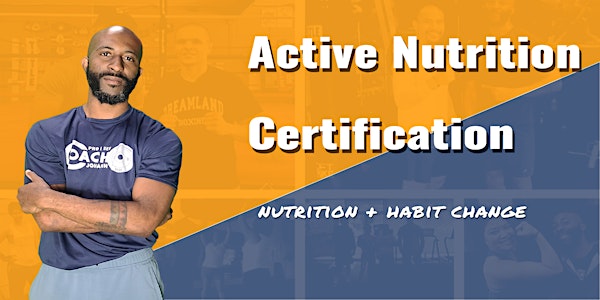 Certify in a SINGLE DAY! Active nutrition coach certification Course
Learn to educate & change Habits. Taking this curriculum, Active Nutrition Coach, means you give a damn about others' eating and habits.
Refund Policy
Contact the organizer to request a refund.
Eventbrite's fee is nonrefundable.
About this event
Choosing this course means you think differently and abide by your beliefs.
Welcome.
This is a LIVE taught, nutrition certification with scenario and roleplay with Johann Francis, over ZOOM! At the end, after testing, you are a qualified nutrition coach.
Finishing this course means you demonstrate those feelings through straight-up action.
Building actionable thoughts and ideas prove you practice the things you preach. Inside this industry, (I'm sure already you know), that's rare.
Thanks for being among the unicorns, the uniquely knowledgeable, and different from the mainstream nutritionists, who regurgitate banal nutrition information with shallow passions.
You are here to motivate, inspire and help change!
"I'm Johann Francis, CSCS - an 19 year pro coach who's trained more 40K hours since 2003, and been a Head Strength Coach for professional fighters and amateur fighters. I've built custom fitness programs for a variety of folks for over 19 years, including strength training programs fight gyms.
I have trained pro and amateur fighters, D1 athletes, CFO's teachers and more. Online, I have over 8600 students who have completed my online courses for professionals."
Maybe you're are a fitness PROFESSIONAL, or adjacent.
And, you were told you could or should not advise folks on how to eat. But conversely, your clients WILL ask and you should have an answer. A qualified, smart answer backed by science.
Or,
Maybe you're NOT AT ALL a professional, but a loved one, friend or community leader.
Eating concerns become part of your concerns sometimes and people close to you might need expert advice. Give them the advice we need to start change.
Even if you are in throes of a diet or eating pattern yourself, you need become a stalwart for change and action.
Come to the workshop and learn to stay active the smart way.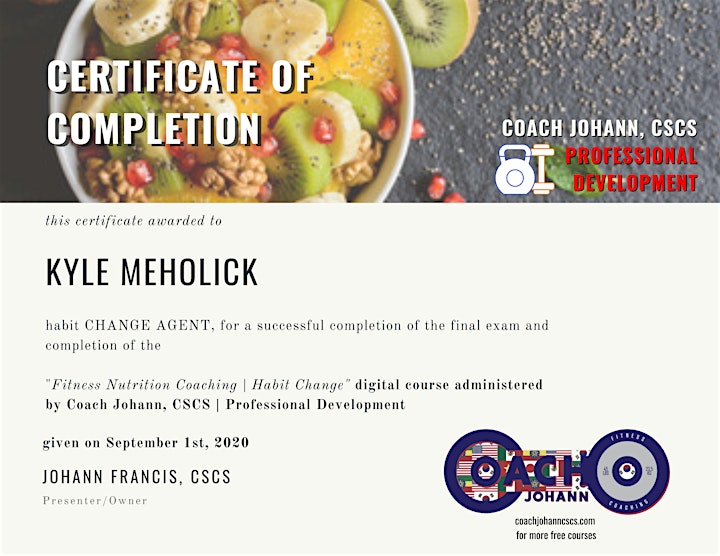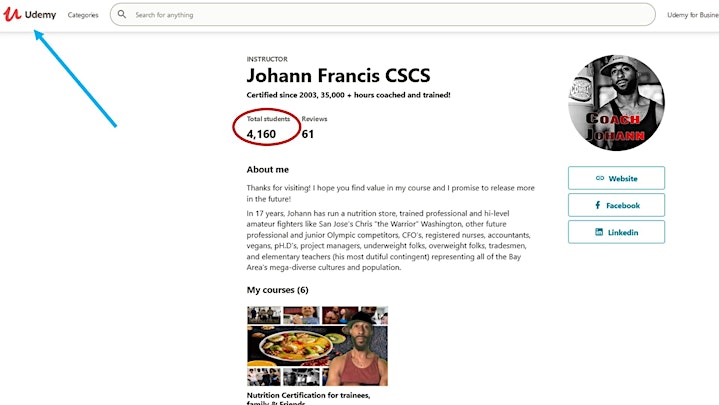 What you will LEARN:
Sports Supplements
Every poignant diet and why they are compelling and different
The best ways to deliver calorie count to clients
Scope of practice for coaches versus dieticians
Intermittent fasting, snacking, and digital tracking methods
HABIT CHANGE models
Change theories like trans theoretical and cognitive approaches
Maslow's change theory
Motivational interviewing
Basic structures of all macronutrients | the names of all micronutrients and basic functions
Build a huge menu for food substitutions for your clients
Weekly Averages for your clients to lose body fat
Charge more money for expertise
Breakdown nutrition labels quickly
Relapse and maintenance
Adding protein for mass
Near-degree level education
Helpful templates and handouts
The 3 Week Coaching Experience
MORE…
What you will EARN
First,
"What we don't Know about Nutrition" - nutrition jumpstart eBook FREE
A CERTIFICATE of Completion from Coach Johann CSCS Professional Development
Compare the other brand-familiar Nutrition CERTIFICATION – which command the same scope:
$599 for ACE Fitness
$649 for AFPA
$799 for ISSA and NASM
$999+ for Precision Nutrition Pn Level 1
$500+ for NESTA, etc.
DETAILS
This is a minimum 4 Hour, 240-260 minute DIGITAL COURSE you earn 4 hour certificate for completion!
Join us LIVE on this date, Novemeber 19, 2022, via ZOOM. Take notes, ask quesitons, bring a big tin of WATER! (There will be breaks, every 40 minutes or so in this longer form podcast).
We will use Slides and Whiteboard techniques to learn how to teach nutrition advice to others!
Afterward, you are free to test out (testing is available directly after the workshop on the site coachjohanncscs.com) and you get your certification.
Practice, preach, practice what you preach to others to help change occur.
CEU's/CEC's for majors underneath Category C personal Development includes
(pending for pre-approved 0.7 NSCA)
ACE 0.40
ACSM 4.00
ACTION 0.40
AFAA 4.00
AFPA 4.00
CHEK 4.00
FAI 4.00
IFPA 4.00
ISFTA 4.00
ISSA 4.00
NASM 0.40
NCCPT 4.00
NCEP 4.00
NCSF 2.00
NESTA 0.40
NETA 4.00
NFPT 0.80
NIEW 0.40
NSCA 0.40
NSPA 4.00
PTAG 4.00
Miss it and you'll miss out!!!
Who should participate?
Fitness Professional and Adjacent with Active Clientele (MT & CMT, CPT, DPT, CSCS, PhD, Physio, DC and more)
Nutrition science practitioners who counsel others.
Curious about Food
Coaches who design fitness programs
Athletes and former athletes who have changed their lifestyle drastically over 3+ years.
Coaches with young and adult athletes inside various gyms and sport organizations
***this assumes you've talked with a medical licensed professional who has cleared you for fitness and workouts. If you are unsure, you must please consult your first before you're allowed to join***ALL and EVERY skill level is Welcome!Ages 18+We need 15 people minimum - hard cap or event will postpone for 2 weeks.
Reach out if you have any preliminary questions:
MAIL: johannATcoachjohanncscs.com
***If you review the course afterward, you pre-qualify for other courses on-site and free 1 day meal plan ***
Good luck!