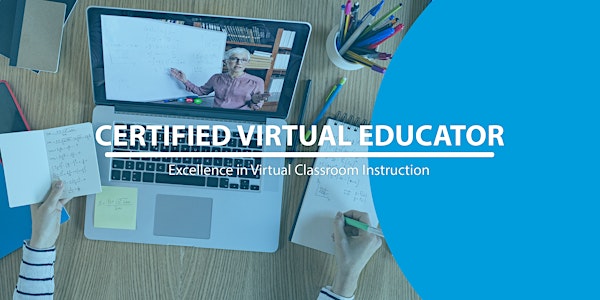 Certified Virtual Educator (CVE) Wed Dec 9, 11am EDT
Learn the skills and technologies available to maximize student engagement in the online classroom
About this event
Virtual classrooms can be just as engaging as traditional classrooms when you have the right skills and knowledge of the technology.
This event will help you prepare to deliver engaging lessons on any subject in a virtual classroom using non-verbal and verbal tools that are available on all common delivery platforms. You will learn best practices around lesson preparation, keeping students engaged, and what do when you need to troubleshoot. For this event, we will be using Zoom as the delivery platform and showcasing how it can be used to keep students engaged, but these skills will work on any platform.
Course Objectives:
Learn essential skills to help keep students engaged in virtual classes.
Prepare your technology to assist with student engagement.
Troubleshoot potential problems as they come up.
Prepare to complete the optional Logical Operations Certified Virtual Educator (CVE) exam and earn the CVE credential.
Get more information on CVE.
To ensure your success in this course, you should have classroom experience.