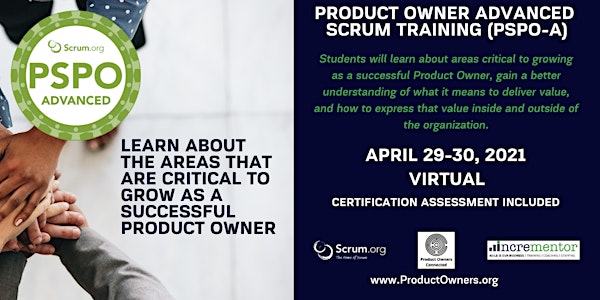 Certified Training | Product Owner - Advanced (PSPO-A)
The Professional Scrum Product Owner - Advanced (PSPO-A) course is a 2-day course on maximizing the value of (software) products and systems
About this event
Pricing
€ 1095,= (including the certification assessment)
Please note that the price on Eventbrite is shown including VAT. Your company will reclaim this VAT amount from the tax authorities.
_____________________________________________________________________________
Mastering the Product Owner Stances
This 2-day Professional Product Owner - Advanced (PSPO-A) course focuses on helping experienced practitioners expand their ability to establish a solid vision, validate their hypotheses, and ultimately deliver more value to their stakeholders. The PSPO-A course is intended for Product Owners who are looking to grow their knowledge and abilities.
The course goes beyond the topics explored in the Professional Scrum Product Owner (PSPO) class by deepening the attendee's understanding of the role through the exploration of the many stances of a professional Product Owner. This course is an interactive, experiential workshop where attendees explore topics through a series of exercises and discussions. Students should have at least one year of Product Owner experience and a practical knowledge of Scrum in order to participate in and benefit from these exercises. Having previously taken the PSPO class is recommended, but not required.
The course also includes a free attempt at the globally recognized Professional Scrum Product Owner II certification exam (PSPO II).
More info available on our websites: