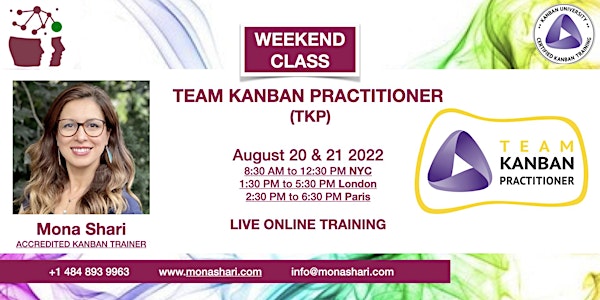 Certified Team Kanban Practitioner (TKP)
The Team Kanban Practitioner course teaches the basics of the Kanban Method and serves as the entry-level to alternative path to agility.
Refund Policy
Contact the organizer to request a refund.
Eventbrite's fee is nonrefundable.
About this event
Certified Team Kanban Practitioner (TKP)
In the two-half-a-day Team Kanban Practitioner (TKP) course, you will learn the core concepts of the Kanban method on how to successfully organize your work while improving visibility, communication, and collaboration. This training creates a shared learning experience where you will come away from the TKP course with a high-level understanding of what it means to be on a Kanban team.
Overview of the class
What is Kanban?
Experiencing interactive Kanban simulation
Kanban principles and practices
Introduction to Kanban charts
Applying Kanban in a team
How to proceed to the next level with Kanban
Schedule
The online class is on August 20th & August 21st ( Weekend) for two half days, each day for 4 hours.
Each day from 9:00 am to 1:00 pm EST.
Please contact us for alternative options if the dates do not match your schedule. We also offer classes on the weekend.
What you will learn?
Students learn how to be effective within a Kanban team. In this class, you will learn the six core practices, how to run daily Kanban meetings, and how to proceed to the next level with Kanban. Students will understand Kanban fundamentals and principles such as:
Implementing Kanban to manage work in progress and regulate workflow
Using Lean thinking to remove waste from product development
Designing a Kanban board to visualize your value streams for efficient work management
Creating "pull" systems to minimize work in progress and eliminate waste
Applying Team Kanban
Certification - Upon successfully completing our TKP course, students will be credentialed as Team Kanban Practitioners (TKPs). The TKP certification is governed and maintained by Kanban University.
Who should attend?
This class is great for leadership, marketing, research and development, product development, and support teams, as well as anybody interested in improving the way they live and work through the Kanban method.
Prerequisites
There is no prerequisite. However, reading Kanban Bluebook by David J Anderson or Essential Kanban Condensed is highly recommended. Download a copy here: https://www.monashari.com/training-kanban/
What's in it for You?
A certificate of completion from Kanban University.
Attract more recruiters and command a higher rate of pay.
Claim 8 Scrum Alliance Scrum Education Units (SEUs).
Claim 7 Project Management Institute (PMI) Professional Development Units (PDUs).
Also included in this course:
A free digital copy of "Kanban: Successful Evolutionary Change for your Technology Business" by David Anderson
Kanban University membership and listing in the KU alumni directory
Dedicated customer support and scheduling flexibility
Location:
This is a live online (virtual) class. After registering, students will receive a link to join the training.
A note for group training /companies
For the group training, we recommend the ideal class size of 3 -10 attendees for maximum benefits of the course.
Please contact us at info@monashari.com or cell:+1 484 893 9963 for arrangement and group discount.
Policy and cancellation:
The organizer reserves the right to cancel classes if registrations are insufficient.
The organizer reserves the right to change the location of the class.
This is a lifetime certification. No renewal or an extra fee is required.
Refunds are provided as follows: 
- 35 days or more, 100% refund minus the administrating fee
- between 35 to 15 days, 65% refund minus the administrating fee
Students submitting cancellation requests less than 15 business days before the start of the course will be issued a credit toward a future class. The credit will equal the amount paid for the initial course, less applicable fees.