Certified Sustainability Practitioner Training (Advanced)

Thursday, October 27, 2016 at 9:00 AM

-

Friday, October 28, 2016 at 5:00 PM (AST)
Event Details
CSE is a leading accredited provider of Sustainability (CSR) Training internationally!
CSE is an accredited training provider by leading organizations in Sustainability. Our Courses are approved by CMI (Chartered Management Institute) and IEMA (Institute of Environmental Management and Assessment). CSE is also Green America certified business, GRI (Global Reporting Initiative) stakeholder and training partner to the Sustainability Management Association (SMA).
Fields That Benefit
Marketing
Public Relations
Communications
General Management
Human Resources
Sustainability / CSR
Environmental Management
This challenging two-day training offered by CSE aims to give you all the latest practical tools and resources required to implement or upscale corporate sustainability in order to drive your initiatives to the next level by generating value and creating effective strategies. Executives from Fortune 500 companies, local governments and academia have trusted CSE and participated in our advanced training to become Certified Sustainability (CSR) Practitioners and earn a unique recognition in the Sustainability and CSR field. Click here to see the training agenda.
Key Modules to be Covered
MODULE 1: Sustainability (CSR) and the Business Case for Adoption
Sustainable development: What is and isn't sustainability
The three principles of nature & business
Definitions & interpretations of the  elements of sustainability
Triple bottom line approach of sustainability
Case study: VW and the dark side of sustainability
MODULE 2: Current Global and Local Legislation for Sustainability and GHG Emissions
Sustainability – COP 21 outcomes and future impact
Sustainability: the UN Global Compact & the updated Millennium Goals (September 2015)
Corporate governance and sustainability legislation
New sustainability trends and regulation
MODULE 3: Sustainability (CSR) Strategy and Related Global Standards & Guidelines (UN Global Compact, GRI , SROI)
Stakeholder matrix
Creating a sustainable (CSR) strategy.A step by step approach
Sustainable supply chain
Global Models Presentation and Description: Global Reporting Initiative (G4), UN Global Compact
How to calculate Sosial Return on Investment
Best practices and case studies on successful sustainability strategies
Exercise
MODULE 4: Responsible Communication and How to Avoid Blue and Green Washing
What are 'Green' and 'Cause-Related' Marketing?
Responsible communication
How to avoid blue and green washing (related videos will be presented)
MODULE 5: The importance of Sustainability in Supply Chain and Carbon Footprint Reduction
CSR strategy & stakeholders
CSR in the supply chain
Stakeholder engagement strategy
The rise of the carbon footprint strategy as part of the environmental strategy. What can organizations do?
Carbon accounting  and WRI Greenhouse Gas Protocol
Carbon offsetting
Case study: IKEA
MODULE 6: Sustainability (CSR/ ESG) Reporting  Based on GRI and How to Communicate
The importance of  sustainability ratings (DJSI, CSRHUB)
Understanding reporting
Why report?
GRI G4 Guidelines: Reporting on the Triple Bottom Line
Materiality
Case Studies & exersize
Best practices on reporting communication
MODULE 7: External Assurance and How to Communicate and Gain Credibility in your Report
The importance of external assurance
What is external assurance for sustainability
Assurance process
Assurance standards
MODULE 8: The Role of the Sustainability (CSR) Practitioner and Future Trends
CSR-P Certification:
Upon successful completion of the course, participants will have the chance to complete a two-year sustainability plan that will qualify them for earning the globally recognized CSR-P Certification and become Certified Sustainability Practitioners. The final assignment help participants put in place practical tools and use the knowledge gained in a practical way.
ONE TO ONE COACHING
How to maximize your knowledge and focus on your challenges after training
Our Coaching helps Sustainability Practitioners in the following areas :
The benefits of Sustainability reporting are clear to you but you face difficulties in convincing your managers to start reporting
You are currently working on your company's sustainability report and materiality and have questions on GRI and other frameworks
You are (re)designing a stakeholders' engagement strategy but you are not sure of the steps you should follow or how to implement it successfully
You need to identify the most effective Sustainability structure for your company
You are entrusted with your company's Sustainability strategy and you must set clear goals
You will deliver an important presentation soon and you could really need some expert feedback
You want to become a Sustainability professional but you are not sure of your career prospects
Our Coaching Programs help Sustainability Practitioners to find practical solutions in all the above areas. Take a look at for our coaching packages here.
About the Head of the Training Programs Development and Lead Trainer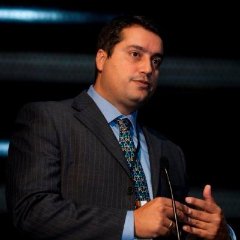 Nikos Avlonas is founder and President of the Centre for Sustainability & Excellence (CSE).Nikos has been distinguished as one of the "Top 100 Thought Leaders in Trustworthy Business Behavior" by Trust Across America. He is a well known international speaker in topics related to Sustainable Development and CSR and has globally delivered speeches and educated thousands of. To learn more about Nikos Avlonas, read his bio here.
Take advantage of a leading book on sustainability, entitled "Practical Sustainability Strategies: How to Gain a Competitive Advantage" (Wiley Publication) written by the course trainer Nikos Avlonas
What you get in the course
Training materials (hard copy) and training guide (electronic copy)
Updated case studies from companies such as Apple, Ikea, Unilever and others
Informative videos from leading sustainable organizations
Sustainability reports related to your sector
Create a 2-Year Sustainability Action Plan for your organization or sector (for Option B attendees only)
Sustainability (CSR) Practitioner Certification  (for Option B attendees only)
Media Partners
Option A tickets:
Upon completion of the course, participants will be granted a Certificate of Attendance.
Discounts:
Contact sustainability@cse-net.org for group discounts.
When & Where

Santo Domingo
Dominican Republic

Thursday, October 27, 2016 at 9:00 AM

-

Friday, October 28, 2016 at 5:00 PM (AST)
Add to my calendar
Organizer
CSE is an international advisory and training organization that provides Sustainability Solutions to the public and private sector.
T: +1 312 214 6464
E: marketing@cse-net.org