Description
Product Ownership - the Epicenter of Effective Scrum
Scrum is simple to understand, yet can be hard to do well. The Product Owner (PO) role is central to a team's effectiveness with Scrum and Agile. Product Owners work to maximize the flow of value produced by the product delivery teams. A great PO skillset spans:
facilitating & negotiating internal and external stakeholder needs

proactively translating needs into actionable requirements in the team's product backlog

supporting product and project development teams throughout their planning, development and release activities

ensuring teams and stakeholders exercise frequent feedback cycles to guide future product plans

managing expectations and projections from vision through product release
Whew! What a list! Done well - product ownership sets up the organization for massive success. The product backlog feeds the teams with the "next most important" work to be done. Effective collaboration between the PO and the development team facilitates effective decision-making and quick course corrections when needed. The journey between a great new customer idea and its delivery accelerates. It's a win for the customer, the business, and all the team members, including the PO.

Learn the Nuts & Bolts of Great Product Ownership
Such skills are hard to learn via lecture - so this workshop is hands-on and interactive. It lays the foundation for Agile Business Leadership using the Scrum framework. Short, focused presentations cover concepts and practices. Immersive exercises reinforce each concept and skill with hands-on practice. This is no Powerpoint snoozefest. Get a taste of what you'll experience with this time lapse of a key 10 minute overview of all the elements in Scrum: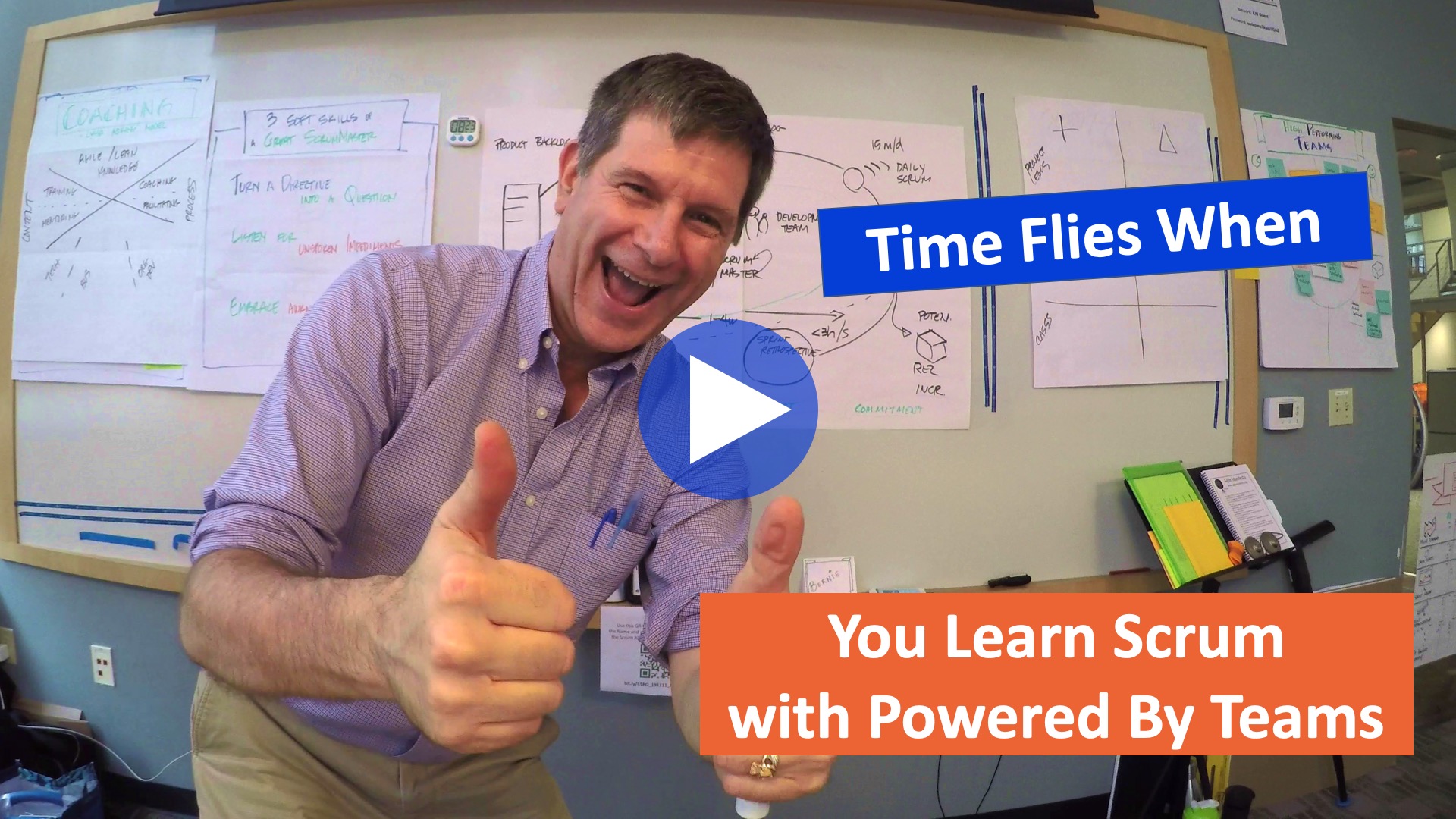 By the conclusion of this dynamic workshop - you will be prepared with the skills, knowledge, and experience to not only explain Scrum to colleagues, clients or interviewers, but also to put Scrum into action with your team. Become a catalyst for change by helping your teams and programs apply these concepts to become resilient, learning organizations able to thrive in today's emerging markets.


Get your CSPO® and More!
This workshop includes:
Scrum Alliance Certified Scrum Product Owner CSPO® certification fee

Two-year membership in the Scrum Alliance, the largest, most established and influential professional membership and certification organization in the Agile community

14 PMI PDUs for PMPs

14 of the 21 contact hours needed for a PMI-ACP credential


Who Should Attend
This course is appropriate for Product Owners, Product Managers, Managers, Business Analysts and others involved in facilitating the journey of a great customer-centric idea to the realization of a solution ready for delivery. It's equally valuable for Scrum Masters, Scrum Team Members and not-so-innocent organizational bystanders wanting to collaborate with the "product folks" on agile approaches to product planning, requirements management, and release planning. This course is appropriate for folks new to the world of Agile/Scrum, as well as people whose organizations have been practicing some form of Agile for a while and need a "reset."


Workshop Agenda
The workshop includes all the material required by the Scrum Alliance for its Certified Scrum Product Owner CSPO® certification, along with stories, tips, tricks and practices to make your product backlog sing and your user stories tap dance their way to "done."


Your Instructor:
Bernie Maloney is an international trainer, coach and speaker who's helped grow businesses from breakeven to beyond $100 million. The teams he's worked with have delivered products ranging from award winning consumer electronics to network infrastructure to services & payments. He's worked with firms including Bell Labs, HP, TiVo, Cisco and more. In addition to his client work, he teaches Agile Product Development and Agile Leadership at Stanford Continuing Studies.
Bernie's one of only a few hundred people worldwide who is a Certified Scrum Trainer® with the Scrum Alliance, the most widely recognized and largest credentialing body in Agile. He helps clients to accelerating the genius in their leaders, teams and organizations, so they experience not only greater success, but also a whole lot more fun.


The Fine Print
FAQ
How soon can I get my CSPO® certification? On completing your participation in the full workshop, we will let the Scrum Alliance know of your successful completion of the course. You'll receive an email from them to setup your profile on the Scrum Alliance website and then you'll be a bonafide, official CSPO®!


Wait! Don't I Need to Take an Exam to be Certified as a CSPO®? No. Currently the only requirement to become a CSPO® is the successful completion of the course. The Scrum Alliance is hard at work to develop an online exam for the CSPO®. So if you love taking tests, wait a bit to enroll in a CSPO® workshop. Otherwise - get it now with us!

Can I Miss Several Hours of the Workshop and Still be Certified? No. If you miss more than 1 hour of the workshop, you will not be eligible for certification, and you will be welcome to attend the rest of the workshop.

Will you feed us? YES! We believe people learn best when they are fully hydrated, caffeinated, fed and engaged in the workshop. Expect a light continental breakfast each morning, lunch, snacks and plenty of coffee, tea and water.

What do I need to bring to class? Just you! You won't need your laptop, tablet or even your phone. But we understand that you'll probably want to peek at your email during a break or at lunch.


Cancellation Policy
We understand that things can change, and we strive to be as agile as possible with respect to registrations. That said - EventBrite wants their fees! The price you pay includes fees to EventBrite which are not refundable (about $40). For the balance - talk to us! Please email us no later than 5 business days before the start of the workshop and we'll arrange a full refund or transfer to a future date. Cancellations received within 5 full business days of the start of the course will receive a credit (no cash value) towards a future workshop. Please request changes by emailing hello@poweredbyteams.com.


Questions?
Drop us an email at: hello@poweredbyteams.com
Can't Wait?
Take a peek into how we prepare a room so you can learn Scrum by practicing Scrum: