Description
Entrenador Angel Diaz-Maroto (CST, CEC, CAL Educator) lideró la implementación Agile de varias organizaciones multinacionales como ING, Banco De Chile, Toyota España y Falabella. Y apoyó a King, Roche, eBay, Sabadell, Sunhotels, Lietuvos Draudimas

Examen en español

2 intentos del Examen de Scrum Alliance incluido

Curso en español
Contenido:
Valores fundamentales y el manifestó ágil
El equipo Scrum y los roles (Dueño de Producto, Equipo de Desarrollo, Scrum Master)
Eventos de Scrum (Sprint, Reunión de Planificación de Sprint, Scrum Diario, Revisión de Sprint, Retrospectiva de Sprint)
Artefactos de Scrum (Lista de Producto, Lista de Pendientes del Sprint, Incremento)
La Tabla Kanban, Definición de "Terminado", Estimación en Scrum, Scrum y Kaizen
3 Simulaciones de Scrum.
¿Que opinan los participantes?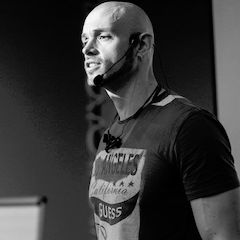 Entrenador: Angel Diaz-Maroto
Angel Diaz-Maroto (CST, CEC, CAL Educator) lideró la implementación Agile de varias organizaciones multinacionales como ING, Banco De Chile, Toyota España y Falabella. Y apoyó a King, Roche, eBay, Sabadell, Sunhotels, Lietuvos Draudimas entre otros

Angel is recognized worldwide as an expert in Agile and Scrum and he holds the three highest level certifications in the field: CST (Certified Scrum Trainer), CEC (Certified Enterprise Coach) and CAL Educator (Certified Agile Leadership Educator) by the Scrum Alliance. Additionally, is a co-active coach, specialist in team coaching and systemic leadership, and Management 3.0 licensed trainer.
Co-Entrenador: Fabian Schwartz
Unico entrenador en Colombia recomendado por Jeff Sutherland (creador de Scrum)
Ha ayudado a varios clientes en Europa, Australia y América Latina.
Alumno de la Universidad de Stanford, EEUUU
Mas de 10 certificaciones de la industria (incluyendo CSP - Certified Scrum Porfesional)
Profesor invitado de la Berlin School of Economics and Law, Universidad de Quebec, Universidad Externado entre otros.
+17 años de experiencia en las siguientes sectores: TI, telecomunicaciones, sector financiero, oil&gas, consumo masivo.
La inversión incluye:
2 intentos del examen
Materiales del curso en forma electrónica.
Almuerzo y bebidas.
16 PDU´s categoria A