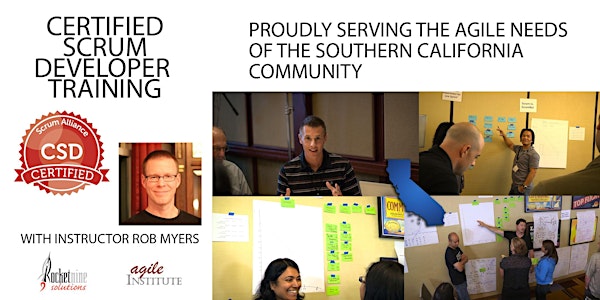 Certified Scrum Developer Training, Orange County, CA - April 2017
Location
Fairfield Inn and Suites, Tustin, Orange County
15011 Newport Ave
Tustin, CA 92780
Description
This Event has passed. Please go to our website for more information about how to get your Certified Scrum Developer (CSD) in Southern California.
Description
Agile software development requires a unique approach to the actual writing of code. While there are no "silver bullets," certain practices are much better at controlling quality, while retaining the flexibility and maintainability required of Agile's incremental product development approach.
This 3-day Certified Scrum Developer Training, primarily for developers, provides an immersive, hands-on coding experience with a time-tested set of engineering practices including relentless refactoring, Test-Driven Development (TDD), Continuous Integration (CI), pair-programming, emergent design & architecture, and many other supporting practices.
Today's professional developer will appreciate experiencing these practices in a safe, fun, and mildly realistic environment. We run our CSD training with real Agile coding labs throughout.
Instructor
Rob Myers has been crafting and delivering technical Agile courses since 2001. He makes sure every Certified Scrum Developer training course he delivers is a blend of fun, practical hands-on labs, plus insights gleaned from his experience. Rob has 29 years of professional software development experience, 17 of those years using and coaching Agile engineering practices on successful, and sometimes life-critical, applications.
Details
Essential Agile Engineering Practices is currently offered in Java, C#, JavaScript, C++, and VisualBasic.Net.
Learning objectives:
A variety of individual practices and how they support each other.

Core Practices

Relentless Refactoring*
Test-Driven Development*
Continuous Integration*

Supporting Coding Practices

Emergent Design & Architecture*
Pair Programming*
Collective Ownership*
Mock Objects
Experimental Spikes
Refactoring toward Extensibility
Legacy Characterization Testing

Supporting Team Practices

Team Demos*
Sit Together*
Sustainable Pace*
Story Testing/ATDD/BDD
Creative Slack
CRC Cards
*These are experienced in Depth. Others are as-needed, at the instructor's discretion, and as time permits
A clear understanding of why our industry needs professional development & engineering practices.
A clear understanding of why these particular practices are well-suited for Agile frameworks such as Scrum & Kanban.
Techniques for teams and individuals to realistically stick to these practices in a disciplined way.
Please note that this workshop represents the 3-day technical aspect of a 5-day Certified Scrum Developer training program. To obtain the CSD, you must have earned the CSM credential. Participants who do not yet have the CSM may take it later (a 2-day training) and then finish the CSD credential.
Students will receive 24 SEU's upon completion of the class.
Pre-requisites:
Solid familiarity with an Agile framework such as Scrum, XP, or Kanban. This can be from at least 4 months on a coached Agile team, from fundamental Kanban or Scrum training (e.g., Certified Scrum Master), or from Agile Institute's own Essential Agile Principles & Practices course.
Attendee Requirements:
A computer with a prepared development environment. Students will be pair programming in this course and we will need at least 1 working computer for every two students.
When you register, please let us know your first two programming-language preferences. The Certified Scrum Developer training course will likely be presented in Java or C#. Small teams will choose their preferred implementation language. This could be Java, C#, JavaScript, C++, Ruby...
Cancellation Policy
- Reschedule to another of our classes anytime, or cancel anytime up to 7 days before class for 100% refund. Fewer than 7 days notice will result in a 75% refund to cover hard costs. For minimum learning experience, the course must run with a minimum five registrants. If fewer than five are registered, the class may be cancelled three to seven days in advance, and attendees will be offered seats in the next Rocket Nine Solutions classes in the area or a full refund.
Please be aware that Rocket Nine Solutions (Scott Dunn, et al) may choose to record electronic and traditional media (e.g., photographs, video, audio footage, testimonials) at this event and attendees may appear in these recordings.
By submitting a registration for yourself or someone else, or by attending this event, you grant permission for Rocket Nine Solutions to store those recordings in a database and to use them in future print, electronic, or other visual media for educational and promotional purposes. If you do not wish to grant permission, please contact the event coordinator listed below prior to attending the event.
If you need assistance, please contact Cliff Rosa at
cliff@rocketninesolutions.com
or call 714-699-4679.