This 1-day, instructor-led remote workshop, provides foundational knowledge of Path to Agility and how it can guide an Agile transformation.
About this Event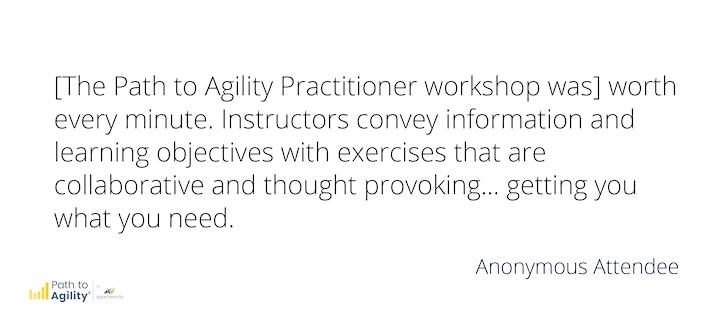 About the Path to Agility framework
Organizations today are facing massive challenges when it comes to achieving agility. Path to Agility is an outcomes-based transformation framework that helps organizations focus on successfully achieving desired results when undergoing an Agile transformation.
Over 50% of Agile transformations fail to deliver on the benefits of Agile, costing companies millions of dollars, while increasing frustration and churn. The Path to Agility framework is the response to this growing problem.
About this virtual Workshop
This is a web-based, instructor-led workshop. Agile Velocity trainers have developed a virtual experience, accommodating learners who either work-from-home or are part of a distributed team/organization, that provides effective learning and practical, hands-on activities. For optimal user experience, it is suggested that participants have a dual-monitor setup and the ability to enable video.
Who Is This Workshop For?
This workshop is for people who are leading change as part of an Agile transformation initiative within their organization. (e.g. Leaders, Scrum Masters, team coaches, internal coaches, members of an internal Agile transformation team, change agents, etc.)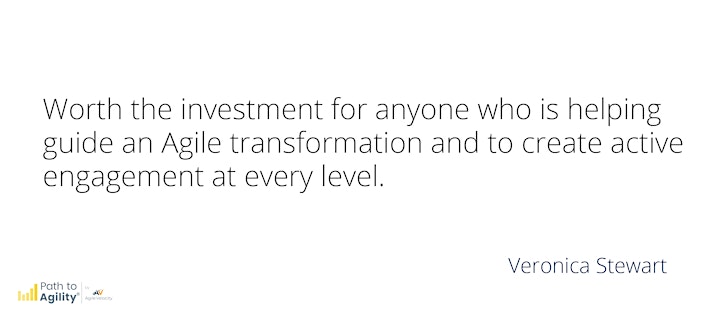 Minimum Requirements
This is not an introductory course on Agile concepts, Agile frameworks, or Agile Scaling frameworks. Because of the advanced content in the Certified Path to Agility Practitioner workshop, participants should have some experience and/or training on foundational Agile concepts such as the Agile Manifesto, Agile Values and Principles, and implementation frameworks applicable to their organization (Scrum, SAFe, Kanban, etc,).
While it is not required to have any specific certifications, such as CSM, CSPO, or PSM I, attending a foundational course and having some experience implementing Agile would be very beneficial for attendees to understand and apply the concepts as a Certified Path to Agility Practitioner.
What do I get?
Attendees who complete this workshop will receive:
Certification as a Practitioner and license to use Path to Agility
Path to Agility Card Deck *
Path to Agility Playbook
Path to Agility Practitioner Community Access
Authorized to purchase additional Path to Agility Card Decks
* All attendees will receive access to a virtual Path to Agility deck. Physical card decks will be shipped to attendees within the continental United States.
Can I just buy the Path to Agility deck of cards without the class?
Agile transformations are inherently complex change initiatives. Our goal is to ensure that you are enabled with not only the tools (e.g. the Path to Agility card deck), but also how to use the tools to enable you to have greater success in your transformation. Practitioner training and support are critical to effectively deploying Path to Agility. As we say, "Like Scrum, Path to Agility is easy to understand, but hard to master."
Key Learning Outcomes
Identify common challenges with Agile transformations and how the Path to Agility framework addresses these challenges
Explain the advantages of an outcomes based transformation approach
Explain the structure and benefits of the Path to Agility framework
Use Path to Agility to create a transformation backlog
Apply Path to Agility to guide teams and organizations to be more predictable and reducing cycle time through common adoption patterns
Workshop Outline (subject to change)
Agile transformation challenges and characteristics
Top 10 reasons for Agile transformation failure
How Path to Agility framework addresses common failures
Introduction to Leading Change
Core challenges with change
Change leadership vs change management
Path to Agility Framework introduction
How all the elements of Path to Agility (Stages, Levels, Outcomes, and Capabilities) relate to each other
Hands-on activities using the framework
Transformation roadmaps and backlogs
Five Stages of the Path to Agility Framework
The goals of each stage (Align, Learn, Predict, Adapt, Accelerate)
The degree of "completeness" required for each stage
How each stage relates to introducing change
Three Levels of the Path to Agility Framework
Why Agile transformations require more than just enablement of individual teams or departments
Definitions for each of the three levels (Team, System, Organization)
How each of the levels work together to enable sustainable change
Understanding of what levels are related to your organization
Nine Business Outcomes of the Path to Agility Framework
Why Business Outcomes should drive Agile transformations
Definitions for each of the Path to Agility Business Outcomes
Relationship of Path to Agility Business Outcomes
Understanding of which Path to Agility Business Outcomes may work best for your organization's context
30+ Agile Outcomes of the Path to Agility Framework
Awareness of the 30+ Agile Outcomes
How Agile Outcomes are related to Business Outcomes
Understanding how Agile Outcomes fit in each stage and level
How Agile Outcomes are related in the Path to Agility framework
100+ Agile Capabilities of the Path to Agility Framework
Awareness of the 100+ Agile Capabilities
Understanding how Agile Capabilities enable Agile Outcomes
How Agile Capabilities inform a Transformation Backlog
Options for this workshop
If you would like to register multiple participants, or have a large group of people at your organization you would like to have participate in this training, we can offer a private workshop option. Contact us at - training@agilevelocity.com.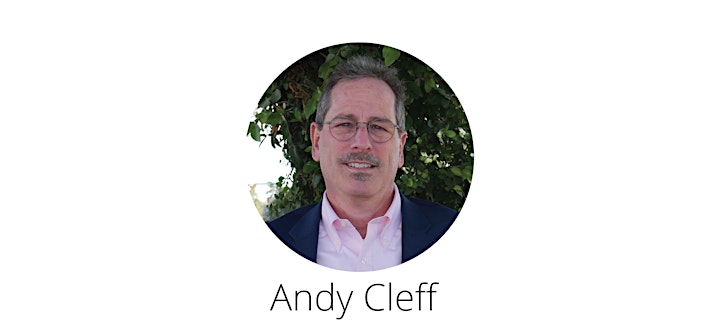 Andy Cleff is an experienced and pragmatic Agile practitioner that takes teams beyond "getting" Agile to embracing Agile.
His superpowers include holding multiple perspectives, enabling step changes that bridge current and future states, allowing space for both order and chaos simultaneously, celebrating success, and foremost, putting the people at the top of the priority list.
His chief weapons are well-asked questions, insightful retrospectives and an ability to withstand awkward silences.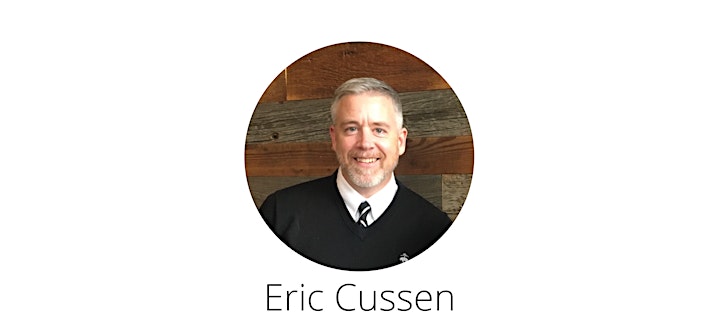 Over the past 15 years, Eric has been focused on helping leaders achieve the benefits of agility by helping them connect the concepts and practices to real-world applications. Eric's approach is pragmatic but rooted in foundational agile principles that help leaders execute change and model behavior. His experience ranges from small tech startups to large insurance and financial services companies. His background in product development drives his passion and entrepreneurial mindset.
Eric is a Colorado native and when he isn't working, he can always be found outdoors. He spends as much time as possible skiing, mountain biking, camping, four wheeling, skiing, playing in the snow, and skiing. He also enjoys traveling abroad, especially if the goal is to find fresh powder to ski.