Certified Large Scale Scrum (LeSS) Basics (CLB) - More with LeSS (Boston, MA)

Friday, February 1, 2019 from 9:00 AM to 5:00 PM (EST)
Event Details
---
What Past Participants have said about Ram's LeSS Workshops (actual recommendations from LinkedIn)
Ram's workshops are very popular and are highly recommended by his past participants (tip - register soon). Below are a few select recommendations from 350+ LinkedIn recommendations. Please see LinkedIn for the latest recommendations 
Thank you Ram for another excellent workshop! As you know, this is my second workshop with you and like the first, you did not disappoint and have exceeded my expectations in educating me about LeSS. You reinforced what I have been pushing for with my own clients in the past without knowing such framework existed and helped me learn principles that I can take with me over the upcoming years to work withy next clients on how to implement scrum and which scrum framework would be the most ideal. I look forward to continuously learn from you as I embark on my journey of learning more about Scrum as a framework. I highly recommend that anyone considering to take courses from Scrum Alliance to seek out Ram as the trainer. - Frances Mak - Business Consultant, Financial Services
I took Ram's one-day Certified LeSS Basics (CLB) workshop in Toronto earlier this year. This workshop provided a very good overview of LeSS including the benefits and requirements to make LeSS effective. The workshop began with a review of SCRUM fundamentals, followed with a presentation of the LeSS principles coupled with group exercises to reinforce the concepts presented. Ram did an excellent job in presenting the material and providing practical examples based on his experience implementing LeSS. As manager of a Product Management organization, I found this workshop extremely useful to quickly understand the scope and potential of LeSS. As a follow-up to this workshop we have begun sending our Product Managers to the Certified LeSS Practitioner workshops to gain more in-depth LeSS training. Thanks Ram - Charles Smolich , Head of Product Management,  HERE Technologies
I have had the pleasure of participating in 2 of Ram's teaching classes. Ram taught the first ever CLB (Certified LeSS Basics) class in Canada, which I was privileged to attend. I also attended Ram's CSM class in Toronto, purely to gain knowledge (as I had already done CSM before). Ram is am excellent orator, with immense knowledge & depth of LeSS and CSM and Agile/Scrum practices. I have attended a number of Certification courses over the last 12 months, and these 2 classes would be my favorite. Ram takes the additional interest to ensure that the students leave the class equipped with the tool-kit & the necessary knowledge and confidence to make a difference in the organizations we work in from Day One. I was able to absorb & digest the exhaustive material that Ram covers in his class with ease, as the pace is well set with ample time to revise & reflect on the leanings and even question or challenge some items. The amount of material that Ram power-packs in his time-boxed classes is incredible , always ensuring that his students leave with maximum & optimum knowledge and many new ideas that students can explore further as part of the Agile learning journey. I would love attend any of Ram's courses at a heartbeat! - Mustafa Poonawala - Agile Coach, ScotiaBank

You can read all the recommendations in Ram's LinkedIn profile
---


What is Large Scale Scrum (LeSS) and why should you care?
Do any of the below problems sound familiar to you?
Multiple teams in your orgnization are working on the same initiatives and you do not know how to scale development while still retaining the benefits of Scrum

Multiple teams working on the same product are having coordination challenges

Senior Management / Leadership is not able to align the work of different team and ensure all the teams are going in the same direction. Some teams are working on very important stuff (from leadership perspective) while other teams are working on (less) important stuff because of some constraints. You feel stuck and don't know what to do

Your teams are spread across multiple locations and do not know how Sprint Planning, Daily Scrums, Sprint Reviews and Sprint Retrospectives should work

You are having 100s of people  for two days in a room for a "big room" planning. You know the meeting is inefficient, but don't know how to solve it. So you live with it. 

Your teams are unable to have a "releasable" product increment at the end of the Sprint due to dependencies

You do not know what your "product" is. Or you are releasing your "product" only to find that other "products" also need to be released along with your "product" for the customer to use it.
If any of the above problems resonate with you, you are not alone. You have run into many of the common scaling challenges. The most common way to deal with these challenges is (a) to bury the head in sand, like an ostrich, and think the problem does not exist  and secretly wish these problems go away or (b) adopt a heavy-weight, overly prescriptive framework with new labels for existing roles, layers upon layers of new artifacts, and fancy metrics so that management can have (an illusion of) control. While you may get marginal improvements with either of the approaches, over a period of time, it is not sustainable.  The benefits fade away and the organization loses agility and its competitive edge. 
Large Scale Scrum (LeSS) takes a different approach to scaling. Rather than applying band-aid to a fracture, it directly tackles the root cause of these problems by helping you think about the problem deeply using Systems Thinking using Systems Modeling. Through this, you get to "own your insight" rather than renting them. You understand how to see problems systemically so that you can ensure that your scaling approach is simple, effective,  and sustainable ensuring that you do not lose agility and your competitive edge.
---
Workshop Objectives:
All Certified LeSS Basics (CLB) workshops are taught by "LeSS Friendly" Scrum Trainer as per CLB Learning Objectives. Learning Objectives include
Why Large Scale Scrum (LeSS) ?

Clearing misconceptions about what is Scrum and what is not

Why LeSS (and Scrum) are "barely sufficient" and "intentionally incomplete"

Systems Thinking, System Goal and System Optimization

Local vs Global Optimization (a.k.a Scaling vs DeScaling)

Understanding Org Design for (De)Scaling

What is Large Scale Scrum (LeSS)?

Difference between Multi-team Scrum (LeSS) and multiple Scrum Teams, and why multi-team Scrum is optimal

The LeSS Complete Picture - Principles, Rules, Guide and Experiments

(Smaller) LeSS Framework (upto "8" teams)

LeSS Huge Framework (beyond 8 teams)

The minor differences between Scrum and LeSS

LeSS Roles

Product Owner

Why only ONE Product Owner even for "N" teams - understanding global optimization

Srum Master

Role of a Scrum Master in LeSS

Team

Differences between Component Teams and Feature Teams

Understanding why Feature teams might be better
LeSS Artifacts

Product Backlog

Defining your "Product"

Why only ONE product Backlog

Sprint Backlog

Each team has its own Sprint Backlog

Increment

Understanding Definition of "Done" when multiple teams are building the same "Product"

Why multiple teams should coordinate to build ONE single Product Increment

LeSS Events

Sprint Planning

Understanding multi-team Sprint Planning

Daily Scrum

Sprint Review

Why only ONE Sprint Review

Sprint Retrospective

Team Retrospective

Overall Retrospective

Product Backlog Refinement (PBR)

Overall PBR, multi-team PBR and single team PBR

Multi-team coordination and integration practices

Coordinate in Code

Just Talk

Importance of Technical Practices

Implementing LeSS

Understanding your Organizational Landscape

LeSS Adoption

A Guide to getting started with LeSS

Initial Product Backlog Refinement

Definition of Done

Beyond "8" teams - LeSS Huge Adoption guidelines

LeSS Resources
---


Target Audience:
Scrum Masters, Product Owners, Developers, Agile Coaches, Managers and Leaders who are interested in learning how to scale their Scrum adoption beyond a single Development Team.  

After the workshop, the participants will be able to
Understand that LeSS is multi-team Scrum

Understand what is LeSS, what is not LeSS, and the principles behind LeSS

Understand how the current organizational design comes in the way of the organization being Agile

Evaluate what changes need to be made to help the organization adopt LeSS 
---


Frequently Asked Questions
Who is awarding the certification? Will this certification show up in my Scrum Alliance profile?
The certification will be awarded by The LeSS Company B.V.

Once certified, your CLB certification will show up in both your http://less.works profile and your Scrum Alliance profile (because of the partnership between The LeSS Company and Scrum Alliance)
Where can I learn more about LeSS Company and Scrum Alliance partnership?
You can see the press release from Scrum Alliance here and here 
Does the Workshop include the cost of certification?
Yes, the course fee includes the cost of certification. 
Is there a test after the workshop?
There is no test, you attend the workshop, participate (to instructor's satisfaction) and you are certified
Is my registration/ticket transferrable to another person?
Yes, it is. You would have to let the organizer know about it ahead of time. There is no charge for transferring your registration to another person
Can I update my registration information?
Yes. 
Do I have to bring my printed ticket to the event?
If you are transferring the ticket, please bring the original ticket to the event
What is the refund policy?
Due to the administrative overhead involved in refunds, these tickets are non-refundable.  But you can always send a friend/colleague/family member in your place.  If there is an extremly extenuating circumstance (e.g. death of a family member) that prevents the participant from attending, you may be able to transfer your ticket to later event for a fee. 
The name on the registration/ticket doesn't match the attendee. Is that okay?
If you are registering on behalf of someone else, please let the organizer know
What about food?
A light breakfast and an afternoon snack will be provided. Participants are encouraged to make their own arrangements for lunch based on their dietary restrictions. Coffee and tea will be available throughout the day
What can/can't I bring to the event?
Please bring a notepad and pen to take notes (some locations supply it, some locations do not). Please also bring your water bottles so that you can avoid water spills.  While we try to accommodate food allergies/preferences as much as possible, unfortunately, not all venues can accommodate all requests. So if it is a concern to you, please feel free to bring a snack bar / juices. 
You DO NOT need a laptop/tablet for the workshop
Where can I contact the organizer with any questions?
Yes, you can. Please email  "Ram+LeSSBasics@InnovAgility.com".  (yes, it is a plus sign. I use GSuite and  Gmail lets you use "+" sign in the email to create email filters. And I use this so that I can respond to you faster)
Have questions about Certified Large Scale Scrum (LeSS) Basics (CLB) - More with LeSS (Boston, MA)?
Contact Ram Srinivasan
Save This Event
When & Where

MicroTek
25 Burlington Mall Rd #204
Burlington, MA 01803


Friday, February 1, 2019 from 9:00 AM to 5:00 PM (EST)
Add to my calendar
Organizer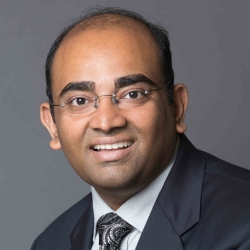 Ram has the unique distinction of being a Certified Scrum Trainer, a "LeSS friendly" Scrum Trainer, and a Professional Coach who specializes in coaching teams and organizations. He started as a developer and later moved to hold various roles including software architect, Project Manager, and Program Manager. Ram brings his in-depth experience in product development, technical craftsmanship, project management, coaching, facilitation, and conflict management to help participants understand how to apply Scrum.  In the recent past, he has been focusing on helping teams and organizations adopt Lean-Agile practices. Ram also holds multiple Agile/Project Management related certifications (PMP, PMI-ACP, SAFe Program Consultant, PSM, PSPO, IC Agile Professional). Ram regularly speaks at local meet-ups, user groups and conferences (see the complete list here). The slides of his presentations can he found here.