Description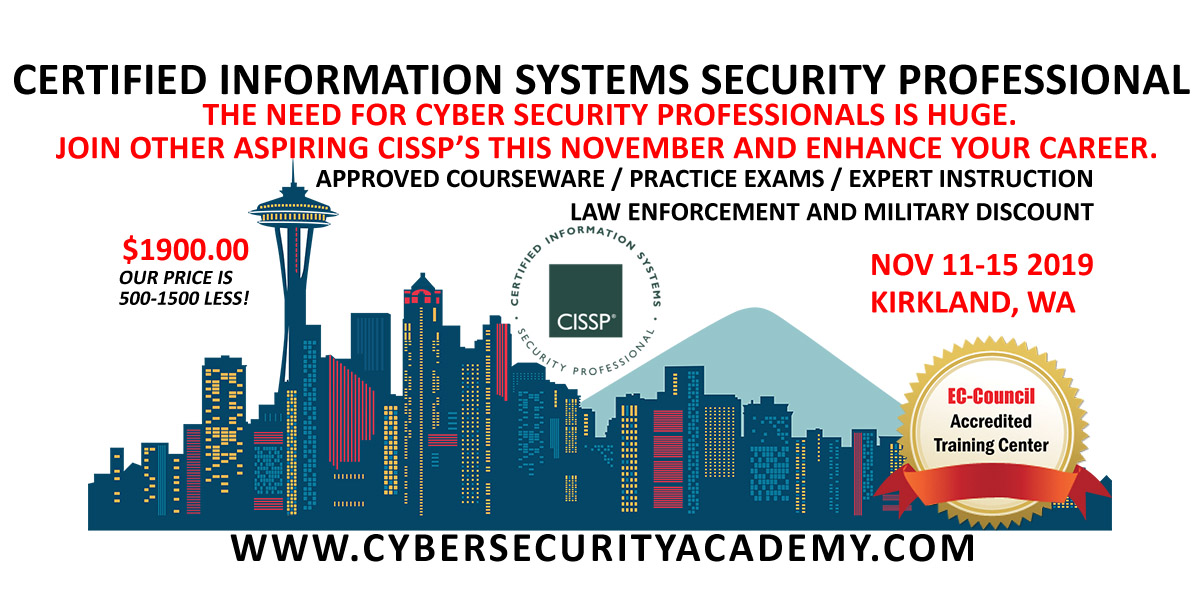 "The CISSP certification has often been described as a mile wide and an inch deep. I couldn't fathom how the breadth of knowledge required for this exam could possibly be effectively covered in a one week course....until I took CyberSecurity Academy's boot camp. This was the best course of its kind I have taken and has to be the best value in the industry for a course of this nature. I don't know that I could have passed the exam without the optimal combination of training materials, classroom instruction and other resources that were provided via Mr. Hailey's course. I spent my own money and took personal time off for this course and would do so for another in a heartbeat." - Marc Milstein, Director of Digital Forensics
---
COURSE LOGISTICS AND LOCATION: Your course will be held at the Kirkland Police Department in Kirkland, Washington. Class times are 9:00 AM to 5:00 PM daily. The closest airport is Seattle-Tacoma (SeaTac).
YOUR CISSP COURSE INCLUDES
5 days of in-class expert training

Customizable practice test engine (a $200.00 value by itself)

Additional exam preparation materials

Student handbook

Collaboration with classmates

Real-world scenarios and learning activities
COURSE OVERVIEW
Whether you simply want to learn more about information security or want to prepare to take the Certified Information Systems Security Professional exam, CyberSecurity Academy's comprehensive course covers the entire Common Body of Knowledge relating to Information Systems Security. Rest assured that your course will not be a time-wasting "review seminar" with your instructors quickly flipping through all of the slides and reading directly from them. Zero fluff and filler. Your instructors are not IT generalists that teach dozens of IT courses with average competency - they are information security and digital forensics professionals that have trained thousands of students.
You will learn about the 8 CISSP Common Body of Knowledge domains through daily drill sessions, reviews, practical question and answer scenarios. The 8 domains of the (ISC)² CISSP Common Body of Knowledge ® are:
Security and Risk Management

Asset Security

Security Engineering

Communications and Network Security

Identity and Access Management

Security Assessment and Testing

Security Operations

Software Development Security
WHO SHOULD ATTEND
Computer Forensics/Digital Forensics Professionals

Incident Response Personnel

Information Security Professionals

IT Managers

Law Enforcement Personnel

Legal Professionals

Network Administrators and Architects

System Administrators
PREREQUISITES
Even if you are not planning on taking the CISSP exam, this class will help you learn topics and concepts related to all aspects of Information Systems Security. You should have several years of experience in IT to fully benefit, with a good understanding of network concepts and TCP/IP fundamentals.
Prerequisites for the CISSP exam are a minimum of five (5) years of direct full-time professional security work experience in two or more of the ten domains. You can receive a one-year experience waiver with a four-year college degree or additional credential from the (ISC)² approved list, thus requiring four (4) years of direct full-time professional security work experience in two or more of the ten domains. Even if you do not meet these requirements, you can still become an Associate of (ISC)² by successfully passing the CISSP exam. The U.S. Department of Defense Directive 8570.1 accepts a valid (ISC)² Associate in lieu of a CISSP.