CERTIFIED HOSPICE AND PALLIATIVE NURSE (CHPN) EXAM PREPARATION
Actions and Detail Panel
CERTIFIED HOSPICE AND PALLIATIVE NURSE (CHPN) EXAM PREPARATION
Event Information
Location
Sharp Spectrum
8695 Spectrum Center Blvd
San Diego, California 92123
Description
CERTIFIED HOSPICE AND PALLIATIVE NURSE (CHPN) EXAM PREPARATION
May 20 - 21, 2017| For registered nurses working in hospice and palliative care
The CSU Institute for Palliative Care at CSUSM and the San Diego Chapter of HPNA are joining forces to offer a weekend of education, interaction and skill building. If you are thinking about getting your certification (or need to renew it), this two-day preparation course held in San Diego will help ensure you pass your exam. Alternatively, if you just want to sharpen your skills in hospice palliative care nursing, this is a great opportunity to spend one weekend and return to work razor-sharp.
Comments from previous students:
" Content was excellent, relevant, applicable."
" I really liked the pain and symptom management topics the best."
" Self care: the instructor made you think and evoked interaction."
This two-day program is designed to cover all of the required competencies and examination content for the Certified Hospice and Palliative Care Nurse examination with a primary emphasis on pain and symptom management.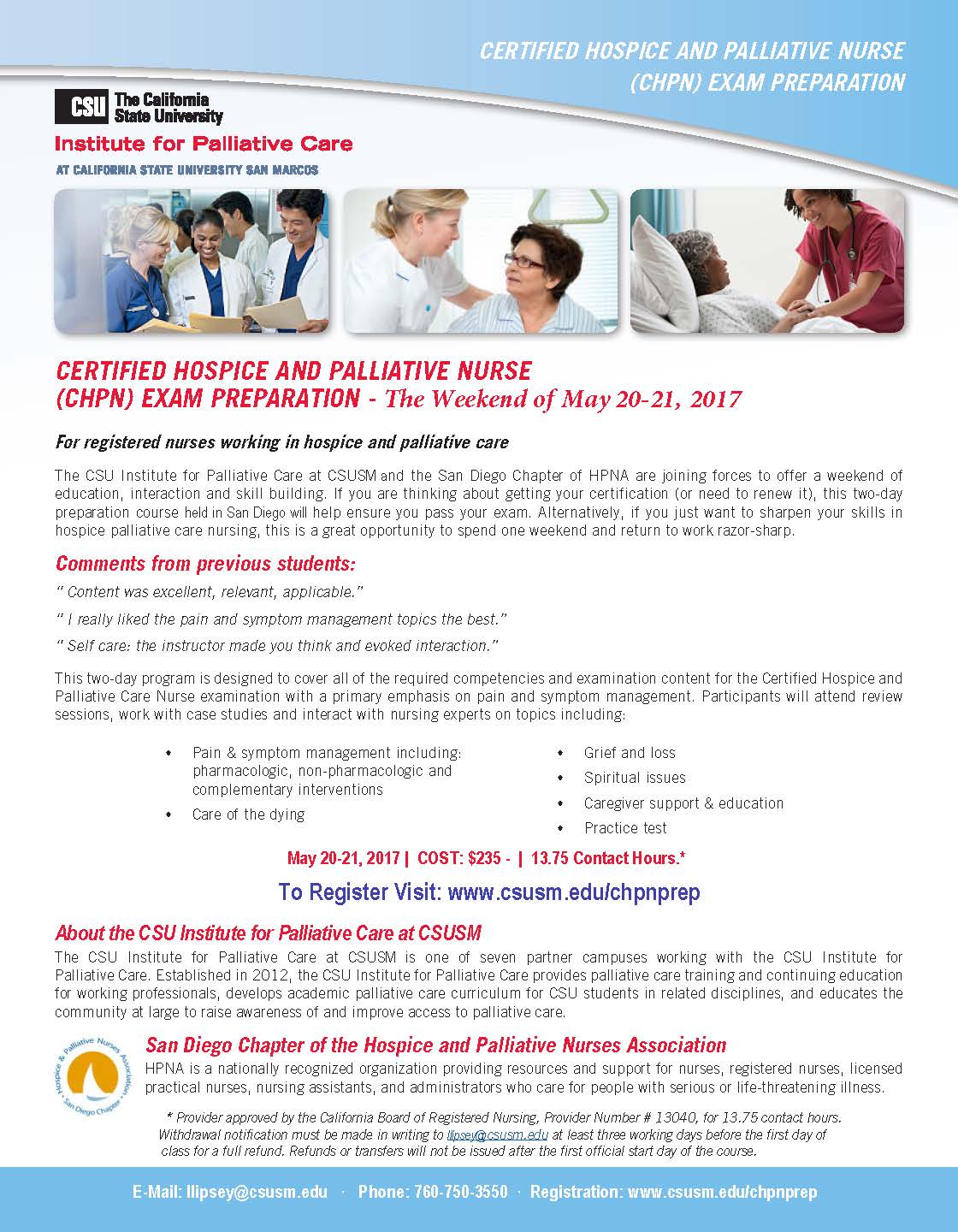 Location
Sharp Spectrum
8695 Spectrum Center Blvd
San Diego, California 92123