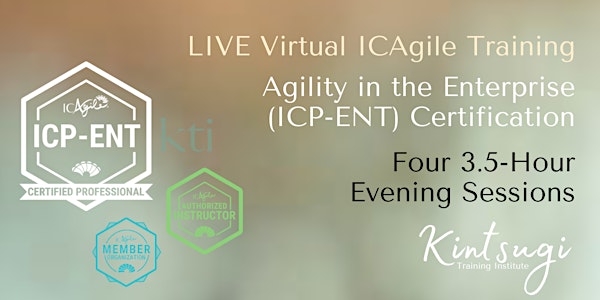 Certified Enterprise Coaching ICP-ENT | Mastering Agility in the Enterprise
At Kintsugi Training Institute, a US-based company, we believe in an immersive learning experience, led by our US-based expert facilitators.
Refund Policy
Refunds up to 30 days before event
Eventbrite's fee is nonrefundable.
About this event
Logistics
Training Dates: Dec 5th, 6th, 7th, and 8th
Session Duration: 4 Sessions in one week - Evenings (3.5 hrs each day, includes multiple stretches and break)
Class Times: 6:30 PM EST - 10:00 PM EST | 5:30 PM - 9:00 PM CST | 3:30 PM PST - 7:00 PM PST | 12:30 AM CET - 4:00 AM CET
These dates and times don't work great with your schedule? No worries, due to high demand we have multiple classes each month. Click here to check out other dates for this class in the coming weeks and months.
Learning Outcomes
UNDERSTANDING THE WHOLE VALUE STREAM: Understanding Systems and Complexity Theory, Lean Underpinnings & Mindset
BUSINESS AGILITY: Understanding Business Agility, Extending Agility to the Enterprise, Measuring Business Performance with Agility in Mind
ORGANIZATION DESIGN AND STRUCTURE: Awareness of Organizational Structure, Adaptive Principles and Patterns for Organizational Design, Agile Frameworks for Enterprise Scaling
ORGANIZATIONAL PROCESSES AND IMPROVEMENT: Understanding Business Processes and Their Impact, Agile Business Process Improvement
WORKING WITH LEADERS: Understanding and Working with Executive Teams, Understanding Executive Coaching vs. Advising, Understanding Leadership Development
ORGANIZATIONAL CULTURE AND ALIGNMENT: Understanding Organizational Culture, Engaging Leadership in Conversation about Culture
DEVELOPING AN AGILE TEAM CULTURE: Health and Sustainability of Agile Teams and Agile Processes, Enabling Technical Craftsmanship in the Team Culture
Description of ICP-ENT Course
​​​​"As one of ICAgile's most advanced knowledge-based certifications, the ICP-ENT designation validates an understanding of agility at the enterprise level from structural, process, leadership, and cultural perspectives." ICAgile
The Agility in the Enterprise or ICP-ENT is a deep dive into what it takes to help an organization in need of change, particularly to help them be more value-driven. The learning objectives in ICP-ENT explore the structural, cultural, process, and leadership perspectives of enterprise agility. When you complete this course, you will be better prepared to design an organization with agility in mind.
In this course, individuals will further enhance their servant leadership skills and organizational coaching abilities. We will provide useful enterprise coaching techniques and tools that they can practice throughout the course and can be immediately applied to their personal and professional world. It will also cover a broad range of subjects including how sales, marketing, and other enterprise functions need to be engaged to achieve true business agility. You will learn many skills and techniques to address common dysfunctions to value stream flow.
Participants will learn to see organizations as unique systems and become aware of the different systems and subsystems within those organizations. From understanding organizational impediments and resistance to change to developing enhanced communication skills and utilizing powerful questions, course participants will learn to coach leaders through their journey toward Business Agility.
Through this knowledge, participants will be able to identify and interact with organizations at each stage of an Agile transition to have the greatest impact as an Agile Coach. This will empower leaders and their organizations to achieve the next level in overall Business Agility and Servant Leadership.
ICAgile Certification
This course is accredited by the International Consortium for Agile (ICAgile) as fulfilling all Learning Objectives for the Agility in the Enterprise course. In order to earn an ICAgile certification for this course, participation is required in the entirety of the course. Participants must also have the ability to demonstrate competency to their trainers that they have acquired the necessary knowledge to earn the certification. After successful completion of this course, participants will receive an email from ICAgile with the link to claim certification for the ICAgile Agility in the Enterprise (ICP-ENT) and be considered an Agile Certified Coach under the Enterprise Coaching track.
This certification, combined with Agility in the Enterprise (ICP-ENT), are the foundational steps toward achieving the ICAgile Expert Enterprise Coaching (ICE-EC).
The learnings from the Enterprise Coaching Track (ICP-CAT and ICP-ENT) enable you to effectively identify systemic root causes that impede organizations in their Agile transformations, as well as provide the right tools to solve them on an enterprise level.
Professional Development Unit & Scrum Education Unit
Successful completion of this class enables you to be eligible for the following:
14 Scrum Education Units toward Certified Scrum Professional (CSP)
14 PDUs toward the PMI continuing education

Our Training Style at Kintsugi
At Kintsugi Training Institute we believe in an immersive learning experience. Our courses are led by our expert facilitators that together have multiple decades worth of knowledge to be shared. Those that participate in our courses will be active participants who engage with our trainers. All of our courses include printable workbooks and are built with multiple activities and use interactive tools such as Mural.
We utilize the existing knowledge of our participants, combined with the knowledge and expertise of our trainers to create a more immersive and impactful learning experience. This brain-based, adult learning style allows for transformational learning to take place that can immediately be applied and have a lasting impact.
Kintsugi Trainers
Our industry-leading expert facilitators have accumulated multiple decades of knowledge just waiting to be shared! Their extensive experience range from advising organizations, co-creating transformation strategies, and roadmaps, as well as coaching/training senior leaders and teams in Lean/Agile ways of working.
Kintsugi facilitators help participants open up new neural pathways to achieve their true potentials by using brain-based and adult learning techniques during the training sessions. They often facilitate using Training From the Back of the Room techniques and visual facilitation to create an immersive learning experience.
To learn more about our trainers visit the Kintsugi Training Institute trainer page.
Kintsugi Trainer Credentials
ICAgile Credentials
ICAgile Authorized Instructors
ICAgile Coaching Agile Transitions (ICP-CAT)
ICAgile Coaching Agile Transitions (ICP-ENT)
ICAgile Agile Coaching (ICP-ACC)
ICAgile Agile Team Facilitation (ICP-ATF)
ICAgile Agility in Marketing (ICP-MKG)
Facilitation Credentials
Training from the Back of the Room Certified Trainer (TBR)
AgilityHealth Radar Facilitator (AHF)
Bikablo Graphic Facilitator
Alchemy Trained Facilitator
Coaching Credentials
Co-Active Trained Coach
ORSC Trained Coach
Professional Certified Coach (ICF-PCC)
Certified Enterprise Coach (CEC)
Certified Team Coach (CTC)
Brain-Based Certified Coach (BBCC)
Results Trained Coach (RTC)
Other Credentials
Project Management Professional (PMP)
Kotter – Leading Change Trained
Certified Scrum Professional (CSP)
SAFe® 5 Program Consultant (SPC)
and many more!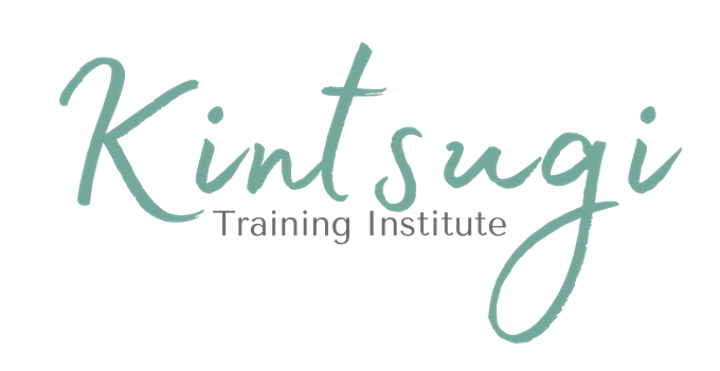 Training Techniques & Tools
Brain-based adult learning
Liberating structures
Training from the back of the room techniques
Mural
Slack
Thought-provoking workbook
This course is great for people who are...
The ICP-ENT course is suitable for members of leadership teams, senior management, change champions, Agile coaches, and Scrum Masters. Others who would find value in this course include Team coaches, program coaches, enterprise coaches, project managers, program managers, business analysts, organizational development change agents. It is also relevant to people aspiring to be in any of these roles, and also those who are passionate about Agile Coaching, who want to enhance their skills, and anyone who is managing an organization moving toward agility.