Event Information
Refund policy
Contact the organizer to request a refund.
Eventbrite's fee is nonrefundable.
The ICP-ATF is one of two knowledge-based certifications on the Agile Coaching Track.
About this event
The role of a certified Agile Team Facilitator is beyond just conducting meetings. They guide the team in the change management and transformation process. The success of your agile project would depend on the team's ability to self-organize and collaborate. To achieve this, the scrum master needs a complete shift in mindset from a team leader or project manager to that of a team facilitator.
ICP-ATF focuses primarily on the mindset and role of an agile team facilitator, while also providing group facilitation tools and techniques for effectively designing meetings and workshops that both engage the entire audience and drive towards agreed-upon outcomes. Through obtaining this certification, course participants will develop an appreciation for the art of facilitation as key to fostering collaboration and enabling self-organizing teams. In addition, participants will build their facilitator toolkits and gain experience facilitating specific agile practices most relevant to their organizational context.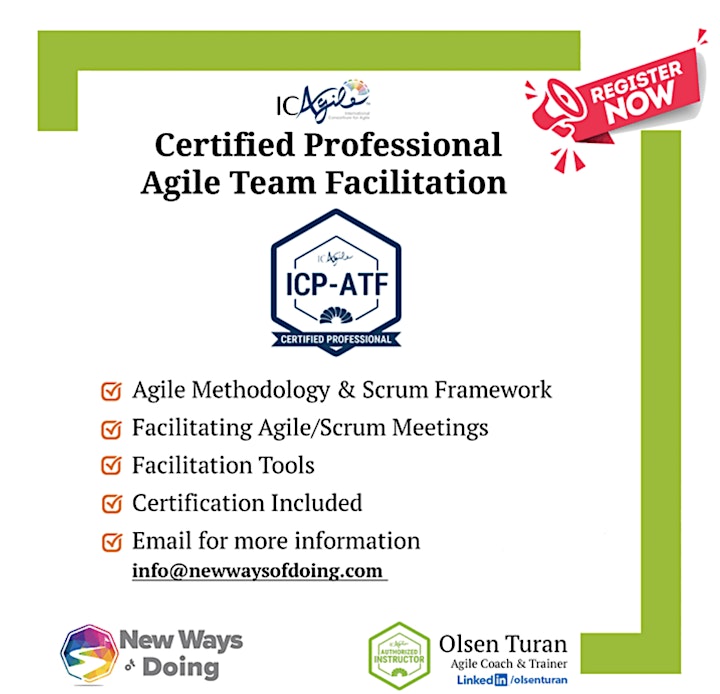 SCHEDULE
Total 4 sessions
1st Session between 9 AM -12 PM
2nd Session between 1 PM - 4 PM
3rd Session between 9 AM -12 PM
4th Session between 1 PM - 4 PM
COURSE PREPARATION
We offer four virtual sessions and each session is three hours long. The course is designed specifically for busy professionals who are all packed up in working hours. Our online live ICP-ATF program would be an enriching experience to ensure that you have a knowledge and understanding of the Agile Team Facilitator without sacrificing your office. You will be required to have approx. 20 hours of self-study for better understanding. There will be both individual assignments as well as group assignments for developing the facilitation plan. To get Certified, one must complete all assignments and attend live virtual sessions. Upon successful completion of the course, professionals will receive certification from the International Agile Consortium (ICAgile).
TARGET AUDIENCE
Agile team leaders or aspiring team leaders with a passion for servant leadership and a desire to learn and practice the art of facilitation in the context of team facilitation and coaching.
ScrumMasters and aspiring ScrumMasters
Agile Project Managers
Agile Coaches and aspiring coaches
Product Owners
Business Analysts
Anyone with the desire to explore the power of facilitation.
WHAT WILL YOU LEARN?
Agile Methodology
Scrum Framework
What is Facilitation?
Agile Team Facilitator
The agile Coach development path
Facilitating session/meetings
Designing a session/meetings
Practicing facilitation
Giving and receiving feedback
Agile principles and values
Facilitating selected Agile/Scrum Events
WHAT WILL YOU RECEIVE?
High-quality instruction from ICAgile Accredited trainer. Also included are:
Course materials
ICAgile certification – don't need to renew the certification but keep practicing your facilitation skills.
Practicing various facilitation tools such as Miro, Mural, etc
Facilitation Guide
MEET THE TRAINER
Olsen Turan
Agile Coach and Trainer
www.linkedin.com/in/olsenturan/
Olsen is a Transformational Agile Coach, Trainer, and Scrum Master with a mix of Servant Leadership skills and technical knowledge acquired over a ten-year career. My experience includes Ph.D. studies in Organizational Leadership, Agile Transformation and Coaching, Project Management, and Scrum Master duties with Development, DevOps, Data, IT Teams, and non-IT teams. I have also earned several tech certifications (Java, AWS) to improve my understanding and ability to communicate technical ideas.
Prior to focusing on the Agile journey and a transition to tech, my work included coordination of major non-profit - social events with large budgets and thousands of attendees, including VIP events at venues such as Grand Central, Central Park, Times Square, and the Waldorf Astoria. Also, privileged to host and meet with celebrities such as Bill Clinton, Mel Gibson, Kevin Spacey, and Deepak Chopra.
Date and time
Location
Refund policy
Contact the organizer to request a refund.
Eventbrite's fee is nonrefundable.