Description

Discover cutting edge industry techniques applying Agile to Marketing.
The Certified Agile Marketing Specialist™ (CAMS) course is a two-day, entry-level course taught by a Certified Agile Marketing Trainer™ (CAMT). The CAMS course is designed to cover all the basics of Agile as applied to Marketing activities to better align the Marketing department with Agile techniques used by development teams. Applying this iterative approach allows for rapidly discovering which marketing campaigns are most effective and yields the highest results. Attendees are required to pass a brief exam and will leave the course certified! Re-take opportunities are available as well as additional coaching from a Certified Agile Marketing Trainer or Coach.
Agile Marketing is a combination of cutting edge Agile development processes often used in software development as applied to internet marketing strategies to create an iterative approach to marketing and achieving sales results. At Formula Ink, we have helped companies increase their speed to market in development by more than 80% faster than competitors. When we began applying this iterative approach to marketing, we began seeing our clients soar by more than 300% growth in 6 months and more than 780% growth in a year. This course will cover the fundamental practices and specific, actionable steps that lead to massive speed when applied to marketing and massive increase in revenue when applied to business growth.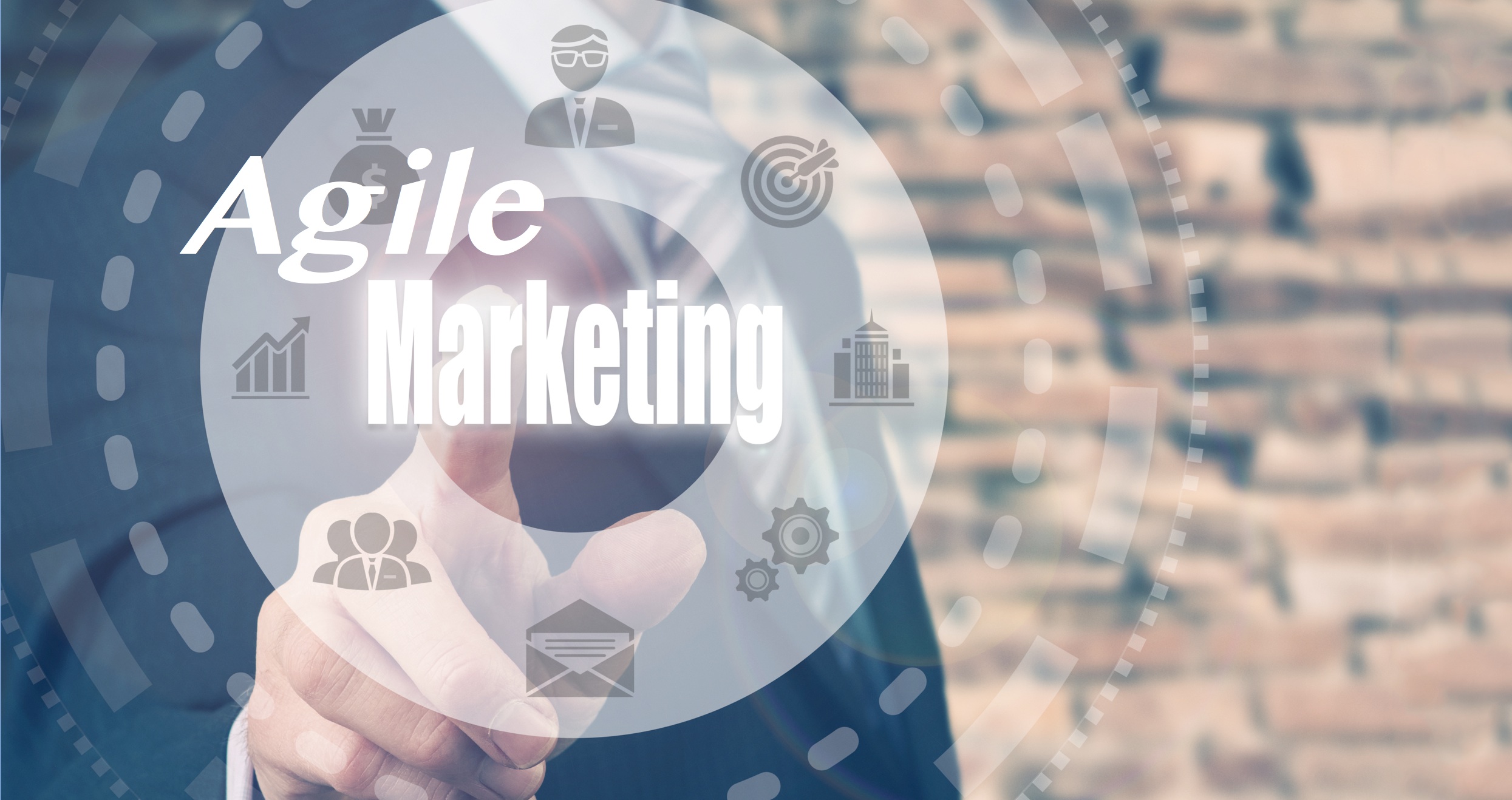 In this Certified Agile Marketing Specialist™ (CAMS) course, you will learn:
Agile Marketing foundations and core values

How Agile is used in Product Development and IT and the transition to use in Marketing

Visual collaborative approaches for identifying customer needs

Adopting an iterative process applied to Marketing for fast results & sustainable growth

Focusing on the customer relationships that carry the most value

Organizing your marketing into channels of Filtering, Educating, and Selling

Creating the systems and messaging to find and nurture your ideal customers

Review of case studies applying these techniques to yield rapid growth

Beyond theory into real world application
Upon completing this course:
Qualification for Certified Agile Marketing Specialist™ (CAMS) Certification after passing a short certification exam

One year membership in the Agile Marketing Academy

14 PDUs from PMI (Project Management Institute)

PMI-ACP:

This course counts as 14 of the 21 contact hours needed to be eligible for the

PMI-ACP certification

.
Who should attend:
This course is appropriate for anyone in a marketing role, including managers, project team members, stakeholders, and anyone who wants to understand how to apply Agile to get results beyond just IT and in the Marketing arena. Through an experiential, hands-on learning approach, this course provides foundational education in Agile, including its values, principles, and practices as applied to Marketing. This interactive learning approach will include a variety of exercises, activities, and discussions as well as case studies while providing first hand experience for attendees to learn how to apply Agile to yield rapid results in Marketing.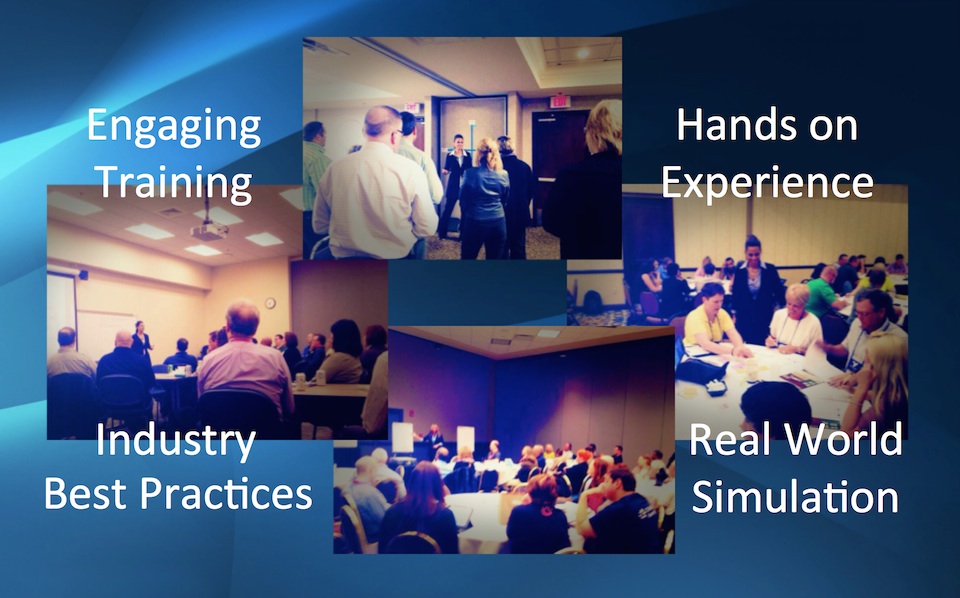 Course outline:
DAY ONE
Introductions
Agile Mindset

Agile Marketing Manifesto Values & Principles
Traditional vs. Agile
The Great Divide – Division of departments

Agile Marketing Philosophy, concepts, terminology
Agile Marketing Canvas
Review the canvas segments

Discuss the value of visual collaboration
Personas
Overview, Value

Activity: Empathy Map
User Stories
Who, What, & Why

Activity: Write User Stories for your ideal customer
Message to Market Match
Sales Letters

Lead Magnets
Q&A
Retrospective
DAY TWO
Recap Day 1
Agile Mindset

Setting teams up for success
Agile Marketing Funnels
Key Elements to an Agile Marketing Funnel

Activity: Build your own Agile Marketing Funnel
Estimation
Relative Sizing and Release Planning

Activity: Estimate your Agile Marketing Funnel elements
Tracking Your Progress
Task Boards and Visual Flow

Monitoring and Tracking your Data
Launch, Iterations & Split Testing
Discover the value of shorter cycles

The importance of Feedback loops | The Showcase
Closing
Agile Marketing Canvas Gallery Walk

Exam (Taken in the class) | Certificate distribution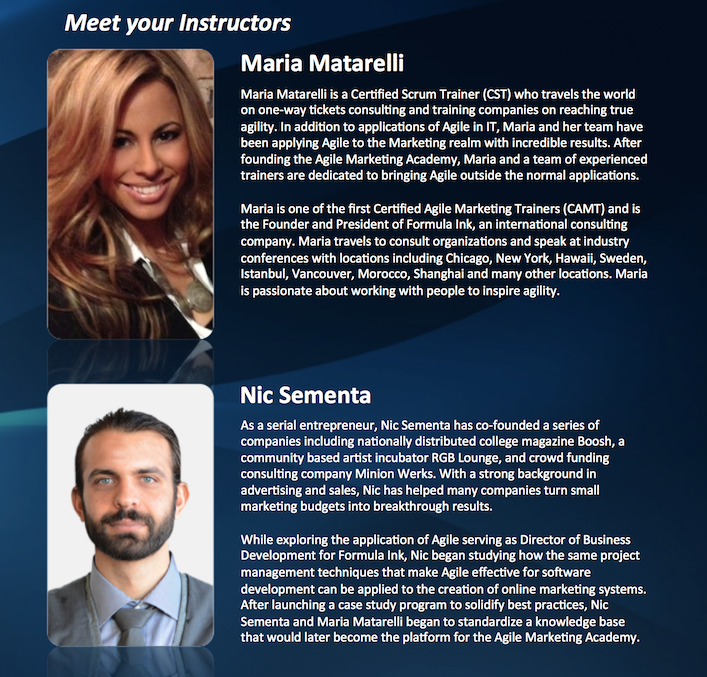 At the Agile Marketing Academy, our mission is to create a standardized knowledge base and best practices for how corporations, business owners and individuals leverage rapid learning cycles to enhance marketing systems to maximize sales and marketing results while delivering break through performance and customer satisfaction.
With focus, transparency and accountability as keys to any company's success, we are working to bring bleeding edge project management and leadership techniques to sales and marketing operations worldwide.

Organizer of Certified Agile Marketing Specialist (CAMS) Training Course