Actions and Detail Panel
Certified Agile Leadership - Rockville, MD
Tue, Nov 14, 2017, 8:30 AM – Wed, Nov 15, 2017, 5:00 PM EST
Description

Certified Agile Leadership (CAL) Workshop - Credential Level 1
This Workshop meets the awareness & discovery credential certified by the Scrum Alliance for Agile Leadership.
Why Agile Leadership?
The rise in complexity, uncertainty and rapid change have triggered a change in the landscape of work. Leaders expecting to leverage their past patterns of success will fall short both in terms of fully capitalizing on their people and in terms of underperforming in the marketplace.
Agile Scaling Models are everywhere, but none of them adequately address the crucial role of the leader in terms of personally accepting responsibility for agile leadership and values, and guiding the organizational change to appropriately engage and empower people and teams for that change to stick and the organization to grow.
Leadership Agility is the the ability to recognize your leadership patterns and biases, step out of your routing ways of thinking and responding, role model agile values and grow others and the organization.
Focus of Learning
Participants will be taken through a comprehensive view of Agile Leadership - first from the leader's personal perspective in how agility impacts their thinking and behavior, then from an organizational perspective in how they can effectively align, guide and scale their organization's agility.
The Agile Leadership Compass will provide guidance for participants both during the workshop and as an aid in their practice following the workshop. See the full list of Learning Objectives of the Agile Leadership Workshop.

The workshop is 2 days.
Day 1

focuses on the leader's own agile mindset and behaviors.

Day 2

focuses on developing organizational agility and value delivery.
Workshop Experience
Little learning comes from watching slides flash by on a screen. This workshop engages participants deeply in the content and context of the learning. Participants engage across multiple learning modes including instructor led, participant led, shared discussions, simulations, exercises, and self-reflective activities.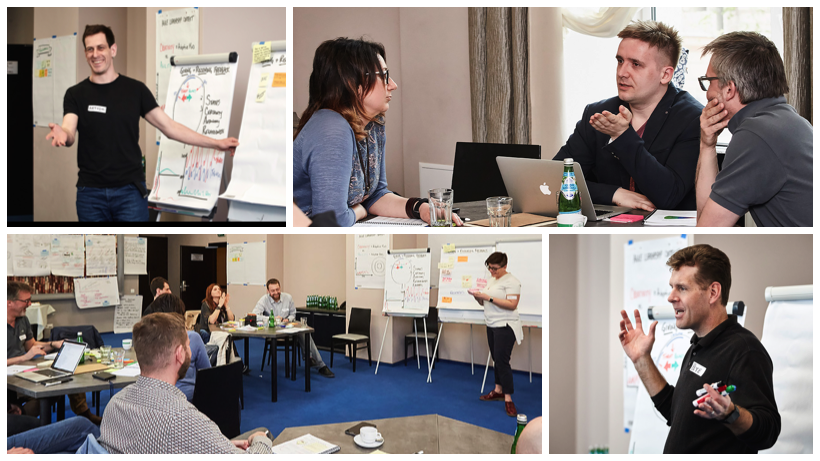 As described by participants of this workshop...
"This wasn't training, it was an experience. We were never taught at, we were engaged in a learning experience in which we both participated and contributed. I have never been so engaged for two and a half days."
Participant Profile
This workshop is designed for organizational leaders who are responsible for people designing, developing and delivering products and services for their customers. Regardless of your focus – product strategy, business development, research, marketing, design, development, quality, project management, technical operations or deployment – this workshop builds effectiveness in guiding teams towards delighting customers in a fast-pace, complex and uncertain environment.
Organizational leaders of all levels are encouraged to attend including senior executives, vice presidents, directors, functional managers, and process and program-level leaders.
Workshop Learning
CONTEXT-FOCUSED LEARNING
Economic and market factors that have led to the rise of Agile approaches.

Complexity and uncertainty of work and how that drives the need for an agile approach.

Historical management trends and their fit with the business environments of their time.

Increasing employee engagement and their focus on customers to improve satisfaction and outcomes.
LEADERSHIP-FOCUSED LEARNING
Leadership maturity & mindset shifts required to effectively lead in an agile context.

Neuroscience Leadership development framework aligned with Agile thinking and driving effectiveness.

Seeking and Incorporating feedback that improves your ability to inspect and adapt your own behavior.

Catalyst Coaching approach which integrates alternative perspectives, engages others, and improves outcomes.
ORGANIZATIONAL-FOCUSED LEARNING

Organizational challenges faced when undertaking Agile more broadly.

Increasing safety, trust and collaboration between and across teams.

Organizational cultures, structures and governance and how they relate impede or enhance agility.

Case studies of organizations that effectively use Agile to run their business.
CHANGE-FOCUSED LEARNING

Organizations as complex adaptive systems where change is always present and dynamic leadership is required

Organizational metrics which align to agile thinking, or impede it, and how they impact behaviors and results.

Change management approaches aligned with ongoing change and organizational agility.

Identify and reduce bottlenecks, impediments, and overall friction in an organization.