Refund policy
Contact the organizer to request a refund.
Eventbrite's fee is nonrefundable.
VIRTUAL CERTIFIED AGILE LEADERSHIP - TEAMS (CAL-O)
About this event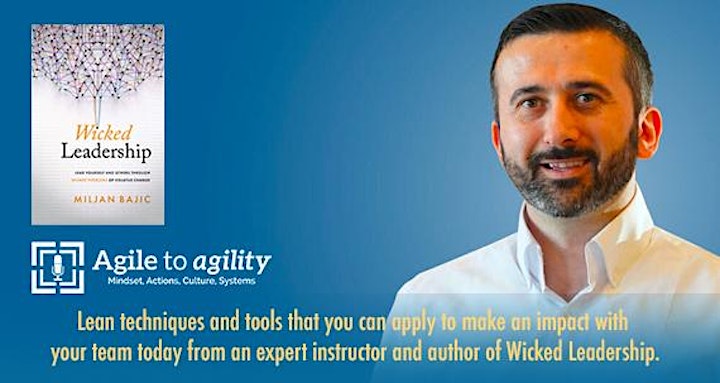 VIRTUAL Class is delivered through Zoom Platform and led in real-time by Miljan Bajic.
Certified Agile Leadership - Organizations (CAL-O)
The Certified Agile Leadership—Organizations (CAL-O) class will teach you how to shift your mindset about the culture and employees in your organization. Leading an entire organization to become Agile is hard. CAL-O will give you the tools necessary to become a change agent and effectively use Agile to strengthen your organization. In this one day class, we will take a deep dive into how change can be approached differently based on existing organizational culture, And we'll talk extensively about the influence that culture has on speed, risk, and receptiveness to change.
You will learn about the principles and practices of Agility and how to apply culture, organizational design and change by identifying elements you can implement in your own organization. You'll come away with the knowledge, skills, and techniques to achieve sustainable Agility. We'll dive into case studies and real-life examples to help demonstrate how Agility can be implemented successfully in your organization and you'll leave with a deeper understanding of the relationship between culture and leadership mindset and behaviors.
PRE-REQUISITES:
None
WHAT YOU GET:
Post-class tips, tools and videos
2-Year membership with Scrum Alliance
LEARNING OUTCOMES:
Gaining insights into challenges of leading in an increasingly VUCA environment
Understanding the role of a leader in building an environment that supports agility and what shifts are needed to be successful
Learning Agile principles and how they manifest in the practices and behaviors of leaders
Discovering how increased self-awareness is the key to better leadership
Learning how to be flexible and adaptive to different situations, while being aware of the underlying cultural context.
Understanding how social awareness can improve effectiveness when leading others
Practicing approaches that can be used to provide feedback, resolve conflicts, and work through difficult challenges
Gaining different tactics to engage with teams without over-influencing and micromanaging
WHO SHOULD ATTEND:
Executives
VPs
Product Managers
Scrum Masters
Agile Coaches
Project Managers
Change Agents
AGENDA:
Understand different approaches to influencing culture and leading teams, so that I can encourage a learning environment throughout my organization.
Understand challenges you will face when taking Agile to multiple teams, so that you can focus on Organizational Agility
Learn how to coach and influence your organization and its culture, so that you can focus on impactful outcomes.
Learn about Team Canvas
Learn about developing a shared vision and purpose for the team
Learn how to motivate team members
ABOUT THE INSTRUCTOR:
Miljan is a very passionate professional who truly enjoys helping others. As an Agile coach (CEC), trainer (CST), and mentor, he's spent almost two decades helping teams succeed and organizations reinvent themselves. Miljan's career has spanned both technology and business. He's one of roughly 50 professionals in the world that holds both Certified Enterprise Coach (CEC) and Certified Scrum Trainer (CST) designations from Scrum Alliance. He coaches organizations, teams, and individuals to collaboratively design systems that combine lean thinking and agile approaches to deliver maximum organizational effectiveness. Miljan is also a frequent speaker having participated in many international conferences and Agile events in Europe and the United States.
What the participants said about Miljan's Course:
"This is one of the best courses I took. The topics were well organized and thought through. The entire setting was very interesting and engaging. As a participant, I just could not stand aside and not participate in the multiple discussions that the group had because of the way how the topics were discussed. Miljan was successfully facilitating the discussion and helping us understand those topics that the group had questions about. Because of the homework assignments most of the time I was engaged in the research and completing assignments which helped me understand and learn the topics better."
"The way this class was delivered is excellent and different from all of my previous training from various trainers. Learned a lot from the discussion, articles, videos and to-dos. Miljan's experience and global exposure helped a lot in delivering the content of this course in an effective way."
"Thoroughly enjoyed class. Class material was insightful and content very well organized. Miljan brought very much to the table with regards to his experience, his mindset, and his enthusiasm. Best virtual/online course I have taken, and not just including those in the agile space."
"Good class, lots of great material that can be leveraged as I go forward in my professional career. Miljan's class is an open environment and fosters good discussions across participants."