Description


Course Overview
As the world of work becomes increasingly complex, organizations and leaders are called upon to deliver more innovative products and services on a more frequent basis, while keeping the company's culture dynamic and gratifying.

CAL I is an introductory, educational course that consists of in depth leadership development learning objectives across five categories. The goal of CAL I is to bring awareness of agile leadership thinking, focus, and behaviours; and to start (or meet where they are) the agile leader on their learning journey. CAL I is your stepping stone to CAL II, which continues your journey with a deep dive into your leadership development practice and success.

The Scrum Alliance Certified Agile Leadership (CAL) program (CAL I + CAL II) is a unique two-part education and practice-based program to develop agile leadership competency and maturity.

Through the CAL program, you can increase your leadership effectiveness and learn how to be a better leader, no matter what your role.

Who is CAL for?

CAL participants vary by professional background and work experience. The common thread is their desire to enhance their workplaces (and their clients' workplaces) with agile values, practices, and metrics. This program is for anyone leading or participating in an agile transformation.
Coach / Consultant. Your challenge is to help clients navigate an agile transformation with a focus on the people and mindsets necessary to shift the culture. A CAL certification provides you the tools to help enact change, and distinguishes you in the field as someone who has acquired the defined knowledge of an agile leader.

Manager. One of your challenges may be overcoming internal resistance to organization-wide agility. Certified Agile Leadership gives you practical tools to bolster your shift from agile practitioner to agile leader, and helps you nurture yourself and senior management champions to solidify your efforts.


Executive. Finding the time to nurture your own agility and discovering a meaningful role to play in an agile transformation is challenging. You desire to be more than just someone who authorizes hiring a consultant or coach. Certified Agile Leadership certification can quickly accelerate your learning curve and show you the active role you could play in a sustainable agile transformation. You'll also discover a personal transformation as you learn about your own internal leadership development.

The Leader in You… In All of Us. Finding out more about your personal leadership style can enlighten you and help you be more empathetic to everyone you encounter. This program can enhance both your career and your personal life.
Requirements
There are no prerequisites for CAL I. Anyone is eligible. CAL I is achieved upon successful completion of the set learning objectives. The CAL I credential does not expire, but the digital badge is a meaningful start on your agile career/personal journey.
Learning Objectives
1. The Context for Agile
1.1. Describe at least three economic or market factors that have led to the rise of agile approaches. For example:
Technological advances

Internet, mobile, and social media connectivity

Globalization of the workforce and economy

Etc.
1.2. Illustrate how the complexity and uncertainty of work relates to the fitness of an agile approach.

1.3. Identify at least two management trends and their historical fit with the business environments of their time. For example:
Taylor's Scientific Management

Total Quality Management (TQM)

Lean Manufacturing and the Toyota Production System

Etc.
1.4. Explain the long-term effects of an organizational focus on delighting the customer, and how that relates to improved outcomes.

1.5. Explain at least three factors that increase the level of employee engagement, and how that relates to better outcomes. For example:
Clear purpose

Autonomy

Opportunity to develop mastery

Strong social connection

Daily small wins

Etc.
1.6. Describe at least two benefits of becoming a more effective agile leader. For example:
Increased ability to make good decisions in a complex environment

Ability to deliver on personal and organizational purpose with less expended energy

Etc.
2. Agile Overview
Note: Learners can opt out of this section if they hold a Scrum Alliance CSM or CSPO certification that covers the learning objectives in this category.
2.1. Evaluate the values and principles of the Agile Manifesto for how they relate to an organization's ability to thrive in complex and rapidly changing conditions.
2.2. Describe at least three characteristics of a high-performing team and how these characteristics relate to agile thinking. For example:
Psychological safety

Trust

Clear team membership

Small

High-communication bandwidth

Aligned around a clear purpose/mission

Etc.
2.3. Compare and contrast the practices and benefits of at least two common agile frameworks. For example:
Scrum

eXtreme Programming

Kanban

Lean Startup

Etc.
2.4. Describe the benefits of an agile approach from the perspective of at least three stakeholder groups with differing needs. For example:
Board of Directors

Shareholders

Employees

Customers

Etc.
3. Leadership in an Agile Context
3.1. Describe at least three key mindset shifts required to effectively lead in an agile context. For example:
From fixed mindset to growth mindset

From directing to coaching

From telling to collaborating

From preventing and hiding failure to learning through it

From viewing the organization as a machine to viewing it as a living system

From predict and control to inspect and adapt

From chess master to gardener

From expert to catalyst

From reactive to creative

Etc.
3.2. Explain at least one leadership development framework that is aligned with agile thinking. For example:
Leadership Agility (Joiner)

The Leadership Circle (Anderson)

NeuroLeadership (Rock)

The Leadership Gift (Avery)

Etc.
3.3. Apply at least one technique for
incorporating feedback
that improves your ability to inspect and adapt
your own leadership behavior to increase effectiveness.
3.4. Practice at least one technique that enables a leader to be present, aware, and engaged, while avoiding over-influence and micromanagement. For example:
Gemba

Hawthorne effect — paying attention

Engaging in the agile delivery and feedback cycle

Advice process

Etc.
3.5. Demonstrate a
coaching approach that integrates alternative perspectives, engages others, and improves outcomes.
4. The Agile Organization
4.1. Identify at least three challenges an organization might face when undertaking an agile approach beyond a single team. For example:
Building trust between teams

Optimizing the whole

N-factorial problem as communication scales

Large-group collaboration

Psychological safety

Etc.
4.2. Apply at least three patterns for increasing trust and collaboration between multiple teams. For example:
Information radiators

Colocation

Radical transparency

Job rotations

Team liaisons

Etc.
4.3. Describe at least two factors that influence the culture of an organization and how that relates to organizational agility. For example:
Power distance index

Organizational structures

Leadership beliefs and behaviors

Risk and change attitudes

Industry factors

Etc.
4.4. Evaluate at least two ways to structure an organization to enhance agility. For example:
Value-based matrix (e.g., Spotify)

Communities of practice

Holacracy
4.5. Describe at least three governance policies that enhance organizational agility. For example:
Compensation and incentives

Career advancement practices

Performance appraisals

Procurement and budgeting

Legal and regulatory

Etc.
4.6. Deconstruct at least one case study of an organization that uses an agile approach. For example:
Spotify

Morning Star

Valve

Buurtzorg

Zappos

Geonetric

Etc.
5. Agile Approaches to Change
5.1. Describe an agile organization as a human system where change is always present and dynamic leadership is required to catalyze that change for positive growth.
5.2. Evaluate at least three organizational metrics for their alignment with agile thinking and how they impact behaviors and results. For example:
Outcome-based metrics, such as customer satisfaction, employee engagement, time to market, cost, etc.

Output-based metrics such as productivity, velocity, features delivered, milestones met, etc.
5.3. Deconstruct at least one change management approach and evaluate its alignment with organizational agility. For example:
Scrum

Lewin

Satir

Kotter

McKinsey 7S

Etc.
5.4. Describe at least one agile approach to identify and reduce bottlenecks, impediments, and overall friction in an organization. For example:
Systems thinking

Human systems dynamics

Lean A3
Organizational agility team using Scrum

Large-group retrospectives

Kaizen events

Etc.
5.5. Reflect on at least one case study of an agile transformation and critique how it approached change in an agile way.
Meet the Trainer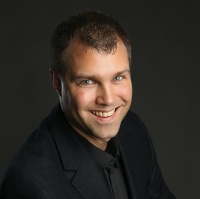 I help people thrive at work. As an engineer, a manager, a speaker, and an executive, I've worked with thousands of people at dozens of companies. Everywhere I go, I see breakdowns and breakthroughs; idiocy and innovation; pain and promise. I believe the difference between the two is leadership, and whether our managers actually do it well.
I believe a better workplace leads to better business results and vice versa, and my job is to make that happen by empowering our teams to succeed, equipping our managers to lead, and enabling our executives to build high performing organizations.
If you are frustrated that your teams are not living up to their potential, I can help.
FAQ
What do I wear?
Wear what makes you feel comfortable while trying not to make others uncomfortable. We will be in jeans and golf shirts.
Will food be provided?
Yes, coffee breaks and lunch will be provided.
Are there ID or minimum age requirements to enter the event?
The course is open to anyone age 18 and up.
Do I need to bring a computer to the event?
No. Personal computers are not necessary. All course material will be provided.
How can I contact the organizer with any questions?
Use pttraining@radtacportugal.com
What's the refund policy?
No refunds. If this is a concern, please contact us.
Can the course be postponed/cancelled?
We reserve the right to postpone or cancel this course if there are insufficient registrations. If this is the case, you will be notified between 3 and 5 working days before the course start date. In this case, you will be offered an alternative date or a full refund. We will not be responsible for any other costs incurred.
Are there discounts for groups?
Yes, if you have a group contact us for a discount.

All trademarks mentioned are the property of their respective owners.