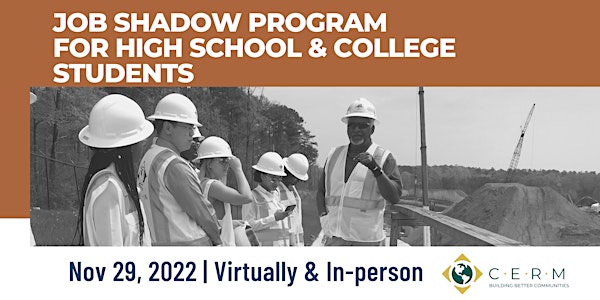 CERM Fall Job Shadow Program
Highly motivated students interested in civil/environmental engineering, public works, or business are invited to join this free event.
About this event
ARE YOU READY?
Join us for a look into what it's like to work at a firm like Corporate Environmental Risk Management (CERM), a firm that uses civil, geotechnical, and environmental engineering to provide sustainable infrastructure solutions and build better communities. This event is for high school and college students interested in STEM-related fields as well as those interested in construction management, land survey, public works, land use planning, business administration, etc. This event will be held both virtually and in-person
Virtual
This will be an online introduction to CERM, our team, and our work across the Southeast. This is also a chance to network with others in the job shadow cohort and get answers to questions about life in the industry from young and seasoned professionals.
In-Person
​Students who attend in person will select a track and attend breakout sessions for a deep dive into the different career pathways avaialble to those in our field. Students will get a first-hand look at how the concepts learned in class are applied in the real world. 
Both parts of this event work together to empower students to explore careers in the A/E/C industry. Job Shadowing is not just for observation...this is an interactive experience. Students are encouraged to ask plenty of questions to better match their skills and interests to the many education and career pathways available in this field.