Description
Magic, Comedy, Juggling, Sideshow, Dance and MORE!
Must be 17+ for entry (12-16 with parent)

VARIETY: Houston sure has plenty of it. On April 21 liven up your weekend entertainment when Houston's premier variety and sideshow performers will take the stage at the city's legendary performance space, Numbers Nightclub, in a whirlwind of amazement, featuring talents that you only thought were possible on film and television.
THE SHOW CHANGES MONTHLY!

*NOTE: All ticket prices will go up by $5.00 2 hours before show time and only be available at the venue after that time.


LINE UP:
-Lanny Kibbey - A Time Traveling Illusionist
-Robby Bennett - Magic's Leading Man

-Adam Bob - Our laugh-until-you-cry Comedian (Literally!)

-Juxtapose Art Collective – A Contemporary Dance Group With a Multimedia Style
-Jim Mackenzie - Comedian With Mad Skills; Juggling, Comedy and Variety ALL IN ONE!

TICKET OPTIONS:
-V.I.P. - Table seating close to the stage with service throughout the show.
-General Seating - Open theater-style seating.
-Standing Room - Take what you can get and have a great time!


*NOTE: Acts may change at the producer's discretion.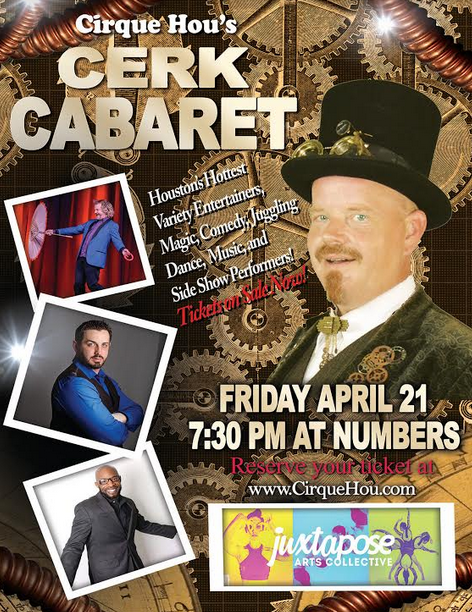 NUMBERS NIGHTCLUB is sacred ground for performers. Our talent will be joining the great talent who has performed on their stage:

Maroon 5, Foo Fighters, REM, Iggy Pop, The Cure, Red Hot Chili Peppers, The Bangles, Snoop Dogg, Soundgarden, Nine Inch Nails, Green Day, Sheryl Crow, Weezer, Better Than Ezra, Alanis Morissette, AND MANY MORE!