CERES Book Talk: Moscow 1956 with Prof. Kathleen Smith
Description
CERES Book Talk
Moscow 1956: The Silenced Spring
with
Professor Kathleen Smith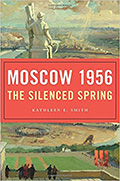 Wednesday, May 3
6:00pm

Mortara Center
3600 N St. NW

Reception to follow
In 1956: Moscow's Silenced Spring, Professor Smith traces month by month the changes unleashed by Khrushchev's Secret Speech. With a collective biography of Party reformers, ex-prisoners, free-thinking students, curious scientists, and unhappy propagandists, she untangles the complexities of reform from above and presents a nuanced picture of a restless society. In 1956, the Soviet regime shrank the Gulag and announced an end to slavish obeisance to Stalin, but could not handle the criticism it had sanctioned or manage collective rule. Smith argues that renouncing the Stalin cult allowed Khrushchev to abolish the terror, but raised questions of accountability that he could not answer. By the end of 1956, reform was on hold and Khrushchev was on the defensive. Smith contends that the course of a single year reveals a cycle of reform and retreat that would characterize Soviet politics for the next three and half decades.
In her book talk, Professor Smith will discuss how free-thinking university students tested the boundaries of the permissible in the fall of 1956 and will explain how some of them joined the ranks of a new generation of political prisoners.
Kathleen (Kelly) E. Smith has a PhD in Political Science from UC Berkeley. The author of two previous books on history and memory in Russia, she has taught at Hamilton College and George Washington University, and is currently Teaching Professor at Georgetown.